THE "GREAT WHITE SHARK"
Greg Norman, originally from Australia and now living in Jupiter, Florida, is a former great golf professional. He won 89 pro tournaments, 20 PGA titles and 2 Grand Slams. The Grand slams were the (British) Open championships in 1986 and 1993.
Greg was known for his consistency. He was ranked #1 in the world for 331 weeks during the 1980s and 1990s.
He acquired his nickname, the "Great White Shark" because:
He has blond hair
His style of play was aggressive
The Great White shark is native to Australia
Greg lives a life of fitness and good health. He has not slowed up in this pursuit during his senior years. This post will report on the workouts and nutritional standards that Greg has employed to reach and maintain his high level of fitness.
Before proceeding, let me review for a moment. This will be my 13th post on the workouts and diets of great athletes. Preceding this one were the following prior similar articles, reporting on:
Please check out the routines and diets of your favorite athletes. There are, of course, over 100 other articles on general fitness or health topics and some on special merchandise discounts.
GREG NORMAN'S WORKOUTS
Greg works out in his senior years with an intensity not unlike the way he practiced his golf game in earlier years. He prefers to exercise from 4-6 PM at least 5 days each week.
He begins with cardio for about 35-40 minutes, trying to raise his heart rate to around 180 beats per minute. After this, Greg will go to free weights, Pliates work or a medicine ball routine to improve his coordination.
Greg has several workout routines. Here is one of them – 3 sets of 12 reps of the following:
Biceps curl
Triceps extension
Lat pulldown
Leg raise
Hamstring curl
Chest press
Seated cable row
One arm overhead press
Lateral raise
For his core, He likes to do 3 sets of 10 reps of a medicine ball rotational throw.
Greg strongly recommends workouts for anybody as a means to simply look and feel better. He cautions newcomers to be sure to keep at it for about 6 weeks, since it may take that long before visible results are forthcoming.
Greg still plays golf on occasion, but more often plays tennis and hikes with his wife at 8,000 feet of elevation. These hikes are often for 4-5 consecutive days.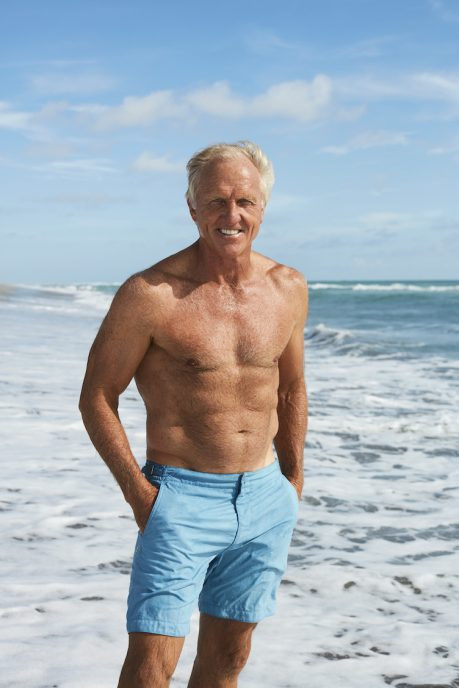 The "Great White Shark" says that he feels better and is fitter as a senior than he was as a professional golfer. The above picture does nor dispel this notion.
GREG'S DIET
Here are a few of Greg's rules for nutrition:
He stays away from white foods – rice, flour, bread, potatoes
He eliminates soft drinks completely (they caused headaches when he played golf)
Greg consumes 3 liters of water daily to cleanse his body. This is roughly 100 ounces.
He is a meat eater and loves roast chicken, beef, pork and salmon
As a pro golfer, Greg would often have tee times of 8:30 AM or earlier. He would then breakfast on steak and eggs, topped with honey, sometimes accompanied by oatmeal and whole wheat toast. This would keep him energized for several hours, since his round of golf, later practice and media commitments might delay his next meal until late afternoon.
Here is a YouTube video wherein Greg answers questions about food choices.
Greg gives us his 3 steps to better nutrition below:
Food selection – moderate amounts of fats are okay, but be careful to go easy with saturated fats, such as butter, cream, egg yolks, etc, since they raise your blood cholesterol. Use monounsaturated fats, like olive oil and canola oils.
Food substitution – to reduce fat amounts. Use skim milk instead of cream, use plain nonfat yogurt or nonfat sour cream instead of sour cream on potatoes. These will cut cholesterol content by 65 to 90%. Also, we can benefit by using lemon juice or vinegar instead of salad dressings.
Food preparation – bake or broil instead of frying. Separate vegetables from meats when cooking, so the vegetables will not be able to absorb fats from the meat.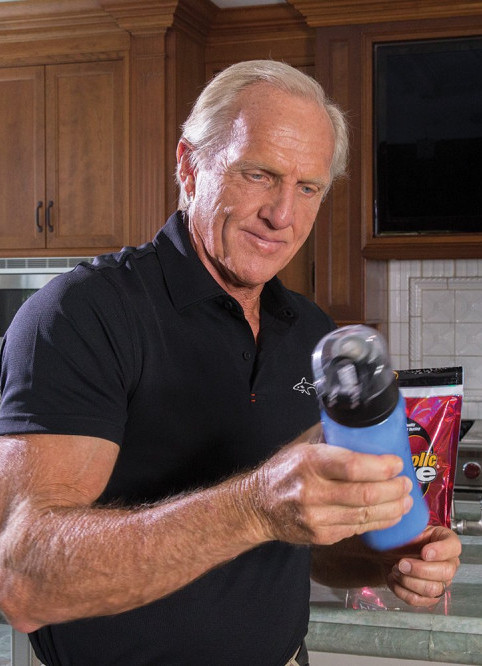 RESOURCES
As an Amazon affiliate, I may earn from qualifying purchases. See the description of an affiliate relationship in my upper menu, "Affiliate Disclosure".
Here are a few golf instruction books by Greg Norman:
Greg uses several home cardio devices – stationary bicycles, rowers, steppers and others – when he is not hiking outdoors. My favorite source for cardio equipment and for all other sporting goods items is Dick's Sporting Goods. The link below will take you to their website. All departments and current discounts are shown on the left side. For cardio equipment, click on "Fitness Deals" and then on "Cardio Equipment Deals" for a variety of options. Also, you may look through their entire inventory for your favorite sporting goods items. Shop with confidence!
Save Up To 50% On This Week's Deals at Dick's Sporting Goods
CONCLUDING
Greg Norman set high standards for his golf game and for his business career. As a 65-year-old man, he sees no reason to compromise on his fitness or health in general.
He motivates me and I invite everyone to learn and to benefit from his example.
Please leave me any comments or messages in the "Comments" section below. Or e-mail me, richard@myworkoutathome.com.
Be well and stay safe!