THE G.O.A.T. ?
At age 43, Tom Brady is preparing for his 10th Super Bowl, this time with the Tampa Bay Buccaneers. Tom's incredible career includes the following:
He has thus far played in 9 Super Bowls, a record
With the New England Patriots, he engineered wins in 6 Super Bowls, also a record
He was awarded Super Bowl MVP 4 times, another record
Tom is the only quarterback to achieve 200 regular season wins
He has never endured a losing season as a quarterback
His teams have won 17 division titles, a record
Tom was selected to 14 Pro Bowls, which ties a record
He holds the record for career touchdown passes
In postseason play, he leads all quarterbacks in completions, passing yards and passing touchdowns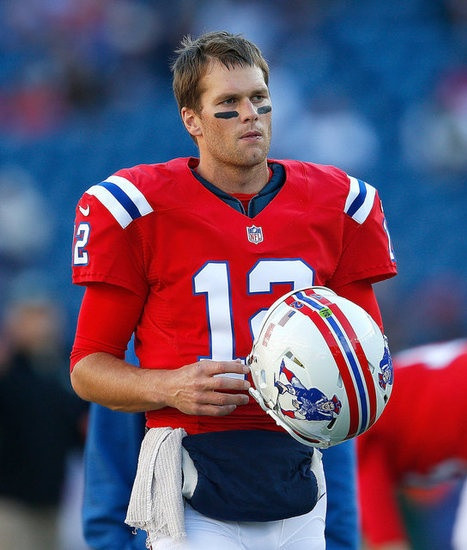 The Greatest Of All Time is not an award or an official designation. It is only an opinion. But this unofficial designation carries far more significance than any other. Muhammad Ali, Michael Jordan and others are always in such conversations. Entire careers are judged.
Great quarterbacks have been plentiful and sports fans will differ in their judgments. How about:
Johnny Unitas
Joe Montana
Peyton Manning
Any of the great Green Bay Packer trio – Bart Starr, Brett Favre, Aaron Rodgers
Based on his tangible achievements and his durability, my pick for quarterback G.O.A.T. is Tom Brady.
TOM'S NUTRITION
Tom goes by his lists of what to eat and what to avoid.
What to eat:
Fresh vegetables
Wild salmon
Grass – fed beef
Avocados
Eggs
Fruit
Nuts
Seeds
Whole grains
Protein shakes
Water
What not to eat:
White sugar
White flour
MSG
Nightshades (Tomatoes, Peppers, Eggplant)
Dairy
Iodized salt
Refined foods
Artificial ingredients
Tom drinks lots of water daily, but not with meals. He believes that too much hydration during meals will adversely affect digestion. He recommends drinking half of our bodyweight in ounces of water every day. (I checked this out and happily found that I drink at least this much).
Tom eats vegetables for 80% of his calories.
He avoids all caffeine and alcohol.
Tom follows traditional Chinese Yang and Yin diet philosophy, Yang (lighter foods) in spring and summer and Yin (heavier foods, including meat) in fall and winter.
TOM'S WORKOUT PRINCIPLES
Arnold Schwarzenegger did bodybuilding workouts to sculpt the ultimate male physique, heavily muscular and symmetrical. See my prior article. Tom Brady does functional workouts to maximize his football performance. This is not to suggest that Arnold was not a good athlete or that Tom does not have a good physique. Their goals were different and they both have succeeded in their separate pursuits…..and "succeeded" is quite an understatement.
Tom uses unique equipment in his workouts. He initially started with heavy weights early in his career, but found that he was prone to injury while doing so. He now favors:
Resistance bands
Foam rollers
Massage balls
Vibrating devices
Tom begins his workout by warming up his hands and feet. Then he begins his routine, with this caveat – do each set to failure (until you are unable to do another rep). Here is a typical routine, with resistance bands:
Standing row
Core rotations
Deadlift
Triceps extensions
Shoulder press
Squats
Lunges
He does 2 or 3 rounds of the above circuit.
Tom also adds the following, often adding resistance bands in a variety of ways:
The bird dog. See illustration below.
Walking plank, which calls for two consecutive movements -planking from straight arm position with hips high to forearm position with hips lower, back and forth.
4 – way running in place. See illustration below
Tom uses foam rollers and massage balls on a daily basis. His preference is to work quickly and intensely. He treats himself to vibrating massages to relax after a workout.
RESOURCES
As an Amazon affiliate, I may earn from qualifying purchases. Here are a few items from Amazon, all identifiable with Tom Brady. Feel free to move from these links to other nearby items as you see fit:
Equipment:
Supplements:
Books:
Apparel:
CONCLUDING
The average length of an NFL football player's career is 3.3 years. Tom Brady has played for 21 years and has endured constant pummeling by incoming linemen looking for sacks, fumble recoveries and the like.
For this reason, I would strongly recommend that my readers carefully consider what Tom is doing to achieve not only this longevity, but a career with consistent excellence.
It is sometimes hard to understand how Tom could have been the 199th pick in the 6th round of the 2000 NFL draft. Maybe he felt that he had something to prove.
Here is a picture of Tom with his supermodel wife, Gisele Bundchen.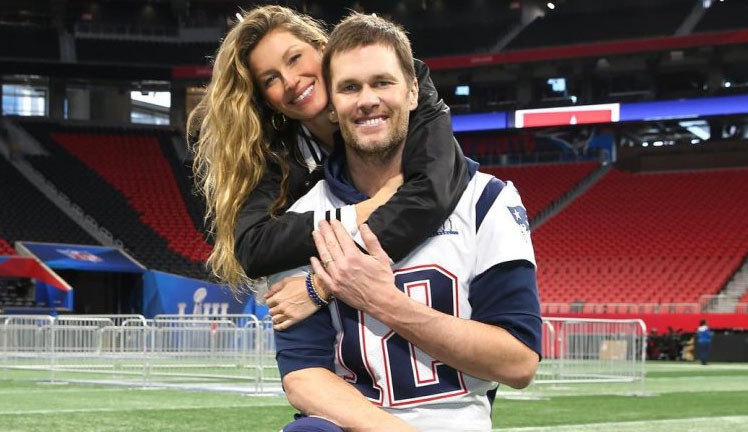 I like to include a link for general sporting goods in my blog articles. My favorite such source is Dick's Sporting Goods, the largest sporting goods merchant in the United States. I have been their customer for several decades and their affiliate for almost 2 years.
DSG has a huge inventory and currently many attractive discounts. Click on the link below and visit their website. All departments are shown on the left side. Shop with confidence!
Save Up To 50% On This Week's Deals at Dick's Sporting Goods
Please leave me any comments or questions in the "Comments" section below, or e-mail me, richard@myworkoutathome.com.
Be well and stay safe!