THE AMERICAN DREAM
Arnold Schwarzenegger, though imperfect, is a man of intense desire and discipline. He was born in Austria in 1947. By the age of 15, Arnold had achieved minor success as a football (soccer) player and weight lifter. He was impressed by the Hercules movies starring Steve Reeves and decided to direct all of his energies to bodybuilding. His goal was to eventually come to America and make a living as a bodybuilder and maybe a film star, as Steve Reeves had done.
Arnold was not comfortable with his relationship with his father, whose treatment of Arnold approached child abuse. He was anxious to separate himself from this unhappy environment.
Arnold became fanatical about muscle building. He would feel sick if he missed a workout. He would even break into his local gym to work out after it had closed at night.
The German-Austrian mentality that Arnold experienced was one of conformity over individualism. This was not to his liking. He was strong – willed, a rebel. Arnold worked even harder to achieve his dream.
He began to enter physique contests. While serving in the Austrian army at age 18, he went AWOL to compete in the Junior Mr. Europe contest. He won, but then had to spend a week in military prison.
At age 21, Arnold finally realized his dream to come to America. He knew very little English and spoke with a thick Austrian accent.
THE BODYBUILDER
The Mr. Olympia contest is the "Super Bowl" of bodybuilding. In 1970, at age 23, Arnold won his first Mr. Olympia, He went on to win the Mr. Olympia 7 times and the Mr. Universe 4 times, He is considered the greatest bodybuilder of all time by most experts.
Arnold's physique measurements were:
Chest – 57″
Waist – 34″
Arms (biceps) – 22″
Thighs – 28.5 "
Calves – 20″
He was 6'2″ and generally weighed 235.
Arnold was more than a man who could pump up his muscles. He had real strength, as evidenced by these power lifts:
Squat – 545 lbs.
Bench press – 520 lbs.
Deadlift – 710 lbs.
Arnold often trained with his friend Franco Columbu. They decided to start a brick laying business. They both then used their profits to begin a mail – order business, selling fitness equipment and instruction manuals. Arnold then began to invest in commercial real estate – apartment buildings and shopping malls.
Coming to America with very little money, no degree and little knowledge of the English language, Arnold became a millionaire before he became a movie star, which may surprise many of his fans. He also earned a business degree from the University of Wisconsin after years of correspondence courses / classwork.
MOVIE STAR, THEN POLITICIAN
Arnold's first film was Conan the Barbarian in 1982, though his bodybuilding documentary Pumping Iron won acclaim in 1977. Both of these were critically successful, especially since they showed off Arnold's physique.
As always, Arnold built upon initial successes. He became an icon of action movies, with:
The Terminator
The Running Man
Predator
Total Recall
True Lies
Commando
Terminator 2, Judgment Day
He also showed his charisma with comedies;
Twins
Kindergarten Cop
Junior
Jingle All The Way
Arnold was a major movie star and gained fame worldwide. He retired from the movies with personal wealth estimated at $400 million. He had realized the dreams he had as a teenager in Austria.
Unlike most of Hollywood, Arnold was a Republican. He became chairman of the President's Council on Physical Fitness and Sports, nominated by president George H.W. Bush.
In 2003, Arnold became a candidate in the recall election of California governor Gray Davis. Arnold won against both a Democratic opponent and a Republican, as Davis was removed from office.
He then won reelection in 2006. Arnold was a moderate Republican, fiscally conservative and socially progressive.
ARNOLD NOW
In his 70s and after open-heart surgery, Arnold still works out daily, though he uses lighter weights and more repetitions. He has begun to replace some of his weight training with bicycling.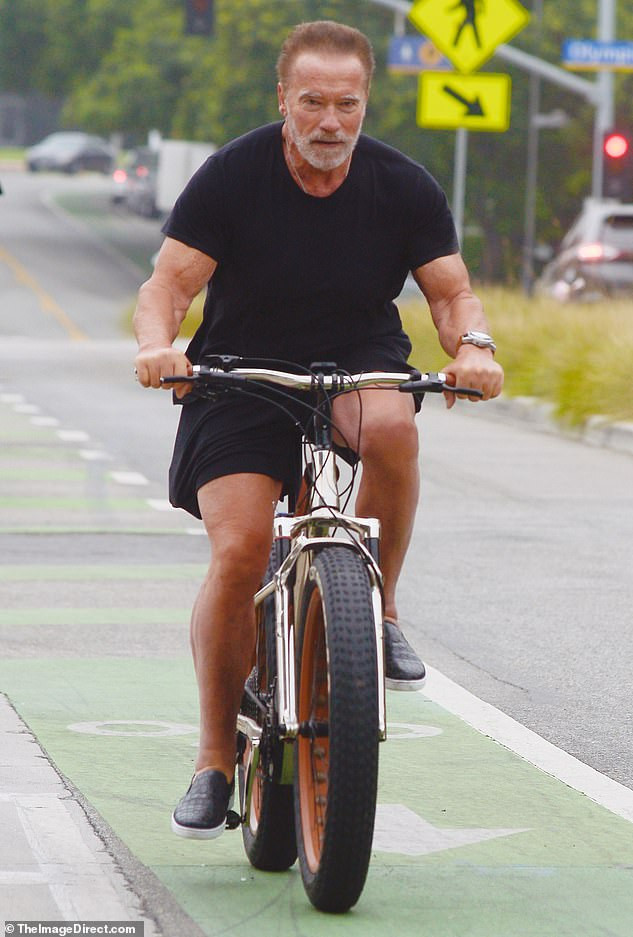 He is gradually eating more fruits and vegetables and less meat, though he is not a full vegan. He prefers almond milk to cow's milk.
Arnold's favorite foods are:
Whole eggs
Ezekiel bread
Avocado
Grilled fish
Oats
Nuts
Sweet potatoes
Vegetables of all kinds
Brown rice
Cottage cheese
Here are Arnold's typical meals as a senior:
Breakfast:
2 whole eggs
Oatmeal with fruits and sometimes a scoop of honey
Lunch:
Broccoli – boiled, not fried
Avocado
Tuna sandwich or chicken breast
Snacks:
Boiled vegetables
Fruits, especially blueberries
Almonds
Dinner:
Salad, often seasoned with sour cream or mayonnaise
Chicken breast or fish
Green boiled vegetables
Here is Arnold's secret protein shake, with a bit of his humor added in.
In this video, he gives advice on reducing belly fat, along with other bodybuilding tips. Learn from the expert. Great video.
Arnold's motivational quotations:
"For me, life is continously being hungry. The meaning of life is not simply to exist, to survive, but to move ahead, to go up, to achieve, to conquer".
"I didn't leave bodybuilding until I felt that I had gone as far as I could go. It will be the same with my film career. When I feel the time is right, I will then consider public service. I feel that the highest honor comes from serving people and your country".
"Strength doesn't come from winning. Your struggles develop your strengths".
"The worst thing that I can be is the same as everybody else. I hate that".
RESOURCES
As an Amazon affiliate, I earn from qualifyiing purchases.
Here are a few supplements and videos available from Amazon and identifiable with Arnold:
CONCLUDING
Arnold's Coming to America story is one of triumph through persistent effort and discipline. He has always been a source of inspiration for me.
As it happens, my greatest respect for Arnold came a few days ago, when he addressed my nation in a passionate and timely manner.
Here is that message, through Twitter.
For all categories of workout equipment, please review the large inventory and attractive discounts offered by Dick's Sporting Goods. Click on the link below and see the categories on the left side of their site. This is my favorite source for workout equipment and sporting goods.
Save Up To 50% On This Week's Deals at Dick's Sporting Goods
Please leave me any comments or questions in the "Comments" section below. Or email me, richard@myworkoutathome.com.
Be well and stay safe!
---