DOES SHE NEED AN INTRODUCTION?
Probably not. We speak of the G.O.A.T., or greatest of all time.
In men's tennis, is it Roger Federer? Rafael Nadal? Someone else? In golf, is it Jack Nicklaus or Tiger Woods? In basketball – could it be Michael Jordan, LeBron James, Kobe Bryant? How about Larry Bird?
All of this can be nothing more than conjecture on the part of sports fans. But we love to make these comparisons.
Based on achievement, Serena Williams is generally considered the greatest female tennis player in history. This is based on the following:
Serena has won 23 Grand Slam singles championships. This is more than any other woman (or man) in the Open Era, which began when professionals were allowed to compete with amateurs in 1968.
She has also won 14 Grand Slam doubles titles, all with her sister Venus.
Serena won two mixed doubles championships. This makes a total of 39 Grand Slam tournament wins.
She has won four Olympic Gold Medals, one for singles and three for doubles, with Venus.
Serena has held all 4 Grand Slam titles simultaneously twice. Only Rod Laver and Steffi Graf had accomplished this before.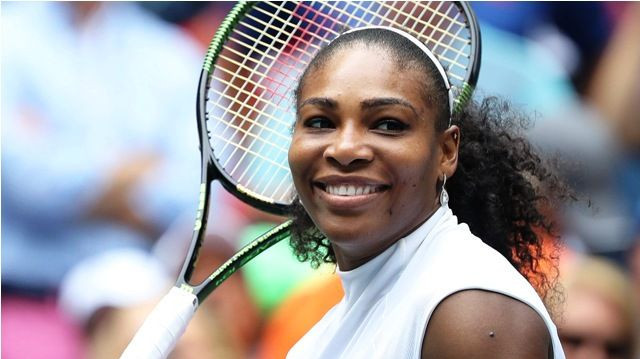 I can distinctly remember when Venus Williams first appeared on the professional tennis scene. At that time, Serena was found in the stands, cheering for her sister. I wondered if Serena was also interested in tennis. We all soon found out.
Serena was born in Saginaw, Michigan and was the youngest of one full sister, Venus, and 3 half – sisters. Her family later moved to Compton, California, where she began to play tennis at age 4. At age 9, Serena found herself in West Palm Beach, Florida. She soon established a ranking of # 9 for girls under 10 in the state of Florida.
By the age of 16, Serena had left the junior tournament trail and was beginning her professional career. In 1997, she had wins over two top 10 players, Mary Pierce and Monica Seles. She finished the year ranked # 99 in the world.
In 1999, Serena win her first professional title, the Open Gaz de France, in Paris. Later that year, she won her first Grand Slam tournament, the U.S. Open. She beat Martina Hingis in the finals. Serena was the first African – American woman to win a Grand Slam title, since Althea Gibson in 1958. This was only her second full season and she finished 1999 ranked # 4 in the world.
At 18 years of age, she was on her way. Here are a few of her subsequent accomplishments:
In 2002, Serena won the French Open, Wimbledon and the U.S. Open. She was ranked #1 in the world.
She won the Australian Open in 2003 and thereby held the titles of all 4 Grand Slam tournaments. Only Martina Navratilova and Steffi Graf had been able to accomplish this in women's tennis up to that time.
Between 2004 and 2007, Serena had injuries and surgeries. Her world ranking tumbled and her dedication to tennis was questioned. She continued with minor injuries and layoffs through 2011, still collecting lots of match wins.
In 2012, Serena won Wimbledon and the U.S. Open. She and Venus won their 5th Wimbledon doubles championship and their second Olympic gold medal as a team.
In 2016, Serena again was able to win all 4 Grand Slam titles and hold them simultaneously.
In 2017, she won the Australian Open. Later that year, Serena gave birth to her daughter, Alexis.
At this date (October 25, 2020), Serena is 39 years of age and is not as dominant as she once was, but still is able to win matches and tournaments at any time.
SERENA'S WORKOUT ROUTINE
I had spent many hours watching Serena play. With a downturn in United States men's tennis for a couple of decades, Serena was the hallmark of American tennis.
My impression was that Serena was somewhat stocky, very muscular and prone to weight gain. I had seen her enter tournaments seemingly too heavy in the first round and then look sleek and fit by the finals. This was most likely a misimpression on my part and could even be a consequence of how she dressed.
The image below does not show me an overweight, stocky woman, rather a supremely fit athlete. Serena is listed as 5'9″, weighing 155 pounds. Her abdominal muscles are incredible.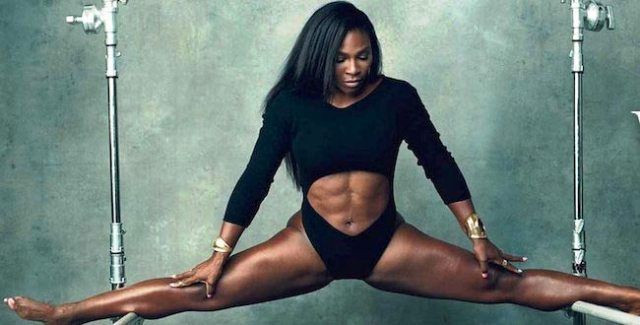 Serena works out to maintain good health and to protect herself from injuries. She works one body part per day for 3 days per week. Body parts are arms, glutes (or butt) and combined core and legs. Some of her favorite exercises are these:
Plank rows – She starts with the plank position, forearms supporting her body. She attaches cables or resistance bands securely and keeps one forearm in position. She straightens the other arm and pulls the cable inward. Then she does the same pull with her opposite arm. She does 3 sets of 15 reps per arm.
Dumbbell walking lunges or dumbbell step – ups
Squats – She does front squats, pause squats, box squats and medicine ball squats. These are for her quadriceps and glutes.
Medicine ball transfers – for her core and arms
Medicine ball side planks – with her hips on the medicine ball in a side plank position, she moves her hips up and down quickly for 15 reps, each side. 3 sets.
Sprints – Serena sprints for 20-30 seconds. At least 3 sprints. This reduces weight and fat.
TRX – she places her feet in the TRX strap and pulls her legs into her chest. 3 sets of 15 reps.
Serena always warms up for at least 10 minutes before continuing with her workout. This enables her to avoid cramps.
Serena readily acknowledges that she does not like working out. She does it to prepare herself to be the best tennis player that she can be. She normally practices tennis for a couple of hours and then does cardio and strengthening for another hour or two.
She also does the following:
Bikram yoga – this is a form of hot yoga. Serena feels that she can work muscles this way that otherwise would not be brought into play.
Pilates – she feels that Pilates adds core strength and balances opposing sides of her body
SERENA'S DIET
Serena considers an ideal nutrition plan to include 60-70 % carbohydrates, 20 % proteins and 10-15 % fats. Bear in mind that this is for a very active tennis player. She prefers several small meals during the day.
A typical day would include the following:
Breakfast – a cup of oats with strawberries and almond butter'
Late morning – vegetable sandwich or brown bread topped with almond butter or peanut butter
Lunch – salad with spinach, lettuce, tomatoes, cucumber, mandarin oranges, almonds and pita croutons. Her drink is lemon juice.
Evening snack – grilled chicken, with green tea or low sugar lemonade
Dinner – brown rice, salad and fresh (cooked) vegetables
RESOURCES
Books:
Memorabilia:

Workout equipment:
CONCLUSION
Serena has always been a powerful tennis player. She has the best serve in the women's game and is capable of 129 miles per hour. Her ground strokes are equally effective, especially her two handed backhand.
She is fit and strong.
Serena is never "out" of a tennis match, regardless of the score at any time. She has made remarkable comebacks, often by continuous service aces and return winners.
Serena is well known for her inspirational quotes, such as the following:
"I really think a champion is defined not by their wins, but by how they can recover when they fall".
"The success of every woman should be the inspiration to another. We should raise each other up. Make sure you're very courageous: be strong, be extremely kind and, above all, be humble".
"Sport has literally changed my life. I'm here because of sport. It has given me a lot of confidence, a lot of courage and a lot of discipline. It's helped me to be the person I've grown to be today".
"I don't have regrets. I don't live in the past. I live in the present and learn not to make the same mistakes in the future".
"Luck has nothing to do with it, because I have spent many, many hours, countless hours on the court, working for my one moment in time, not knowing when it would come".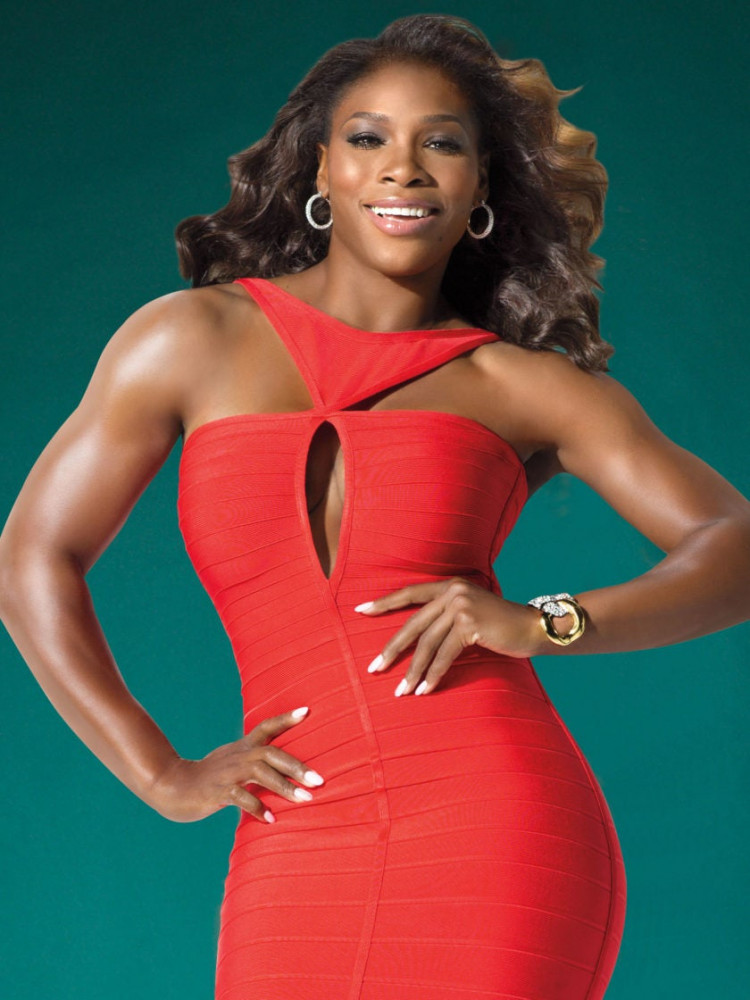 Please leave me any comments or questions in the "Comments" section below. Or email me, richard@myworkoutathome.com.
Be well and stay safe!