A CONSISTENT RECORD
Dustin Johnson is ranked #1 among world – wide PGA golfers. He entered the PGA tour in 2008 and has won at least one tournament every year thereafter, except for 2014. At this point, he has a total of 23 tournament wins, including the U.S. Open in 2016 and the 2020 Tour Championship (and Fed Ex cup) earlier this month.
Dustin is 6'4″ and 190 pounds, 36 years old. He is fit and athletic. He always seems emotionally placid, whether he is having a great round or not. I did see him make a fist pump after a long, winding 43 foot putt on the final hole of the recent BMW Championship. This was as emotional as he gets on a golf course (externally). I have never seen him scream in disgust, throw a club or otherwise show a temper tantrum. He is cool, serene and professional.
Dustin is an athletic golfer, the ultimate long hitter. This is in the tradition of Tiger Woods and the late Arnold Palmer. Brooks Koepke, Bryson DeChambeau and Rory McIlroy are also in that category. Craig Stadler, John Daly and the late Ed (Porky) Oliver were successful golfers, but could not be considered great athletic models.
I enjoy researching and reporting on the personal fitness programs of exceptional athletes. See my prior post on "Luke Kuechly" here.
DUSTIN'S WORKOUT APPROACH
Dustin wants to prevent excessive rotation in his swing, to create stability in his spine and to maximize his club head speed. He does not care about bulging muscles or a bodybuilder's physique. Dustin is tall, slender, wiry and strong.
"DJ" works hard. He is in his gym for 2 hours before his tee time, then he plays and stretches afterwards.
His program is generally to work one body part every day.
Here are a few of his favorite medicine ball exercises:
With his back on a large medicine ball, he holds a substantial dumbbell with both hands at shoulder level. Then, he twists his core left and right by lowering the dumbbell to each side. This simulates a backswing and downswing.
Standing, with one leg raised and dumbbells in each hand, he raises each dumbbell to shoulder level and then lowers them. This also goes on for about 5 minutes.
He then repeats the above exercise with the other leg raised. These are great for stabilizing his core.
Standing erect with a medicine ball held overhead by both hands, he slams the ball downward and catches it on the rebound. Also, for 5 minutes. Dustin does this with one leg raised, then with the alternate leg raised.
He stands, facing a wall with a medicine ball in both hands. Rotating his hands backward to one side, he then slams the ball to a target on the wall, 5 minutes.
Then, he repeats the above movement by pulling his hands back on the other side.
Those core stabilization movements are done with medicine balls of various sizes, depending upon strength levels and height. They are "golf specific", but could improve anyone's core strength
"DJ" also uses barbells and dumbbells for general strength – building.
Here is a video of most of the above exercises. Dustin works under the guidance of his fitness coach, Joey D.(Diovisalvi)
Check here for another golf video by Joey D.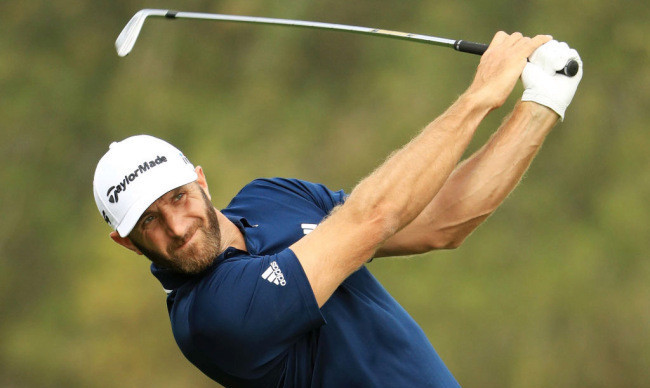 DJ'S NUTRITION
First of all, Dustin makes a strong effort to stay as hydrated as possible, given his time playing golf or practicing and his workouts. He drinks "a ton" of water and also likes sports drinks by Bodyarmour Lyte.
Here are a few of Dustin's food choices:
Breakfast – Oatmeal, with blueberries, raspberries or strawberries. At times, egg white omelets with quinoa
Before going to the golf course – Almond butter and jelly sandwich
On the course – Sports drink and protein bar at times
Snack after golf – Bowl of quinoa, veggies, chicken or fish
Dinner – Always fish, veggies, and brown rice or quinoa
RESOURCES
Here is the putter that Dustin uses
Dustin uses Taylor Made clubs throughout his bag, including the above putter. For all golf equipment, clothing and accessories, I recommend Dick's Sporting Goods, my preferred source. See below. Click on "Golf Deals" for plenty of options and feel free to check out any other category of interest.
Save Up To 50% On This Week's Deals at Dick's Sporting Goods
CONCLUDING
Dustin Johnson has attained the status of undeniable golf superstardom. As such, he can afford a personal golf fitness instructor, Joey D. He also has a chef who often accompanies him on the tour.
But the initial process of developing his golf game and incorporating a fitness program was his alone. Most of the medicine ball routines and the movements suggested in Joey D.'s videos may be accomplished at home, especially in a garage.
Let's give a lot of credit to Dustin for his ascendancy from a small college in South Carolina to the top of the golf world. He overcame some personal difficulties in 2014. He also had a 12-foot putt in 2015 to win his first major, the PGA. He not only missed the 12-foot putt to win, but also missed the next 4-foot putt to tie. DJ admittedly "choked".
Such is the learning process for a professional golfer. Dustin has matured, and at this point he exudes the confidence of someone who can only get better each year.
Please leave me any comments or questions in the "Comments: section below. Or e-mail me, richard@myworkoutathome.com.
Please be well and stay safe!