IS HE REALLY 85 YEARS OLD?
Yes, he is. He was born November 1, 1935, in Johannesburg, South Africa. Gary is shown below at the 2020 Masters golf tournament, only 6 days ago. Gary and Jack Nicklaus were starting the tournament by ceremonial tee shots.
He doesn't appear to be an 85-year-old man as he strikes his golf ball below. I watched this on television and was amazed by the sound he created as his driver contacted the ball – a loud crack! His form was immaculate.
Gary has been known as a very serious physical fitness practitioner and advocate for his entire career.
In this post, I will list his career highlights and report on his views and practices in the fitness realm.
My post will not focus on what Gary is doing now in his workouts, rather on what he has done throughout his life to arrive at the age of 85 and look 30 years younger. But even in his 80s, Gary was/is working out diligently every day.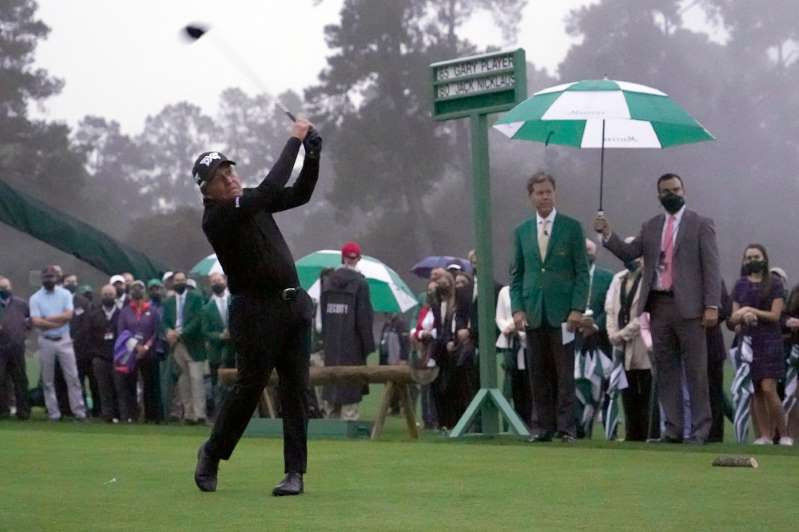 GARY'S CAREER HIGHLIGHTS
From the late 1950s through the late 1970s, Gary dominated the golfing world, alongside Arnold Palmer and Jack Nicklaus. This was a time of significant growth in the sport, as the events were televised and purses gradually increased.
Here are a few of his most notable achievements:
He won 9 major championships. The majors were: the Masters, the U.S. Open, the PGA and the British Open (also called simply "The Open")
He won a career "Grand Slam", as he had victories in all of the majors listed above.
Gary also won the South African Open 13 times and the Australian Open 7 times
He won the British Open in 3 separate decades
In his career, Gary won 160 professional tournaments, including his 9 majors, 9 senior majors and many others throughout South Africa, Europe and Australia
After retirement, he began a golf course design business and completed 400 projects in 36 countries on 5 continents.
Gary and his son Marc created the Player Foundation, which has thus far donated over $65 million to the support of children's charities, impoverished communities and educational opportunities globally.
Gary was known as the "Black Knight" since he usually wore black.
GARY PLAYER ON FITNESS
Here are Gary's 10 rules for fitness, as paraphrased from Sports Illustrated.
Make fitness a part of you. Do something every day – jump rope, calisthenics if you are traveling.
Walk with speed. Take the stairs rather than an elevator. Try not to decrease your speed as you age.
Develop both sides of your body. Avoid imbalances.
Focus on hands and wrists. This will benefit any sport.
Emphasize your core. Gary strongly believes that the core is the center of power.
Resist becoming overweight. Pushing away from the table is a great form of exercise.
Watch what you eat. Stay away from too many processed foods. Consider nuts, fruits, veggies and olive oil
Get winded at least 10 minutes each day. Boost your aerobic capacity.
Be smart with resistance training. Avoid becoming frail.
Get energy from young people. Benefit from their stamina. Be in the thick of things.
During his career, Gary consistently did 1000 crunches each day, did squats and ran on a treadmill.
He starts the day with a green juice of spinach, broccoli and kale. He says "Eat breakfast like a king, lunch like a prince and dinner like a pauper". He adds "You don't put gas in your car when you park it in the garage at night".
Here is a great video of Gary showing exercise techniques at the age of 80. Don't miss this! Continue on with the next video for more valuable tips from Gary, if you wish.
Gary's 4 secrets to longevity:
Eat half as much as you do now. Adapt according to your physician's advice.
Exercise twice as much as you currently do. Unless, of course, you are already doing a lot.
Laugh three times as much. Release the endorphins and be happy.
Love more. Have unmeasured love in your heart.
RESOURCES
Gary Player Collectible Putter
Gary has always been a big fan of treadmills. I can relate, though I walk fast and he runs on his treadmill.
In my opinion, the best source for treadmills and other cardio equipment is Dick's Sporting Goods. Click on the link below and then view the left side of the image. Hover over "Fitness Deals" and then move to "Cardio Equipment Deals" for a full array of cardio items for a home gym. I have a Nordic Track and use it 3 mornings each week, always with music playing.
Save Up To 50% On This Week's Deals at Dick's Sporting Goods
CONCLUDING
Gary Player may be the most inspiring fitness proponent that I have ever witnessed. He has led an incredible life and is now a living example of health and longevity. Be sure to view the video that I linked in this post. Note that he is quite entertaining, to say the least.
While you are within the Dick's Sporting Goods site, be sure to scroll around for golf equipment or any other sports items that may be of interest. They have it all and discounts are abundant.
Please leave me any comments or questions in the "Comments" section below, or email me, richard@myworkoutathome.com.
Be well and stay safe!