AN INTRODUCTION
My knowledge of gymnastics is limited at best, though I spend hours watching baseball, football, basketball, tennis and golf (Sports that I have played at some time in my life). But one name kept breaking through my consciousness – Simone Biles.
Simone is an artistic gymnast, 4'8″ tall, 105 pounds, age 23.
She has won 30 Olympic and World Championship medals. In Rio de Janiero at the 2016 Summer Olympics, she won the following:
Gold medal in all – around
Gold medal in vault
Gold medal in floor
Bronze medal in balance beam
Gold medal as part of the winning United States team
Her other achievements include:
5 times world all – around champion
5 times world floor exercise champion
3 times world balance beam champion
2 time world vault champion
6 times United States all – around champion
4 times a team member of the U.S. gold medal World Artistic Gymnastics championship team
Simone is often considered the greatest gymnast of all time.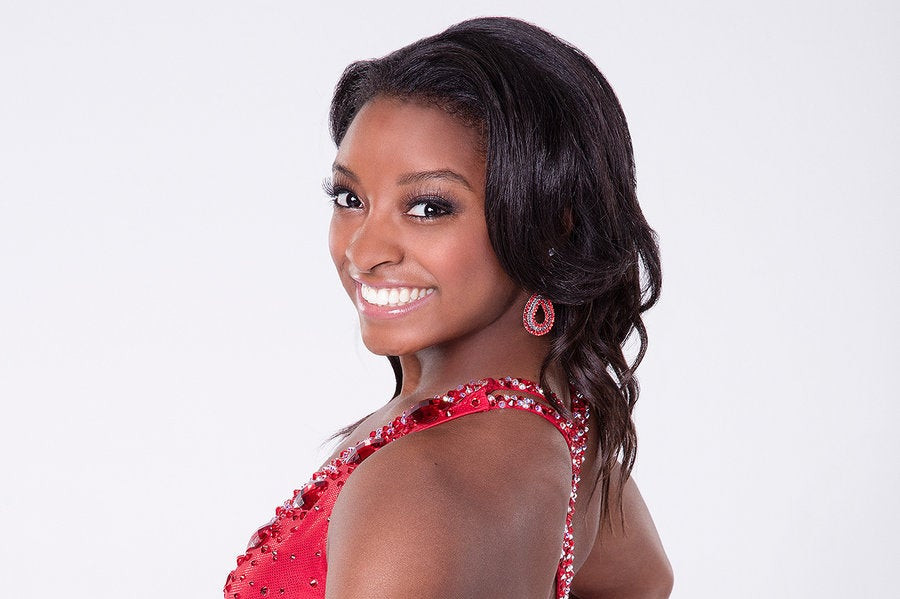 SIMONE'S WORKOUTS
Simone works out twice per day and 5 times each week, resting on Saturday and Sunday. She does endurance training in the morning. She chooses one of these 3 options:
Run 3.1 miles
Bike 15 miles
Row 1.5 miles
In the afternoons, she does the following:
Monday, Wednesday and Friday – Calisthenics and holds
Tuesday and Thursday – Circuit training
Her calisthenics and holds include:
Push – ups – 4 sets of 25
Air squats – 4 sets of 20 (no weighted resistance)
Dips – 4 sets of 20
Chin – ups – 4 sets of 10
Lunges – 4 sets of 10 for each leg
Hollow holds – 3 sets of 30 seconds. (Lying with your back on a surface, raise legs a couple of inches. Then with arms stretched back from your head, raise your head 2 or 3 inches. Hold this position).
Plank hold – 3 sets of 60 seconds
Side plank – 3 sets of 30 seconds for each side
L – sit hold – 3 sets of 30 seconds. Simone is demonstrating the L-sit hold in the image below.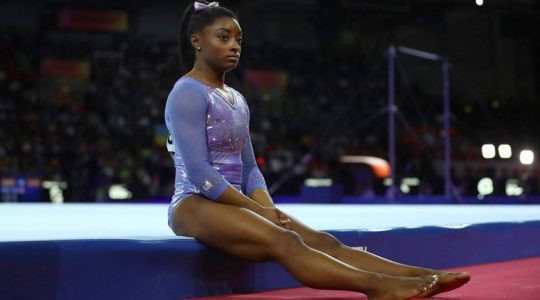 Simone's Tuesday and Thursday afternoon circuit training is composed of 5 rounds of the following:
70 double – unders (completing two jump rope rotations per each jump)
60 mountain climbers – see image below;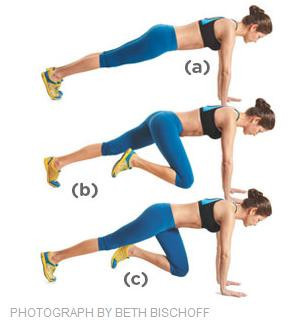 3. 50 push-ups
4. 40 chin – ups
5. 30 burpees – see image below
6. 20 wall balls – see image below
7.10 pistol squats, each leg. See below.
Simone stretches and cools down after every workout. Her favorite stretch is the split. Her workout is so strenuous that it makes me tired to even write the words and post the pictures.
It is interesting to me to see that she incorporates isometric holds in her Monday, Wednesday and Friday afternoon workouts. Her workouts are for 6 hours per day for 5 days.
SIMONE'S DIET
She is a careful eater, but confesses that she loves pepperoni pizza, after an event.
Here is her basic eating plan:
Breakfast – Kellogg's's Red Berries cereal and / or a plate of egg whites with protein powder
Lunch – lean chicken or fish
Dinner – lean meat with rice or carrots
Before one of her workouts, Simone enjoys drinking Core Power, a recovery health drink. She also likes bananas and peanut butter. Her favorite lean meat is salmon.
RESOURCES
Here are a few relevant items for Simone Biles fans or for those who may want to try parts of her workout.
CONCLUDING
Simone was born in Columbus, Ohio and raised by her grandmother and grandfather. Her mother had substance abuse issues. Simone was home – schooled and excelled in gymnastics at a very early age.
The video above, "Simone Biles, Golden Girl", presents the story of her journey to fame and fortune in the world of gymnastics. It is quite inspiring.
Her smile and warm personality contribute meaningfully to her huge popularity.
I had done 4 prior articles on the fitness programs of exceptional athletes, namely:
Luke Keuchly
Dustin Johnson
Mike Trout
Rafael Nadal
It seemed past time to do one on a female athlete. Simone Biles stood out as an iconic high achiever, though she is still only 23.
Her Monday through Friday morning and afternoon routines seem exhausting, but she is young and highly energetic. She serves as a notable role model for young gymnasts and other athletes whose skills may be ignited by her example.
Please leave me any comments or questions in the "Comments" section below. Or email me, richard@myworkoutathome.com.
Be well and stay safe!