QUITE AN ATHLETE
LeBron James yesterday led his team to his fourth National Basketball Association championship. In doing so, he became the first player in history to be named finals Most Valuable Player for three different championship teams.
It seems to me that he has been doing such as this for at least 20 years.
LeBron is 35 years old, 6'9′ and 250 pounds.
Here are only a few of his career highlights, in addition to that included in my first paragraph:
In high school:
3 times Ohio Mr. Basketball
2 times Gatorade player of the year
McDonald's All – American game MVP
Naismith prep player of the year
I remember watching him play in high school. He was a man, playing against boys. No less.
In the NBA
NBA rookie of the year in 2004
13 times all – NBA first team
16 times NBA all – star
5 times NBA all – defensive first team
4 times NBA Most Valuable Player
NBA assists leader in 2020
3 times Associated Press athlete of the year
2 times Sports Illustrated Sportsperson of the Year
In high school, playing for the St. Vincent – St. Mary's football team, he was first team all – state and later was recruited by Notre Dame to play football.
LEBRON'S WORKOUT
LeBron works out (hard) on Mondays, Tuesdays, Thursdays and Fridays. He rests on Wednesdays and week – ends.
Here is his basic program:
Monday –
3 sets of push – ups (for chest and triceps)
3 sets of 8-10 reps of pull – ups (for back)
3 sets of 5 reps of dumbbells snatches, both arms (for back and biceps))
3 sets of 10 reps of single arm cable row, both arms (for back and biceps)
Tuesday –
3 sets of dumbbell squats for 10-12 reps (for quadriceps)
3 sets of 10-12 reps of Swiss ball hip raise and leg curl (for hamstrings)
3 sets of 10 reps of dumbbell step – ups (for entire leg)
3 sets of 12 reps of single leg dumbbell calf raise, each leg (for calves)
Thursday –
3 sets of 10 reps of dumbbell bench press (for chest)
3 sets of 10 reps of lat pull downs (for back)
3 sets of 6-8 reps of dumbbell overhead press, each arm (for shoulders)
3 sets of 10 reps of dumbbells single arm row, each arm (for back)
Friday –
3 sets of 5 reps of single leg dumbbell squats, each leg (for quadriceps)
3 sets of 10 reps of Swiss ball curls, each leg (for hamstrings)
3 sets of 8 -10 reps of dumbbell side lunges
3 sets of 45 seconds of jump roping
The above program is only a basic routine. He also does yoga and plyometrics (intense jumping exercises).
The image below shows still another challenging exercise. Like all fitness practitioners, LeBron will constantly change his workout program to avoid boredom.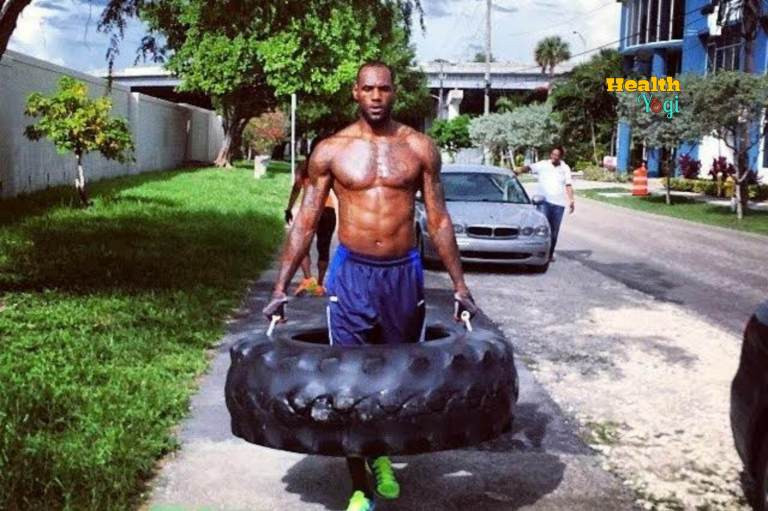 LEBRON'S DIET
LeBron generally eats 6 meals per day, 2-3 hours apart. He likes to eat chicken and pasta on game days, since the carbs give him energy. He eats plenty of fruits and vegetables and minimizes sugars.
Here is a typical daily diet for LeBron:
Breakfast – egg sandwich with avocado and salsa, on a whole grain muffin. Blended smoothie with fruit and low fat yogurt.
Snack – protein shake
Lunch – salad, with spinach, other veggies, grilled chicken and light dressing. He prefers balsamic, vinaigrette or olive oil dressings. LeBron will add fresh fruit – berries, apples or mandarin oranges.
Snack – fruit
Dinner – grilled or baked salmon, topped with crushed pistachios. Steamed vegetables and quinoa. He likes freshly squeezed lime juice and dried herbs – rosemary, chipotle pepper and paprika.
Snack – vegetable omelet and turkey bacon.
LeBron supplements with a multivitamin and plant protein chocolate.
RESOURCES
Here are some apparel and memorabilia items for fans.
Basketball shoes:
Books
Supplement
CONCLUDING
LeBron married his high school sweetheart, Savannah Brinson. They have two sons – LeBron, Jr. (or Bronny) and Brice – and a daughter, Zhuri.
He was listed by Time Magazine as one of the 100 most influential  people in the world.
LeBron is now working with Michelle Obama on a project to promote early voting.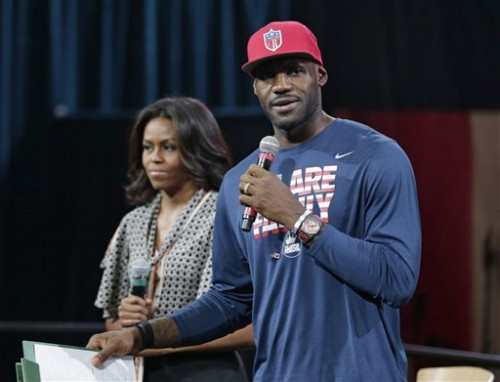 LeBron has signed endorsement contracts with these companies:
Coca – Cola
Dunkin' Brands
McDonald's
Nike
State Farm
Audemars Piquet (luxury Swiss watches)
Beats by Dr. Dre (headphones)
He supports these non – profits:
Boys & Girls Clubs of America
After School All – Stars
Children's Defense Fund
LeBron's charity is the Lebron James Family Foundation. He endowed the "I Promise School" in Akron for struggling elementary school children.
In 2017, he received the J. Walter Kennedy Citizenship Award for community service.
Is LeBron James the G.O.A.T. (greatest of all time)? Or is Michael Jordan? Or the late Kobe Bryant? All 3 were complete basketball players. Each could seemingly score at will. They were all great passers and great defensive players. Each could make crucial shots, even against defenses that knew they would be taking those shots. Most significantly, each was "team oriented" in his approach to the game.
Let sports historians worry about the GOAT label. It is always fodder for the opinionated. They were all great.
Please leave me any comments of questions in the "Comments" section below. Or email me, richard@myworkoutathome.com.
Be well and stay safe!