BRIEF PERSONAL MEMORIES
I was vaguely aware that "Rafa" Nadal had turned pro at the age of 15, but took little notice until the Spanish teen – ager defeated world #1 Roger Federer at age 17 in the Miami Open. In straight sets! Roger was in his prime at that time and lost very few tournaments, let alone matches.
Rafa was not your ordinary tennis player and he did not dress in a usual manner. He wore Capri pants instead of tennis shorts. His shirts were sleeveless and his arms were muscular. (His dress became more conventional later).
I was a big fan of Roger Federer and could see immediately that Nadal was destined to be just as good, if not better.
Rafa was relentless in his court coverage. He was able to hit winners after being run off the court by well – placed forcing shots that few players could even reach.
I had never seen a tennis player this athletic!
He was somewhat eccentric in his court habits. When sitting down between odd games, he would take care to line up his drink bottles and accessories in a very fastidious manner. Before serving, he would go through an unusual routine of touching his face and body in a precise manner and always in the same sequence.
RAFA'S ACCOMPLISHMENTS
Rafa finished 2003 as the #49 ranked player in the world
Still 17, in 2004, he became the youngest player to win a Davis Cup singes match. He beat #2 ranked Andy Roddick and assisted in Spain winning over the U.S
In 2005, Rafa won the French Open, dominated the clay court season and finished the year ranked # 2 in the world
In 2006, he won the French Open again. At Wimbledon, he defeated Andre Agassi, but lost to Roger Federer in the finals.
Rafa won his third French Open and dominated on clay in 2007. He lost a 5 set match to Federer in the Wimbledon finals.
In 2008, he won the French Open again, defeated Federer to win Wimbledon and achieved a world ranking of #1
In 2009, Rafa won the Australian Open, did not participate at Wimbledon because of a foot injury and finished the year at #2 in the world
2010 may have been Nadal's best year. He won the French Open, Wimbledon and the U.S. Open, where he beat Novak Djokovic. He achieved a "Career Grand Slam", having won all 4 Grand Slam tournaments at one time or another. He was the youngest player in the Open Era to accomplish this, at age 24.
In 2011, he won the French Open again and led Spain to another Davis Cup team win.
2012 to date – Rafael Nadal went on to win a total of 19 Grand Slam tournaments (French Open, U.S. Open, Australian Open and Wimbledon). He reached the finals 8 other times. He has won many other tournaments and has had great success in the Davis Cup. He also won an Olympic gold medal. As in golf, Grand Slam wins are the "measuring sticks" of one's career success in historical perspectives.
RAFA'S FITNESS APPROACH AND DIET
Rafael Nadal is 34 years old, 6'1″, 187 pounds, highly physically fit
Paraphrasing Healthy Celeb, here are the component parts of Nadal's workout program. These are in addition to his routine of practicing tennis for 4 hours daily:
He prefers resistance bands (or cords) to barbells or dumbbells
Rafa likes front knee bends, done with his back anchored against a wall. This is for quadriceps, knees, hamstrings and back
He does a variety of push-ups and pull ups
Parallel bar dips are among his favorites – for lower pectorals, triceps and front deltoids
Rafa likes to do medicine ball sit-ups. Here is a You Tube video to demonstrate this abdominal exercise.
He does planks, but increases the intensity by placing his feet on top of a medicine ball.
Rafa twists his core by playing catch with a partner and a medicine ball
He stretches after a workout
Rafa runs on a treadmill
He loves water exercise – swimming, running and jogging in water.
Rafa likes to play football (soccer in the U.S.) and at one point in his youth, he enjoyed football as much as tennis. He still plays a bit, but not enough to risk injuries. Football improves his reflexes.
Here are a few food favorites of Raphael Nadal:
Grilled fish and chicken
Pasta
Veggies
He also likes Chocolates, Nutella and french fries. But he makes a special effort to work out harder after eating these foods.
RESOURCES
Here are a few relevant items available via Amazon:
CONCLUDING
Rafael Nadal is now competing in the French Open and trying to win his 20th Grand Slam and 13th French Open.
At age 34, he is within a very short list of those who might be considered the GOAT, or "greatest of all time". Roger Federer, Bjorn Borg, Novak Djokovic and Rod Laver may be in that same discussion.
Rafa is said to have had only one girl friend in his life, his now wife Mery. She is shown below. She is always in the stands when he plays and never looks less than beautiful.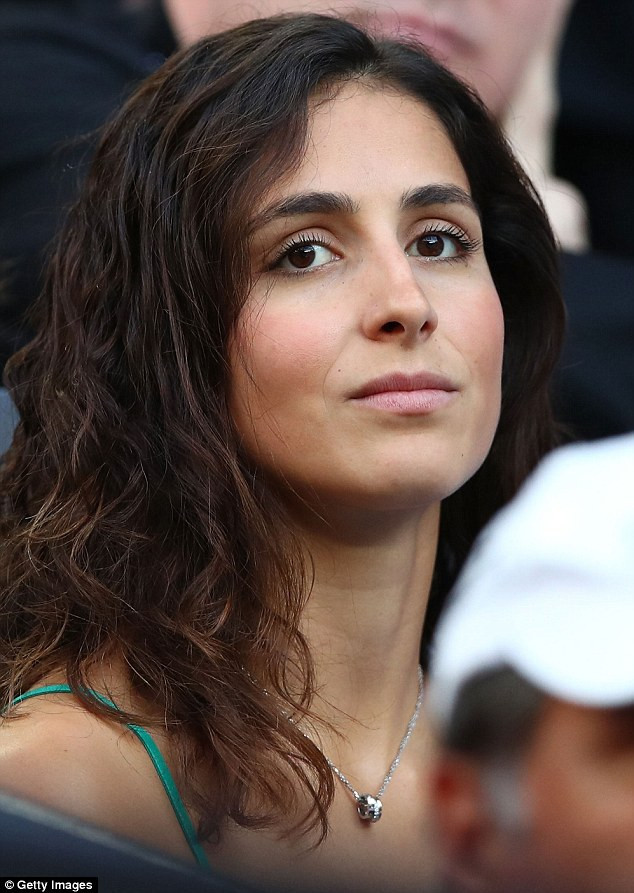 Rafa has always played an aggressive baseline game, with heavy topspin, especially on his forehand side. His serve and volley were at an earlier time relatively weak. No longer. He hits lots of service aces and/or winners and is now comfortable at the net. He often hits a flat backhand, cross court or down the line. At other times, he goes with a looping topspin backhand.
He has all the shots and no weaknesses. But he wins by an apparent force of will, accompanied by speed and athleticism.
Rafa still lives in Manacor, Mallorca, where he has established the Rafael Nadal Sports Centre. The centre houses the Rafael Nadal Tennis Academy, the American International School of Mallorca, a sports residence, museum, health clinic, fitness centre, spa, cafe and 26 tennis courts.
He is heavily involved in charitable activities. His focus is primarily on youth programs and world – wide disaster relief.
Please leave me any questions or comments in the "Comments" section below. Or e-mail me, richard@myworkoutathome.com.
Be well and stay safe!