IS THERE A DIFFERENCE ?
Very little, in terms of exercise selections or types of equipment for men or women. Definite hormonal differences, which limit muscle size potential for women. Very few women (that I know) are still concerned with the notion that strength training exercises will produce large bulky muscles and a masculine physique.
In my experience with working out with both sexes, I have noticed that women tend to sometimes prefer cardio workouts to strength training. Sometimes, not as a rule, and only in my experience.
Canadian author Shannon Clark may be more knowledgeable on strength training exercises for women than I am. She says that:
Females develop muscle at about half the rate as males
Women may struggle with losing the last bit of stubborn fat more so than men
Women in her experience are more interested in "toning" with light weights than more serious lifting
She also notes that women generally prefer cardio and diet as a means to accomplish their goals. Ms. Clark believes that toning with light weights is not very productive and that women would have better results with heavier lifting.
In my experience, I find it hard to generalize on any of this, whether with men or women. At one time though, I was in a group class with mostly women. There was an obvious point of emphasis that I immediately noticed. Glute training was dominant in the class. I found myself constantly raising my legs from a floor position – back and forth and out. This was new for me.
"Booty" workouts were more important to these women, which also coincided with "booty" resistance bands that I often see. This only made good sense and it added to my knowledge.
I might add that in my neighborhood, I see more females walking around for fitness than males.
The bulk of this post will be from research I have done, with a bit of personal experience.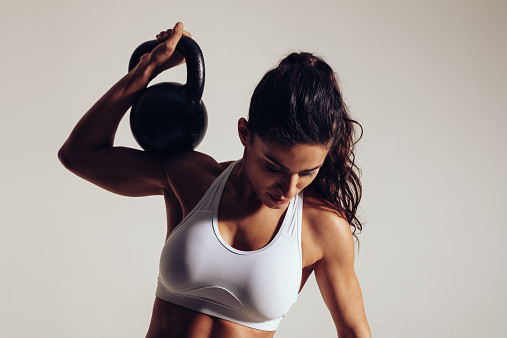 A FEW PRIOR POSTS ON NOTED WOMEN
I am new to reporting on the fitness routines of women in general, but I have done articles on specific women in the past, including their workouts, nutrition and other information. These may be of interest:
THE VALUE OF STRENGTH TRAINING
It seems to me that many women may be only recent converts to weight lifting. But training for strength not only builds a leaner and curvier shape; it also helps to improve wellness and physical performance for women.
Bone health, knee or back pain relief and better sleep are additional potential benefits.
Greater Physiques notes an accelerating revolution for women as they move from strictly cardio to strength training with weighted resistance. Reasons for this are:
Sculpting your body and correcting weaknesses is possible with strength training, but not with cardio
Lifting weights burns calories
Strength training reduces body fat and produces lean muscle mass
Diabetes, high cholesterol, heart disease and osteoporosis may be averted
Strength training gives women a cardio effect, but cardio does not produce lean muscle mass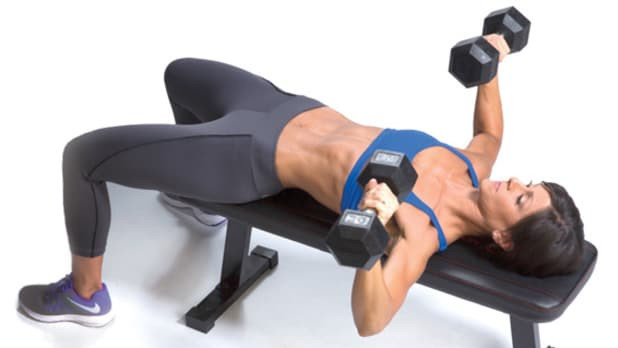 An interesting study was done by Wake Forest University. The goal was to establish the best fitness practices for overweight seniors of both sexes – how to lose weight and preserve muscle mass. There were 3 groups. Every group did calorie cutting. One group did cardio only; another did strength training only and the third group did no exercise (only calorie cutting).
Everyone lost weight. But it was surprisingly determined after 18 months that those who did the cardio lost more muscle mass than those who did no exercise at all. 249 people participated. Those who did weight training with calorie cutting had by far the best results in fat loss and muscle mass retention.
BEGIINNER EXERCISES AND RELATED ADVICE
A suggestion is to work up to 2-3 sets of 8-15 reps of about 5-6 exercises, with a rest time of 1-2 minutes between sets. Beginners may do better with one set initially.
The exact exercises can be chosen, based on your equipment and your need to improve certain body parts. And that is the value of resistance training – you can tailor your workout to suit your needs and preferences.
Basic exercises include:
Chest press (see above picture)
Rows – bent over or pulling bands
Curls
Standing or seated presses
Triceps kickbacks
Squats
Heel raises for calves
Planks
Chest crossovers with dumbbells
Upright rows
Crunches
Triceps extensions
A good compound exercise is to squat with dumbbells at your shoulders, then rise from the squat and press the dumbbells overhead.
Here is a 12-minute dumbbell workout especially for women to use to get started.
Take a look at a more advanced weight workout for more experienced women.
Finally, here is a 31-day resistance band program for women. Check it out. There is an introductory video and then lots of illustrations of strength building exercises in the article. Fitness trainer Stephanie Mansour presides.
EQUIPMENT OPTIONS
I have affiliations with Amazon and Dick's Sporting Goods. In both cases, I may recommend relevant fitness equipment and point out discounted items. If my links are used, I may earn from qualifying purchases.
Here are some Amazon choices:
Loop bands, also known as booty bands
Kettlebells – a few women have recently told me that they especially like kettlebells
DICK'S SPORTING GOODS
I have been a customer of Dick's Sporting Goods for several decades. DSG is a large company with high standards for service. Note that Stephanie Mansour in the video shown above mentioned DSG in her workout routine. This is my favorite source for any athletic or fitness equipment. DSG is currently having summer clearance and back to school sales events. Click on the link for complete information.
FINAL THOUGHTS
Both women and men have become increasingly aware of the fitness benefits of weight resistance workouts. – for cardio as well as for strength building (or maintaining).
This is not to suggest that traditional cardio routines are not also important. The best workout, in my opinion, would include both cardio and resistance. For that reason, I have both weights and a treadmill at home.
This has been my attempt to suggest that women can benefit from strength exercises as much as men. I have known women who have felt that weight lifting or resistance exercise of any kind is less than a feminine endeavor. Not true, as the results readily indicate that women look better, feel better and enjoy better fitness with strength training.
Femininity is enhanced by strength training! My opinion, but not just my opinion. It has become an obvious truth!
Please leave me any comments or questions in the "Comments" section below. Or email me, richard@myworkoutathome.com.