DEFINITELY A SUPERMODEL
German – born Heidi is now 48 years of age, 5'9″ tall at a weight of 137 pounds. The term "supermodel" may have been used loosely at times, but Heidi defines what this means. Aside from being a supermodel, she is a fashion designer, television personality, occasional actress and businesswoman.
She has graced the pages of Sports Illustrated's Swimsuit issue and is a Victoria's Secret "Angel" (which means that she is on contract and is considered a top choice for modeling their products).
Heidi now has four children. We can find lots of information about her personal life – marriages, affairs, relationships, etc. – but my interest is in what she does to stay in shape. Her measurements are 37-27-37. Her physical appearance and fitness are more important to her (and to other super models) than would be the case with most other people, even actresses. Her livelihood has depended upon this. Nothing less than a lean and toned body was acceptable to Heidi.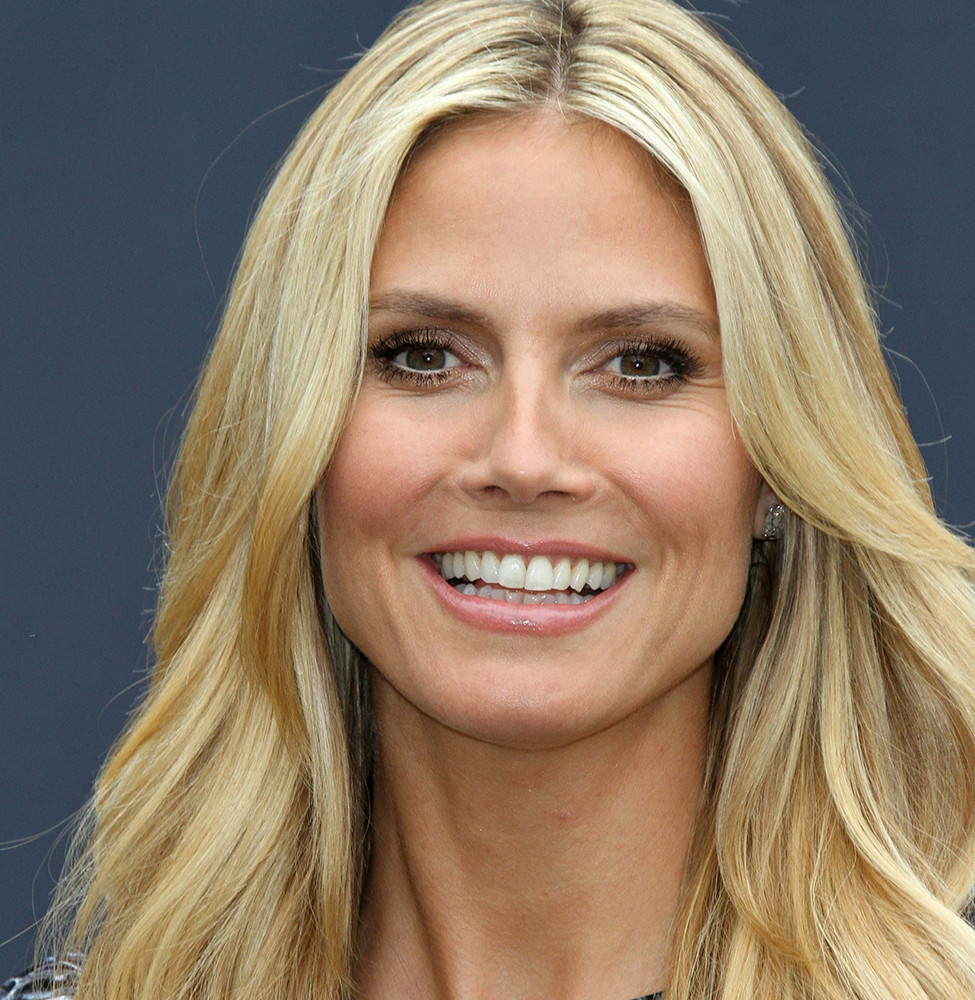 HEIDI'S WORKOUTS
I found it interesting that Heidi has used the services of David Kirsch, who also trains Jennifer Lopez, Kate Upton and Anne Hathaway. David created a special workout for Jennifer Lopez, shown here. Be careful. It is tough!
Heidi's gym training consisted of a 45-minute routine. She was never one to spend 3 hours in a gym. Her workout consisted of the following:
Back and side lunges
Planks – several variations
Leg lifts
Arm rotations
Medicine ball rotations – holding the medicine ball out front and moving it side to side
Running
Yoga
Today, her "kids" keep her busy. As a family, they walk with their dogs and jump on the trampoline in the back yard.
Heidi also runs, hikes and bikes. Inside, she runs on her treadmill and occasionally uses dumbbells and ankle weights
She also uses a workout at home, prescribed by Andrea Orbeck, fitness advisor to Victoria's Secret.
Here is the home workout developed by Andrea for Heidi.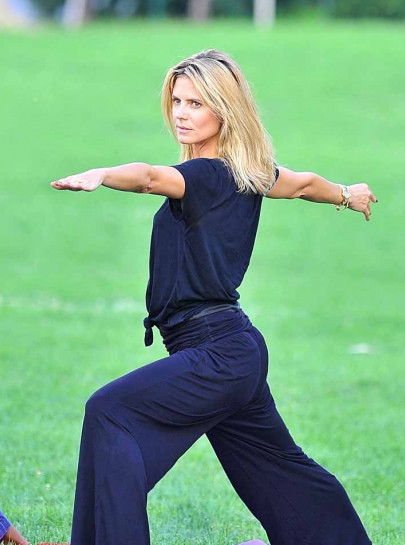 More on Heidi's workouts:
Heidi worked with David Kirsch for many years, most significantly after her 4 pregnancies. She was able to get back on the Victoria Secrets runway in two months after her pregnancies
She told herself that she needed to be bikini-ready every day
Her favorite routine is to run by the Westside Highway, bordering the Hudson River in New York City
She believes in having a workout partner, to whom she is accountable. She also values goal-setting to be able to see.progress.
Heidi believes we should personalize our fitness routines to our needs and that we should embrace our body type and not compare ourselves with others and their body types.
HEIDI'S NUTRITION
Heidi follows certain eating rules that keep her shapely and healthy. Here they are:
Eat an early dinner – she wants to allow her body sufficient time to digest food completely. Heidi follows intermittent fasting and does not eat past 6 PM. (I also do intermittent fasting and wrote about it in this article).
Small portions – Heidi does not follow a "diet". She eats moderately and with small portions.
Planned breakfasts – she combines eggs, vegetables and fruit, with tea on the side for breakfast.
Options for lunch – Heidi eats wholesome grains, lean proteins, vegetables and olive oil. She especially likes stir-fried vegetables, salads, grilled fish, poultry and Balsmati rice.
For dinner – she likes to marinate her animal protein food before cooking it. As an example, she marinates chicken in lime juice and parsley, then grills it and adds a salad.
Desserts – Heidi does not deprive herself. She favors Greek yogurt, sorbet and dark chocolate.
Dinner for Heidi –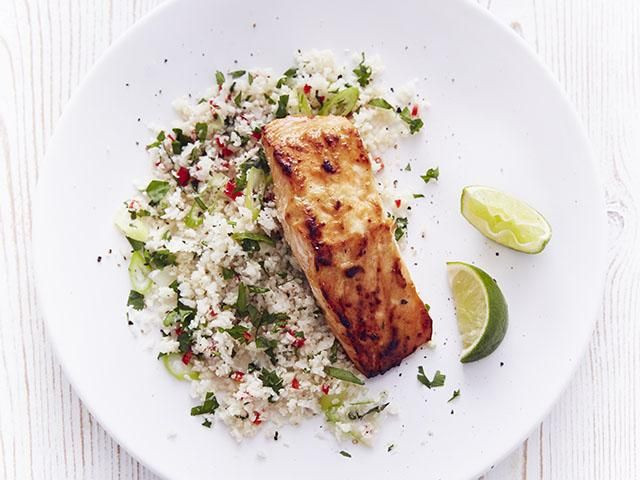 I mentioned that Heidi does not deprive herself when it comes to eating. She is shown below eating ice cream

RESOURCES
Heidi has been a big supporter of New Balance shoes and clothing. Here are some New Balance specials to consider
Amazon can provide several items that are relevant to my article on Heidi Klum. As an Amazon affiliate, I may earn from qualifying purchases. Click on the links below and scroll around as you like.
Here are more of my standard affiliations. Look for discounts!
Dick's Sporting Goods – my favorite source for athletic equipment, accessories and sports apparel. Note the treadmills.
Bullworker – high quality isotonic / isometric workout tools. Very portable.
Goli – nutritious and healing gummies and chocolate bites. Take a look! Always use this link or the code workoutblogger
CONCLUDING
In researching and writing this article, I had the very strong impression that Heidi's advice and techniques were of a very special value. After all, staying in shape was essential to her career and lifestyle. She told herself to "be bikini-ready every day".
The results justify her work and discipline. Just look at her!
Granted, she certainly must have had favorable genetics, but she almost looks plain in some of the workout pictures I saw. She was able to go from functional to beautiful as soon as she cooled off after a long run or other workout.
I was amused by one of her conversations, as she said "Yes, I will eat a cheeseburger and I will enjoy that cheeseburger".
Heidi knows how to stay in shape and she does so without deprivation.
Please leave me any comments or questions in the "Comments" section below. Or email me, richard@myworkoutathome.com.
Be well!