"JENNY FROM THE BLOCK"

Needs no introduction – or very little. I was first aware of her in 1997, as she portrayed the short life of Mexican-American singer Selena. Jennifer later attained superstardom as a singer, dancer, fashion designer, actress, producer, television personality and businesswoman.
Jennifer was born in New York City (the Bronx) in 1969, attended Catholic schools and had one semester at Baruch College before she elected to embark on a singing and dancing career. She is 5'6″ tall and weighs 124 pounds.
Her energy is obvious to anyone, as is her athletic physique. This doesn't happen by random chance. I wanted to research her nutrition and fitness standards to pass this along. Jennifer is so well known now that she is simply "JLo" to her fans.
This is not about Jennifer's personal life – husbands, romantic partners, wealth, etc. I will include a few links to her videos  at the end.
JENNIFER'S DIET GUIDELINES
JLo leads a hectic life, with many physically challenging performances. Paraphrasing Healthline, she emphasizes the following:
Nutrient-dense foods – leafy greens, complex carbohydrates, lean proteins
Lots of hydration
No processed foods, caffeine or alcohol
She includes protein in every meal and drinks at least 7 glasses of water daily. When she snacks, it is with fruits, nuts or vegetables
Healthline provides a list of Jennifer's "Foods to eat" and "Foods to avoid":
Foods to eat:
Lean protein – such as egg whites, white meat turkey, chicken, pork and grass-fed beef
Fish – salmon and sea bass (Omega-3, fatty acid-rich fish)
Vegetables – kale, spinach, broccoli, cauliflower
Complex carbohydrates – sweet potatoes, brown rice, quinoa, oatmeal and rice bread
Seeds and nuts – at least a handful each day
Dairy – Greek yogurt
Extra virgin olive oil
Water and occasionally decaf coffee
Foods to avoid:
Processed foods – sausage, salami, fast foods, chips, breakfast cereals, snack bars
Some vegetables – carrots, sweet corn
Gluten-rich foods – breads, pasta
Caffeinated drinks, alcohol
JLo tries to limit sweets to sugar-free items, but occasionally will have a cookie or some ice cream. She is said to have a weakness for chocolate chips.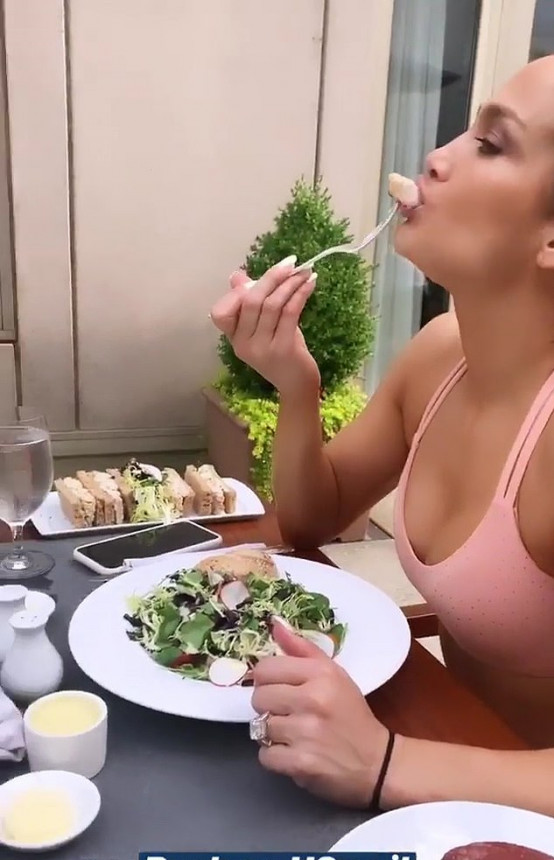 Jennifer's diet is not a prescribed list of instructions. There is no maximum or minimum number of calories, protein, fats or carbs per day. She focuses on proteins, healthy snacks and hydration. Her diet is not intended for weight loss, though the emphasis on protein and avoiding processed foods would include that result. It also lowers the risks of high blood pressure and cancer.
A typical daily meal plan for Jennifer might include:
Breakfast – a smoothie with berries, Greek yogurt, cinnamon, honey, ice cubes, lemon juice and a scoop of protein powder. She will often include fresh berries and oatmeal. She doesn't have coffee unless it is decaf. She says "I haven't had caffeine in years".
Lunch – usually a veggie salad, with kale, toasted pumpkin seeds, queso, minced shallots and a dressing made of lemon juice and extra-virgin olive oil.
Dinner – lean protein (chicken breast, fish, etc.) with more veggies and complex carbs, like brown rice or sweet potatoes.
JLO'S WORKOUTS
Jennifer says "I don't drink, I don't smoke and I don't do drugs". She continues, "I love being active, I don't think it's a chore, I just love exercise".
First of all, here is a sample of Jennifer's dance routines. Dance is not even considered part of her workout regimen, though it certainly keeps her busy. Her energy is incredible. She also does kickboxing, pole dancing, Zumba and triathlons.
Her financial wherewithal allows Jennifer to have personal trainers on both coasts. Here is a 30-minute video, which will show Jennifer's primary workout, as presented by one of her trainers, David Kirsch. This is a full body workout which can be done at home quite easily. Note the many compound movements within the exercises. Take advantage of this video. It shows a routine that was designed for Jennifer at some point and is available here for free.
FROM AMAZON
Here are a few relevant Amazon items to consider. (As an Amazon affiliate, I may earn from qualifying purchases). See in my upper menu, "Affiliate Disclosure", an explanation of how an affiliate relationship works. Click on the links below and then scroll around from there for other options:
Videos –
Book –
Equipment –
GOLI
I have one thing in common with Jennifer Lopez. We both love Goli gummies. The apple cider vinegar gummies provide support of healthy digestion, a healthy immune system, weight management, improved energy, a reduced appetite and heart health. The apple cider vinegar gummies are shown below:
Ashwaganda gummies by Goli promote reduced stress, improved sleep, support of the immune system, mood improvement and better sexual performance. Jennifer is shown below with the blue bottle of Goli ashwaganda gummies nearby.
Goli Superfruit gummies are now available, with collagen-enhancing ingredients, They are presented in an orange bottle.
For free shipping and all pertinent discounts for the Goli products, click on this link.
CONCLUDING
Jennifer Lopez is a highly energetic, hard-working woman who has achieved significant success in acting, singing, dancing and everything else she has attempted. I get the impression that no one outworks her. She sees the value of self-discipline.
She doesn't want to get too thin, just muscular and curvy. She doesn't always eat as sparingly as I have indicated – she will eat a chocolate chip cookie or some birthday cake. But she is able to stop after a taste or two of those sweets.
Jennifer's influence has paved the way for other Latinos, such as singer Rauw Alejandro. "Jenny from the block" has come a long way!
Please leave me any comments or questions in the "Comments" section below. Or email me, richard@myworkoutathome.com.
Be well!