A BRIEF INTRODUCTION
I have found that my articles on the fitness strategies of noted people tend to attract lots of attention. This seems especially true if the subject celebrity is physically very attractive.
Halle Berry is beautiful beyond any reasonable doubt. She was born in Cleveland, Ohio, to an English Caucasian mother and an African-American father. Halle is 55 years of age.
She was a high school cheerleader, honor student and prom queen. She attended Cuyahoga Community College. During the 1980s, she entered several beauty contests, finishing runner-up in the 1986 Miss USA.
In 1989, Halle moved to New York City to pursue acting. At one point, she ran out of money and lived in a homeless shelter for a while.
The 1990s were better for her, as she accepted roles in Jungle Fever, Strictly Business and Boomerang. She signed a contract as Revlon spokesperson. Later, she starred in Bulworth, Why Do Fools Fall In Love? and Introducing Dorothy Dandridge.
Halle won an Academy Award for her performance in Monsters' Ball in 2001. She later was a Bond girl and Catwoman (for which she was paid $12.5 million). She continued on and became one of the highest paid actresses in Hollywood. No more homeless shelters for Halle. In 2003, she was ranked #1 on People Magazine's "Most Beautiful People In The World".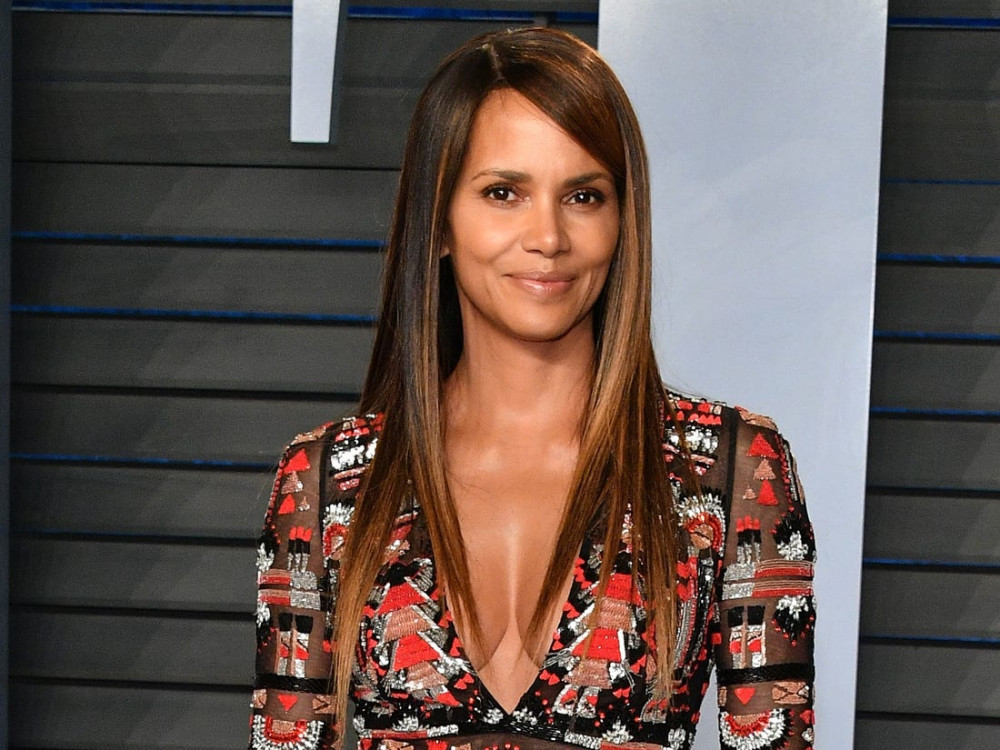 HALLE'S WORKOUT ROUTINE
In a conversation with Halle, Oprah Winfrey said "You must always be in the gym". Halle's response was "No, I'm only working out 25 minutes a day".
Halle's basic workout is:
Cardio warm-up, 5 minutes
Lower body – 3 sets with no rest between sets, 5 minutes
Upper body – 3 sets with no rest between sets, 5 minutes
Core – 3 sets with no rest between sets, 5 minutes
Cardio cool down – 5 minutes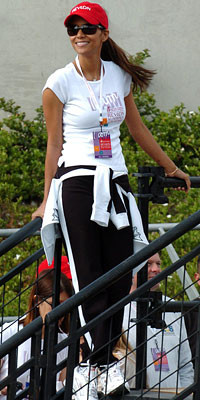 Cardio choices – Running, jogging in place, backward running, treadmill, elliptical, hill climbing
Lower body/core choices – Lunges, jump squats, dumbbell stiff legged dead lifts, planks
Upper body choices – Dumbbell chest fly, seated shoulder press, dumbbell curls, dumbbell rows, dips
Here is a 7-minute workout by Halle and her trainer at home. Lots of information is shown here and we can better understand how she maintains her physique.
HALLE'S "DIET" PLAN
Halle was found to be a diabetic when she was 22 years old. At that point, she decided to "respin" her health attitudes and particularly her diet. She combines a ketogenic lifestyle with intermittent fasting.
She is quick to say that she is not recommending this approach to all others. For her, it is a means to manage her diabetes.
The keto diet emphasizes low carbs and high fat. She has found that it cuts her cravings and helps her to "age well".
In Halle's words:
"Today, let's talk about food. I think the most important part of being healthy and in great shape largely depends on what and when you eat. Being diabetic most of my life, I have always had to take food very seriously. So, for years I have been following the keto or ketogenic diet. I hate the word "diet", so when you see the word "diet", just know I encourage you to think of it as a lifestyle change, NOT A DIET. Keto is a very low-carb food plan which actually forces your body to burn fat like crazy. I also believe it's been largely responsible for slowing down my aging process………."
This is Halle's meal plan:
She does not eat breakfast, but drinks a large (8-12 oz.) glass of water, with lemon juice
Halle then takes Purium amino acids
Next, she drinks coffee, with MCT oil (medium chain triglycerides) added
She then usually works out
Halle then eats a "brunch" of steak or chicken with dark leafy greens. See below –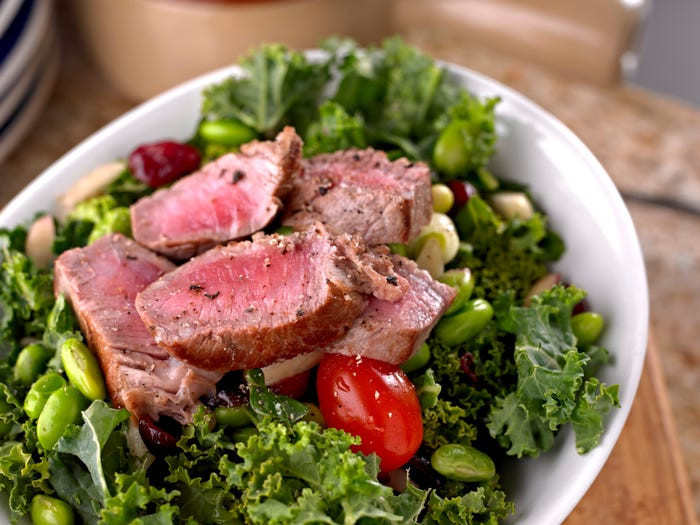 6. She snacks on fruit or vegetables during the day. She also enjoys bone broth.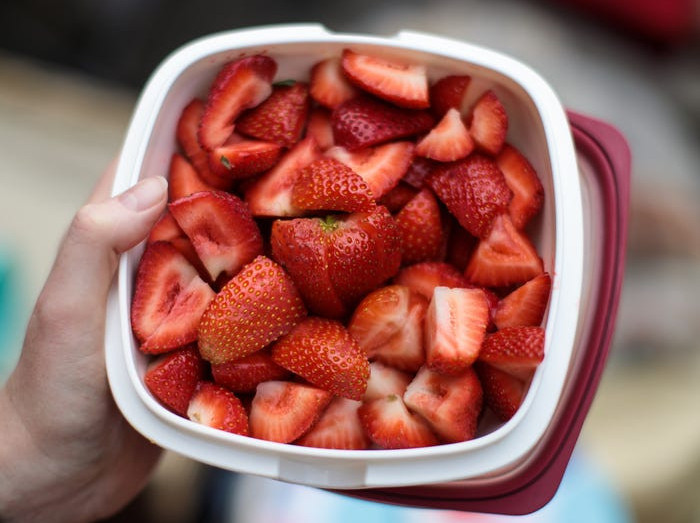 7. For dinner, she favors lamb stew (shown below), chili con carne (no beans) or zucchini noodles with pesto and pine nuts.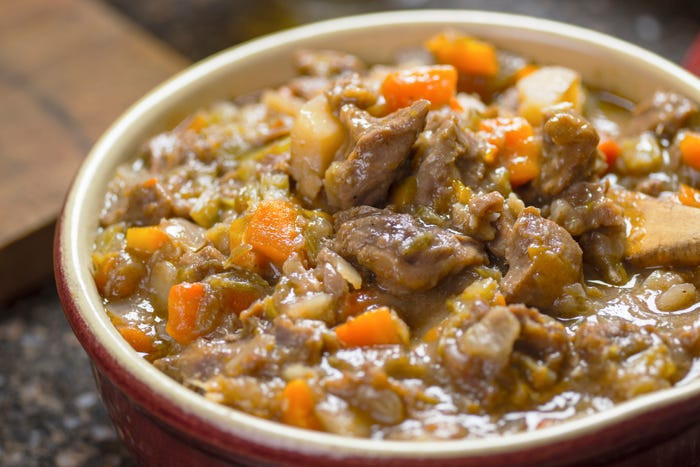 RESOURCES
Amazon provides several choices that are relevant to the healthy lifestyle of Halle Berry. As an Amazon affiliate, I may earn from qualifying purchases. Take a look:
Halle emphasizes cardio in her workouts and enjoys treadmills and other cardio equipment. The best source for this that I have found has always been Dick's Sporting Goods, the largest sporting goods dealer in the United States. From the link below, you may view their entire inventory and special pricing. Click on "Exercise and Wellness" and then see "Cardio Machines and Equipment". Also, view any other categories that may be of interest.
Other options for the health-minded include:
CONCLUDING
Halle Berry has not relied on favorable genetics to maintain her physical beauty as she has aged, though this certainly hasn't hurt. Remember: she was diagnosed as a diabetic at age 22. Also, she lived briefly in a shelter for the homeless.
She has worked hard to become a great actress and model. She is respected in Hollywood and throughout the world.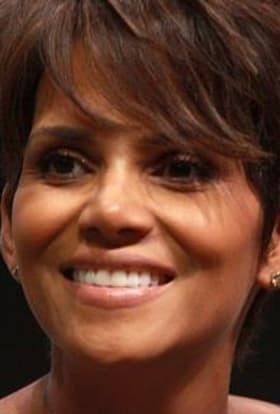 Her life story is motivating. Her self-discipline is remarkable.
Please choose a lifestyle of fitness and good health, as Halle has!
You will never regret that choice!
Please leave me any comments or questions in the "Comments" section below.
Stay healthy!