DO I QUALIFY TO SPEAK ABOUT THIS?
Yes, I am nearing my octogenarian years, after a lifetime of competitive sports and workouts. Adaptation for me has been a constant in recent years.
Up to about a week ago, I was doing a 30-minute workout every day before breakfast and was seeing the results that I expected. Then I encountered a left knee issue that lessened my ability to walk fast on my treadmill. I was already dealing with a rotator cuff impingement, slowly healing – as well as arthritis in my spine and hips.
It was time to take a few days off and re-evaluate. I did so, but began to miss the exercise. It seemed to me that continuity of exercise was far more important than resistance used or sets/reps accomplished. I wanted to keep going in some manner, even if my usual intensity was lacking.
Some of my prior articles had addressed this general topic:
My purpose in this post is to suggest that we can and should adapt to changing circumstances as we plan our exercise routines. Good fitness standards, in my opinion, lie entirely in the realm of motivation. There is nothing intrinsically difficult about exercising our bodies to improve our health and appearance. We only need to begin.
I will also make mention of equipment I have found to allow me to change my workout routines and still maintain my interest.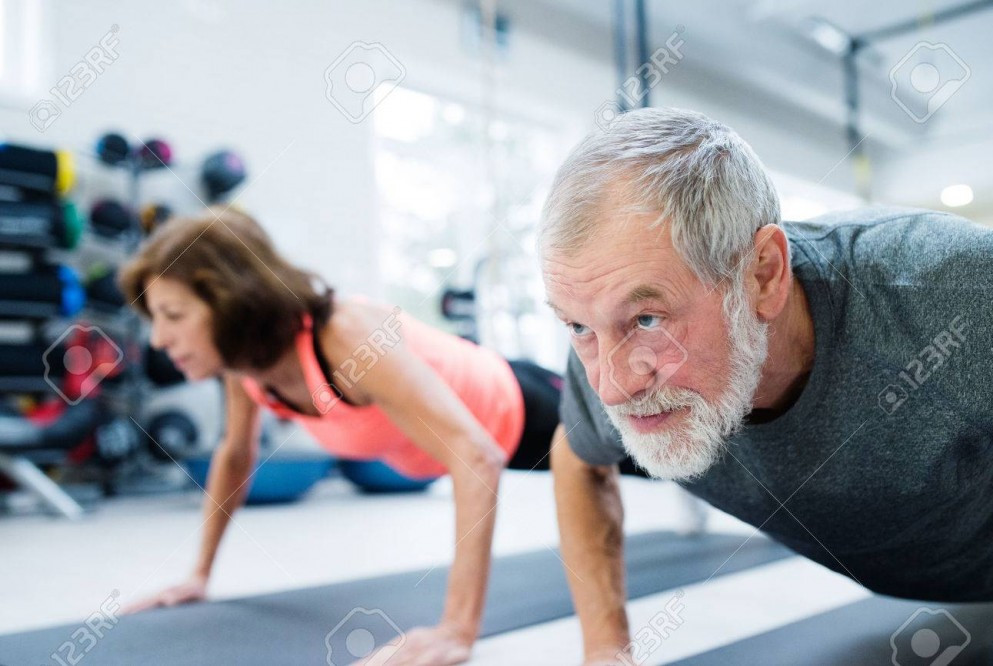 REPS, SETS AND AMOUNT OF RESISTANCE
As of this morning, I have decided to change my workout to:
Resistance exercise and shoulder therapy on one day
Cardio on the next day
I am reducing weights to less challenging but more comfortable amounts. This should be temporary and I will evaluate again when my shoulder is healed. This will allow me to continue my new routine without overwork or injury.
To abandon a workout because intensity is becoming a problem makes no sense to me at all. Any level of resistance or duration of a movement is better than none and more repetitions can be a useful substitute for heavier resistance.
ISOMETRICS
I have been happy to find out that isometric movements help to protect my joints when I work out. The joints do not visibly move. The muscle being worked does not move as it is being tensed.
An example is the well-known plank exercise, where your core and back are stressed without movement. This is one of the very best abdominal strength builders. I find that my core responds well to planking, as my midsection begins to feel the stress. See below.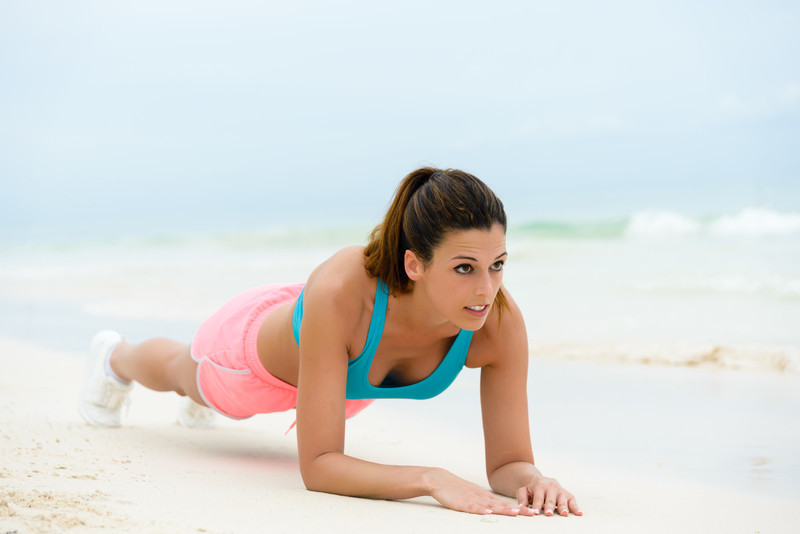 Another isometric movement is to hold a weight to the side or front, with arm or arms parallel to the ground. This strengthens the shoulder muscles. Or squat with your back against a wall and hold this position until you are fatigued
Be sure to warm up first and then build your duration slowly, for the same reasons that you would build up reps and sets slowly and not all at once. Adding intensity gradually is the key to any progressive resistance program.
The very best isometric equipment is available from Bullworker. These products are built for isometric movements or combinations of isotonic and isometric sets.
Definitions:
Isotonic movement – a muscular contraction in which the length of the muscle changes
Isometric movement – a muscular contraction in which the length of the muscle does not change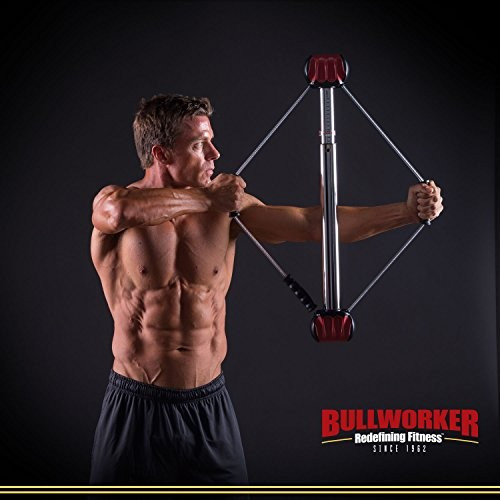 The man above is using the Bullworker Bow Classic device to work his back muscles with the archer movement. He is most likely completing the isotonic part and now finishing with the isometric hold. A set of 10-12 reps may be done by stretching the cables against resistance created by the spring within the cylinder. Or we may push the red handles together for a different source of resistance. A choice of springs is available to offer differing challenges. The uniqueness of the Bullworker products is their capacity to give us these options:
Isotonic only, as we push or pull the resistance we create by the spring we insert
Isometric only, as we simply hold against the resistance
Isotonic and isometric, as we push or pull for 10-12 reps and then hold for greater static strength
I have both the Steel Bow and the Bow Classic Bullworkers and use them both when I work out. Lately, I have used lighter springs and more isometrics than isotonics. This is to protect my injured shoulder.
Here is the link to the Bullworker site, where you can view their entire product line and complete information. These are products of high quality and are portable and easy to use.
RESISTANCE BANDS (OR CORDS)
I am using resistance bands and dumbbells at this point. Resistance bands give us resistance by the tension within the bands, while dumbbells give us their weight against gravity. I am doing more with the resistance bands currently.
As an Amazon affiliate, I may earn from qualifying purchases. See "Affiliate Disclosure" in my upper menu for an explanation of how an affiliate relationship works.
Check this link for information on a complete resistance band set, reasonably priced. Or see other options in this category.
OTHER RESOURCES I HAVE FOUND
I use my treadmill constantly and enjoy the fact that I can regulate my speed and time as I look out my window and listen to music. My favorite source for cardio equipment is Dick's Sporting Goods, the largest dealer for sports equipment in the United States. The link below will give you access to their site and current discounted items. Shop with confidence!
Save Up To 50% On This Week's Deals at Dick's Sporting Goods
This will be a deviation from workout equipment, but I have recently discovered an appetite – suppressing source that I really enjoy – Goli apple cider vinegar gummies. This works quite well for me, since it is a healthy way to ingest apple cider vinegar without the heavy taste of vinegar.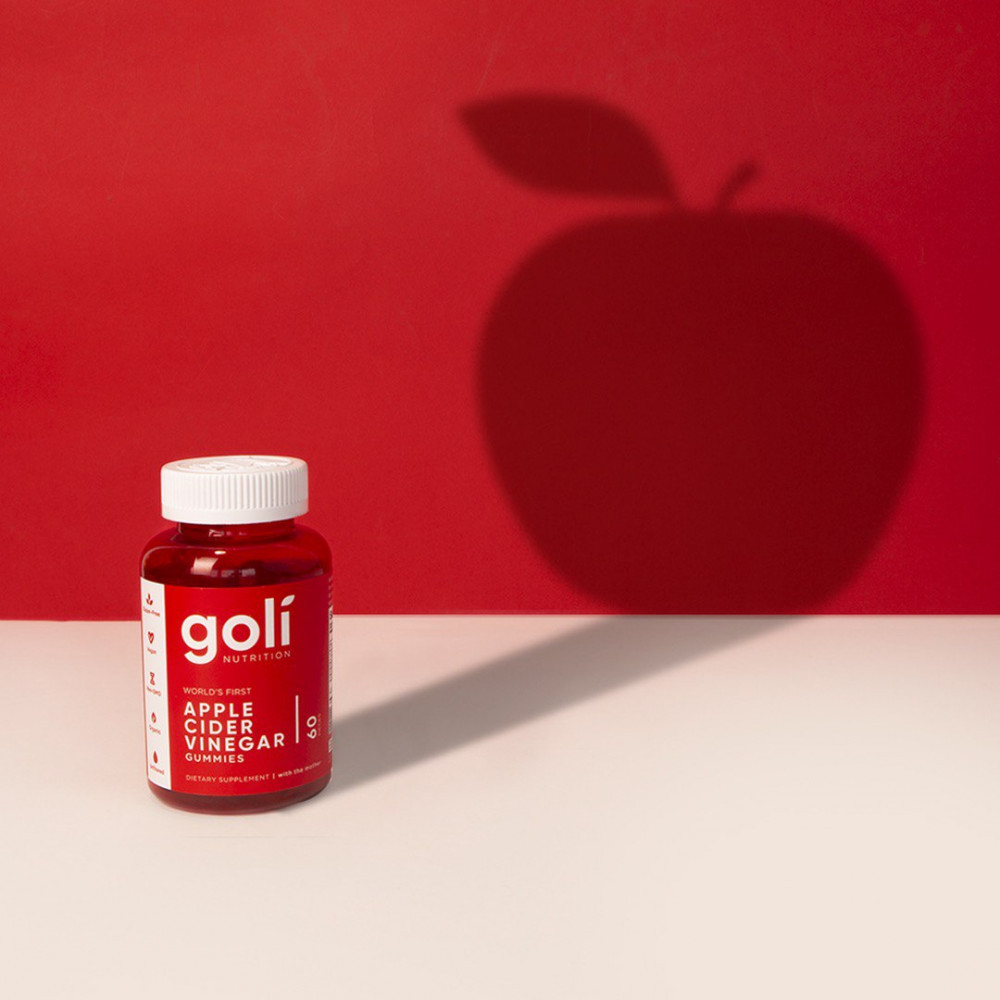 Use this link  for information and discounts on Goli apple cider vinegar.
CONCLUDING
My premise is that we need not forego fitness training when we age, even though we may be confronted with new and different challenges.
Since I have aged out of competitive sports, I enjoy competing with myself to deal with obstacles and to seek different ways to be fit and healthy.
It "ain't easy", but it's worth the challenge.
Remember the words of George Bernard Shaw – "We don't stop playing because we grow old. We grow old because we stop playing".
Please leave me any comments or questions in the "Comments" section below. Or email me, richard@myworkoutathome.com.
Be well and stay safe!