PLANNING CAREFULLY
As a senior fitness advocate, let me state the obvious. Our workout capabilities and needs change as we age. For example, here is my situation:
I am limited by very little cartilage left in my knees and an arthritic back
A rotator cuff injury affects my ability to push or press heavily
I am no longer able to play tennis and certainly not basketball (my two lifelong sports)
On a much more positive note:
Doing a 30-minute workout every morning is well within my capabilities
My weight is now 180, less than it has been in about 60 years
My blood pressure this morning was 120/69
My resting pulse was 58
So….we adapt and move forward with careful planning. My goal was to structure a brief (30 minute) workout that I would look forward to doing every morning before breakfast. I wanted to emphasize the core and strive for an abdominal 6-pack. Working around my rotator cuff issue was necessary, as were the therapy movements I was given to improve my range of motion in my right shoulder area.
In addition to abdominal exercises, I wanted to incorporate work for my chest, back, triceps, biceps, calves and neck. Also, diet and cardio exercise had to be component parts.
I have always been a firm believer that progress in physical fitness lies primarily in the realm of motivation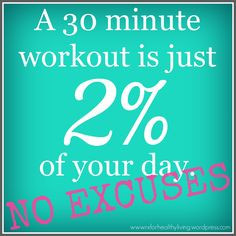 THE WORKOUT
Workarounds are important to my routines. My shoulder injury is hopefully a temporary obstacle, but my knees and back issues prevent upper leg exercises and also place limitations on running and/or long walks. I previously did an article on workarounds, available here.
I actually do two separate workouts, alternating daily. They are very similar, but I never do the same movements on consecutive days for chest, back, biceps, triceps or shoulders. The point is to work these body parts and then let them grow the next day as they rest.
Another workout key for me at this point is to do high repetitions with lighter weights or bodyweight only.
WORKOUT # 1
Calf raises – 2 sets of 100 reps. Placing my hands on a wall and stepping back as far as I can, I do heel raises to stress the gastrocnemius muscles. I change my toe positions during the set – straight, outward and inward.
Seated twists – 2 sets of 80 twists. I twist my abdomen from side to side as I look straight ahead and move only my waist. This works the external oblique muscles on your sides, the "love handles".
Crunches – 2 sets of 75 reps. It is important to raise your shoulders about 6″ and to keep the stress on your core by not lowering your head to rest during the set. See below.
Plank – 1 set for 1 minute. Supported by forearms and toes, keep your body in strict alignment. This will engage your core and back. I will soon go to 2 minutes. See below.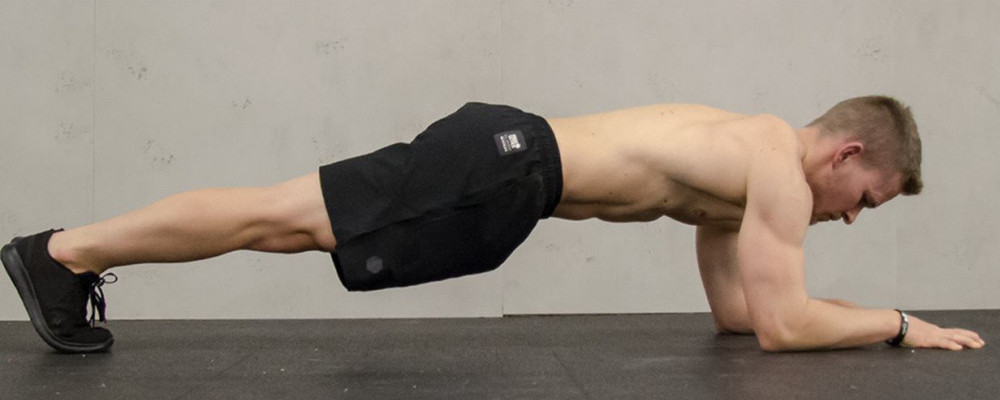 Rowing motion – I set for 45 reps. With resistance cords anchored at the top of a door, pull to lower sides and then gradually raise, so you will be pulling (rowing) to your shoulders at the end. This is great for the latissimus dorsi muscles of your back. See below.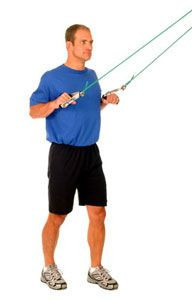 Standing alternate dumbbells curls – 2 sets of 15 reps, each arm. Curl both arms alternately, one being raised as the other is lowered. Curl slowly, but do not lock out the arm when it is lowered. This will enable you to keep the stress on the biceps. See below.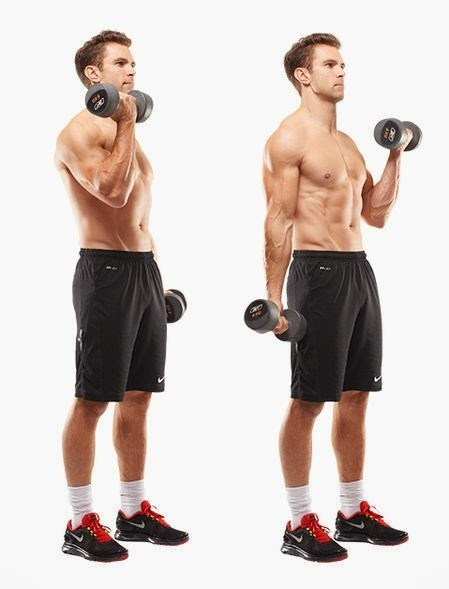 Push-ups against an exercise ball at a wall – 2 sets of 30 reps. While standing, lean in toward a wall as you hold an exercise ball. "Push-up" against this ball for 30 reps. This was my first attempt to push or press before my shoulder injury is healed. It was easy to do, since the exercise ball provided the necessary resilience. It was also effective. My pectorals and triceps were very actively engaged.
Bullworker Steel Bow chest compression – 2 sets of 15 reps, with 30 second hold at the end of each set. Here is a brief video showing the chest compression, though I do more reps, longer holds and holds at the end. I like the Bullworker products, since they provide the opportunity for both isotonic and isometric movements. The chest compression strongly activates the chest muscles (pectorals).
Treadmill work – 1 mile walk, which takes a little over 20 minutes. I end with cardio, though others may do cardio first, then bodybuilding. I raise the speed after each minute until the end – 2 mph when I begin, 4 mph at the end.
WORKOUT #2
Shoulder therapy stretches – 9 sets of 35 seconds each. These are doorway stretches. I anchor my hands at a doorway and then move my body slightly forward to stretch my shoulder and back. I do 3 sets with hands about waist high, then 3 sets with hands at shoulder height and finish with hands above my head. These stretches are intended to push my shoulder blades together and downward. After about 8 months, my range of motion for my right shoulder has vastly improved.
Neck stretches – 2 sets of 80 stretches. I simulate chewing while sitting down and looking upward. As I "chew", I move my neck from side to side. Looking upward will keep your neck stretched. This will activate the neck muscles and address the problem of flabby necks that all seniors confront.
The next 5 sets will be repeats of the two sets of twists, two sets of crunches and1 set of planks from the prior day, described above.
I also finish with the same 1- mile treadmill walk, with speed increasing after every minute.
These workouts – part #1 and part #2 – will not go on without modifications as my needs change. They keep me busy for now, but my need for more resistance will emerge as my shoulder improves.
PROTEIN DRINK AND CALORIE CONTROL
After my morning workout, I always blend a drink with the following component parts:
About 25 ounces of water
2 ice cubes
A sliced banana
About 20 pineapple chunks
Generous squirts of lemon or lime juice
Lemonade flavored drink mix by Crystal Light
A spoonful of protein powder
A spoonful of honey
I will change these ingredients as time goes on – for variety.
My calorie control method is very simple and effective. I consume 10 calories per pound of bodyweight per day. This keeps me from gaining weight. My biggest weight issue has always been the presence of addictive foods – with salt, sugar or fat content. I can control calories, but I have much room for improvement in my selection of types of calories.
RESOURCES
As an Amazon affiliate, I may earn from qualifying purchases. See in my upper menu the "Affiliate Disclosure" for more information on an affiliate relationship.
Here are a few relevant items that are available from Amazon (scroll around from these for other similar options):
My treadmill is my favorite piece of workout "furniture". In my opinion, Dick's Sporting Goods has the best cardio equipment choices – treadmills, bicycles, rowing machines, steppers and others. DSG also has many current discounts to consider, on cardio equipment and throughout their inventory. Click on the link below and then look on the left side of their site for a wide array of "deals". Buy with confidence!
Save Up To 50% On This Week's Deals at Dick's Sporting Goods
Bullworker devices are high quality, versatile, mobile products that give us the option of isotonic or isometric movements. Most of us use a combination of both modes. This link will take you to their website for all pertinent information. Use the coupon code hat5 for a 5% discount on any purchases.
Fit Track is another brand very worthy of consideration. Their Dara Scale will measure 17 health metrics to give you instant readouts on what is going on in your body. Learn more here.
CONCLUDING
It is far better to tailor an exercise routine to our specific requirements than to assume that "one size fits all". This may take a bit of thought, but it is well worth the deliberation. Hopefully, my readers may recognize some of my issues and gain from this article. This may be more likely with senior fitness advocates, though we must remember the words of George Bernard Shaw, "We don't stop playing because we grow old. We grow old because we stop playing".
Here is another bit of motivation –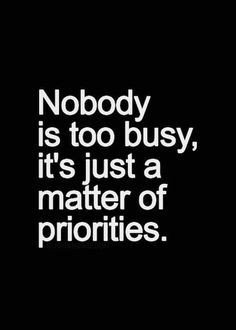 Please leave me any comments or questions in the "Comments" section below. Or email me, richard@myworkoutathome.com.
Please be well and stay safe!