SHE'S A SUPERSTAR….
Sofia Vergara needs little introduction. She's an accomplished actress and model, born in Colombia and now an American citizen. She was discovered by a photographer while walking on a beach in Colombia at age 17. Perhaps unknown to many, Sofia was studying dentistry, but saw greater opportunities in modeling and show business. At age 26 she emigrated to the United States after her brother Rafael was murdered in a kidnapping attempt. She settled in Miami.
At age 40, Sofia became the highest earning woman in television. She is now 50 years of age.
Unlike many actresses, Sofia is a natural blonde who colors her hair to look more like a stereotypical Hispanic.
This post will report on her exercise routines and attitudes, with some attention to her eating habits as well.
AN ENDOMORPH
In a prior post on body types, I listed the basic types for men or women and the specific types applying to women.
Sofia is an endomorph, which means that she may easily put on fat. She needs to work out to keep her figure, more so than other actresses. She also has the "hourglass" woman's body – voluptuous, curvy. Thus, all the more reason to keep "toned" and not become too curvy.
Sofia's key to fitness is motivation. No surprise there. She does not enjoy the drudgery of long workouts, Sofia works out because her figure is important to her for personal gratification as well as for career reasons.
To stay motivated, she does the following:
Sofia sips coffee on the way to the gym, a Colombian roast. This wakes her up and energizes her. She also feels that the caffeinated coffee helps her burn more fat.
She likes to have a workout partner, someone to keep her accountable.
Sofia looks for enjoyment – cardio dance classes, jumping on trampolines, surfing or biking.
She likes to treat herself after exercise, with a chocolate protein powder smoothie (with berries, coconut water and almond butter).
SOFIA'S WORKOUT
Sofia strongly dislikes running and gets most of her cardio from her treadmill or stationary bicycle. With her treadmill, she likes to raise the incline level to give her upper legs more work. She also likes swimming, Pilates and yoga.
Actually, Sofia also dislikes going to a gym, yet she does it anyway. She loves the feeling of accomplishment when the "torture" is over.
Here are some of the basic exercises that Sofia does for 10-12 reps each:
Legs, back, biceps, abdominals –
Wide-stance dumbbell squats
Lunges
Dumbbell rows
Cable lat pulldowns
Narrow grip barbell curls
Dumbbell curls
Crunches
Chest, shoulders, abdominals –
Dumbbell bench presses
Dumbbell lying lateral raises
Shoulder lateral raises
Lying triceps extensions
Cable pushdowns
Planks
Sofia uses a trainer – Gunnar Peterson. This helps with her motivation and assures that she is doing the exercise correctly.
Here is a video of the workout Sofia does with Gunnar (though this is not Sofia doing the workout).
Sofia likes to work her shoulders, since this tends to lessen the width of her waist.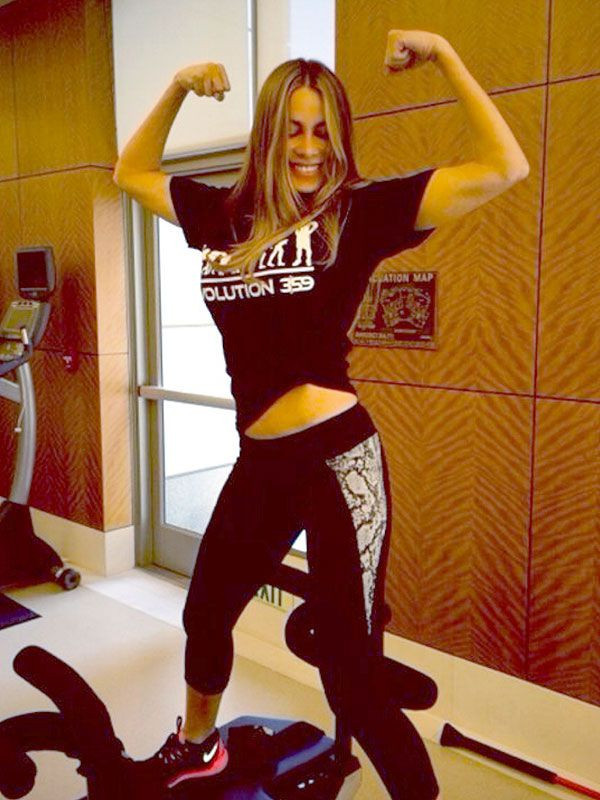 SOFIA'S DIET
Sofia likes to eat healthy foods, "most of the time". If she spends a week or two "on holiday", she may indulge in more junk food or alcohol than usual. She will then let her body recover by "eating especially clean" for a month.
She likes fish, salads and Middle Eastern food in general. Note my prior post on the Mediterranean diet.
Here is a general schedule of Sofia's eating in a typical day –
Breakfast – homemade muesli, with Greek yogurt, chia seeds, nuts and blueberries
Lunch – a good salad and fish
Dinner – she may have sushi or Middle Eastern food, but she may also opt for pizza or steak
Snacks – fruit, maybe with a light pastry and a cup of tea
It's no secret. Sofia loves cake! You may have heard of "No pain, no gain". Sofia's motto is "No pain, no cake".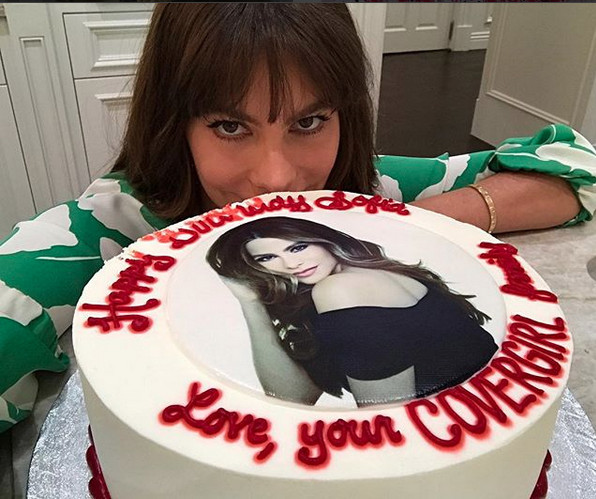 AMAZON
As an Amazon associate, I can place their links within my website and benefit from any purchases made through the links. This has no effect on pricing.
Here are a few items from Amazon that relate to Sofia Vergara's workouts:
Nordic Track treadmill – Sofia uses treadmills and does not run at all. She raises the incline as she walks on the treadmill.
Harison Indoor Bicycle – she also uses a stationary bicycle for cardio
Indoor trampoline – Sofia loves to jump on trampolines for cardio
Lighter dumbbells – Sofia uses dumbbells in many exercises, but not heavy ones
FINAL THOUGHTS
Sofia Vergara is quite a woman. One of her most obvious assets is her sense of humor. She can be hilarious. Here is a compilation of interviews she has done. Her accent, smile and self deprecation are – what's the word? – adorable!
Sofia seems always ready for a joke and does not seem to take herself too seriously.
Her discipline in working out (even though she may hate it) is to be much admired.
I am among many who are happy that she made America her home!
Please leave me any comments or questions in the "Comments" section below Or email me, richard@myworkoutathome.com.
Be well and stay fit!