WHAT ARE THE BENEFITS?
Resistance bands have been accepted tools for home workouts for many years. There are definite benefits:
StrengthandConditioningResearch.com tells us that their effect on our muscles is similar to that of free weights and yet the amount of force on our joints is much lower.
The constant tension from bands means that we must stabilize our core during the movements, thus we are less likely to cheat on the exercises.
Combining resistance bands with weights improves neuromuscular performance more than only using weights.
There are more exercise options and positions with bands vs. free weights.
Resistance bands are inexpensive
Resistance bands have long been considered beneficial for physical therapy and injury rehabilitation. Also, seniors tend to use them for their workouts to avoid joint pain. The bands have been popular because they are portable and great for traveling. But….take a look at the video below.
Here is a short video by an experienced bodybuilder who dispels the beliefs that bands are not for those who want to build muscle.
The remainder of this post will show some resistance band workout videos and then a few band options available from Amazon.
SOME WORKOUTS
Here is a brief band workout showing a male bodybuilder figure, with specific muscles at work. (Resistance bands with handles).
This video is of a woman doing a total body workout, also with bands with handles. She shows us several compound exercises.
Loop bands are used in this video – for hips, legs, glutes and core.
This video shows a loop band workout for the upper body.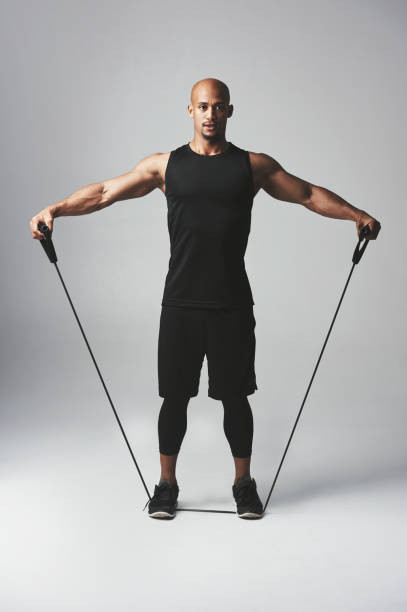 AMAZON
As an Amazon associate, I am able to insert their links into my posts and benefit from any earnings they may generate. This has no effect on pricing.
These will be sets of resistance bands of proven quality. Each link will contain images, detailed information, reviews and similar options at different price points.
Highest quality resistance bands – 300 pound set, with handles
Good quality set of bands – with handles and all accessories
Loop resistance bands – the highest quality
Loop bands at a very good price – still good quality (I use them)
TRX Suspension Training tools are somewhat similar to resistance bands, though they incorporate the use of gravity in the training. The link will take you to a prior article about TRX.
FINAL THOUGHTS
My personal resistance training has changed over the years (actually decades), but has been generally for functional results. My best results came as an 18 – 19 year old, lifting heavy barbells for 5-8 reps per set.
At this point, I do lots of resistance band exercises, for both strength retention and physical therapy.
It seems to me that resistance bands would be the best bet for a beginner who wants to add muscle and walk (or run) for cardio. This assumes the beginner works out at home.
Here are my reasons:
Resistance band sets provide a source for thoroughly working our entire bodies
They do not injure our joints, as heavy weights may
They are portable and can be taken on trips
Resistance bands are important for those who work out in gyms. They provide a home option or back-up plan when gyms are not available or when they are short on time
Best of all, resistance bands are not expensive.
Please leave me any comments or questions in the "Comments" section below. Or email me, richard@myworkoutathome.com.
Be well and stay consistent with your workouts!
.