COMMUNING WITH NATURE
My personal experience with hiking and backpacking has been sufficient to appreciate the health benefits therein, though I don't claim to be an expert.
I have:
Climbed to the top of Mt. LeConte several times, the highest peak of the Tennessee Smoky Mountains.
Done hiking and quasi mountain climbing in Asheville, NC with my daughters. Also, white water rafting with my daughters.
Camped in a tent with a friend and her dog in the Blue Ridge mountains of NC
Done camping and lots of hiking in my military training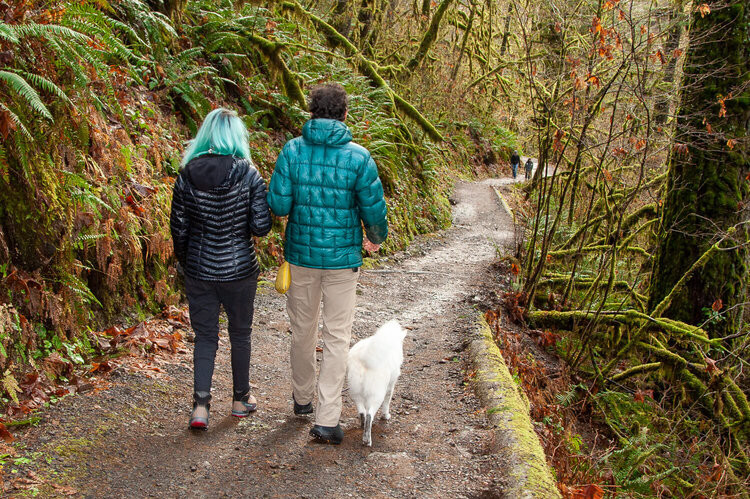 Here are some of the benefits of hiking:
Hiking is a cardiovascular activity. Heart health, blood pressure and blood sugar levels are improved.
We can increase the strength in our leg muscles and add stability to our core. We can also improve our balance, as we deal with different levels of terrain. Climbing will work our quadriceps, glutes, hamstrings and calves. Descending will also engage our quadriceps and glutes as we work to prevent falling forward.
Researchers at Stanford University have found that spending time in nature will reduce our thought patterns about negative emotions, thus enhancing our mental health.
We become more mindful of our feelings and emotions, which reduces stress.
The remainder of this post will address the training that is necessary for hiking and backpacking, the importance of what we carry in our backpacks and sources for equipment to make the venture more enjoyable.
TRAINING FOR MOUNTAIN HIKING
The length of any training to prepare for hiking or climbing will depend upon your physical condition and the difficulty of your goal. It is important to consult with your primary care physician before making such plans, especially if you are a sedentary person. It is likely that your planned hike is much more than a casual stroll, one that will require strength and stamina.
Warming up is essential to any form of exercise, maybe a 15-minute walk outside or on your treadmill.
Strength training for your legs, glutes and core muscles is crucial – calf raises, squats and lunges. Crunches and planks.
Hiking will prepare you for more challenging climbs. Do short hikes and then increase the distance and gradient.
Cardio activity is good – swimming, running or walking.
Here is a great video, showing strength-building exercises for hiking.
PACKING YOUR BACKPACK
Here is a checklist for a day trip – clothing, gear essentials, etc.
Hiking shoes – lightweight
Hiking socks – wool
Pants instead of shorts – more protection from abrasive plants along the way. More pockets. But take shorts also if you have room.
Button-up shirts with collars. Polyester and wool instead of cotton.(to deal with perspiration better)
Rain jacket or windbreaker
Down jacket
First aid kit and headlamp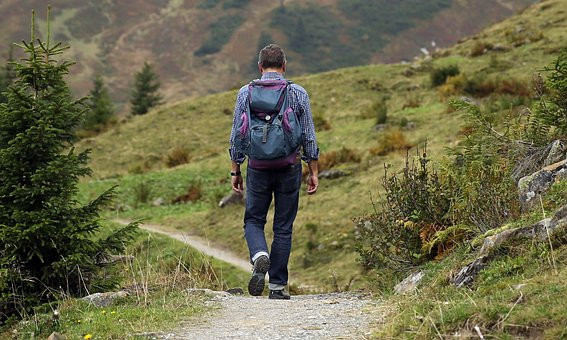 Plenty of water and food
Navigation tools
Knife or multi tool
Sunscreen, sunglasses, sun hat
Toilet paper
Here is a brief but very informative video on backpack essentials (for a day trip)
AMAZON
Amazon can provide many hiking / backpacking items that may be of interest. As an Amazon associate, I may display relevant links and benefit from any qualifying purchases. This has no effect on the pricing.
With every link, Amazon shows full details, reviews, illustrations and similar options at different prices.
Waterproof hiking daypack, with rain cover – the same link will take you to over a hundred other choices
Garmin satellite communicator – texting, downloadable maps, weather forecasts, 24/7 search and rescue monitoring
America's Best Day Hikes – in hardcover and organized by region
OTHER SOURCES TO CONSIDER
Bushnell – binoculars and trail cameras
Backcountry.com – gear for hiking, kayaking, camping, snowboarding, rock climbing, mountaineering
Bass Pro Shops – fishing, hunting, camping, boating
Field Supply – discounted outdoor equipment
Outdoor Gear Exchange – extensive collection of outdoor clothing and equipment
Outdoorsman Lab – scientific approach to outdoor gear
FINAL THOUGHTS
I will always remember the beauty and serenity of trail hiking to the top of Mt. LeConte. There were about 6 different trails from which to choose, based on our skill and stamina levels.
The clear, fresh air at the top was invigorating. If anyone had a headache, it disappeared. We stayed in rustic cabins and ate at a dining room. Llamas would bring the food up and take down the remnants.
Outdoor activity of any kind is stress relieving and healthy. Also, it is fun!
Please don't pass up the chance to participate.
Leave me any comments or questions in the "Comments" section below. Or email me, richard@myworkoutathome.com.
Be well!