WHAT IS IT?
EatingWell tells us that the Mediterranean Diet is more a lifestyle than a diet that restricts a lot of food choices. It includes the nutritious foods that are traditionally eaten in the areas near or surrounding the Mediterranean Sea.
In general, the diet plan includes lots of healthy fats and fiber from fresh produce and whole grains, while placing limits on unhealthy saturated fats.
This diet can improve heart health and Current Nutrition Reports says that it can even support brain health.
Here is a food list for grocery shoppers:
Olive oil
Fish
Beans and lentils
Herbs
Whole grains – oatmeal, quinoa, whole wheat pasta and brown rice
Red wine
Nuts, seeds and nut butters
Eggs
Yogurt
Here is a diet plan that will give us 1345 calories, 80 grams of protein, 126 grams of carbohydrates, 33 grams of fiber, 64 grams of fat and 1088 mg of sodium:
Breakfast (453 calories) – 1 cup non-fat Greek yogurt (145 calories), 1/4 cup blackberries (16 calories) and 3 tablespoons chopped walnuts (292 calories)
Morning snack (39 calories) – 1/2 cup raspberries
Lunch (325 calories) – 1 veggie and hummus sandwich
Afternoon snack (106 calories) – one pear
Dinner (422 calories) – sheet-pan roasted salmon and vegetables
The above is only a typical Mediterranean Diet daily plan. To increase the calorie count to 1500, you can add 1/2 whole wheat English muffin with a tablespoon of almond butter for breakfast. To further increase to 2000 daily calories, you may include 1/3 cup unsalted almonds to the afternoon snack and 1 cup cooked quinoa to the dinner.
Foods not allowed on the Mediterranean diet include:
Processed red meats
Heavily processed foods of any kind
Refined grains
Alcohol, other than limited red wine
Butter
Oils that are refined, processed or hydrogenated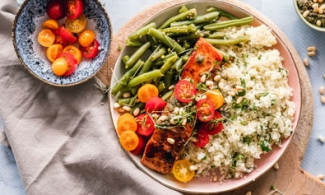 Here is a brief but very informative video on beginning the Mediterranean Diet.
Benefits of the Mediterranean Diet include the following:
Heart health – as cholesterol levels are lowered
Lower likelihood of cancers – breast cancer, colon cancer, prostate cancer
Mood elevation and lower risk of depression
Better cognitive function
Fewer osteoarthritis issues
AMAZON
As an Amazon associate, I am able to include relevant links to my articles and benefit from activity on the links. This has no effect on pricing. Each link contains descriptions, reviews and similar options at different prices. Here are a few books and food products:
Mediterranean Diet Cookbook for Beginners
Mediterranean Air Fryer Cookbook
Mediterranean Diet Sea Salt Collection
Mediterranean Blend Extra Virgin Olive Oil
Mediterranean Style Protein Bowl
BEST MEDITERRANEAN DIET DELIVERY SERVICES
Healthline lists the following among the best choices if you wish to have the food delivered to your doorstep. Look for coupon discounts:
FINAL THOUGHTS
I have heard many good things about the Mediterrranean Diet for at least a decade, but have only done minimal experimenting with it. For me, to research this subject has been enlightening and I am now wondering why I haven't studied it before now. I have no excuses.
The lesson for me is that a healthy weight is not the only worthwhile diet goal (using the word "diet" as an eating plan, not a system of restrictions).
There is certainly enough variety in food choices that all of us can find many foods that we enjoy on a daily basis. There are no deep secrets. Red meat, processed foods and butter have never had the best "reputations" as healthy food choices.
I love olive oil, nuts, yogurt, some fish and whole grains. There is no reason why I can't expand my "likes" and eat a healthier diet.
Will you join me?
Please leave me any comments or questions in the "Comments" section below. Or email me, richard@myworkoutathome.com.
Bon appetit!