WHY WOULD ANYONE WORKOUT AT HOME?
It seems to me that there may be 4 such circumstances:
We may have a large space for equipment and prefer our own home gym
Or we may be gym members who want an alternative when we are unable to visit a public gym
Or we may prefer getting our workouts done quickly and before breakfast
We may not have a gym membership
I would fall in the third category, since I like to get my workout in before breakfast. If I do a 30-minute workout, I would be spending 2% of my day on the workout. If I eliminate 8 hours for sleeping, I would still only be using 3% of my day for the workout.
My gym membership is still ongoing and I do like to occasionally work out there, generally for a little socializing. This is usually a 2-3 hour time investment – lingering workouts, sauna / steam bath and travel back and forth. I could cut it back to 1-1.5 hours if I tried to.
At home, I work out every day – resistance one day, cardio the next.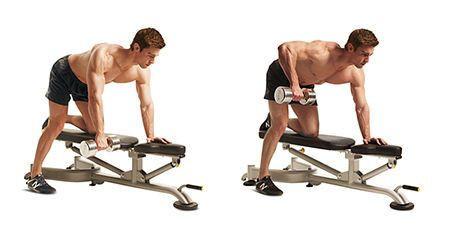 A LARGE HOME GYM
May be set up in a converted garage or a room with lots of space.
When I was 18, I worked out in my garage with heavy barbells. My routine was very simple. I did the following 3 times per week:
3 sets of bench presses – 6-8 reps
3 sets of bent over rows – 10 reps
3 sets of military presses – 8 reps
3 sets of barbell curls – 10 reps
2 sets of squats – 6-8 reps
2 sets of calf raises – 12 reps
This was the time of my fastest growth. I used weights as heavy as I could manage on every set.
At this point, I don't have lots of room, but I do have a treadmill and an inversion table.
The treadmill is by Nordic Track and is shown below. As an Amazon affiliate, I may recommend equipment and earn from qualifying purchases. My Nordic Track is shown below.
My inversion table is by Teeter. It has been great for correcting or preventing back problems. It is also shown below. My doctors have strongly recommended the Teeter brand.
With large space, we can use equipment that will very closely relate to what we find in a public gym – barbells, dumbbells and large fitness machines. The Bowflex Home Gym may be a good choice. See below.
With lots of space and lots of equipment at home, we can easily set up workouts based on our needs and preferences. We can also change equipment or change exercises as we see fit. We can stress the body parts that need the most work and tailor our routines accordingly.
To find barbells, use any of the above links and continue your search to "barbells".
SMALLER SPACES
If we don't have much space for home exercise, we may still accomplish great things if we know what we are doing. Let's start with –
DUMBBELLS
Here is a 15 – minute dumbbell video, presented by a female instructor.
And see this video, by a male instructor.
I use dumbbells for curls and have found no better exercise for biceps development. They also have been effective for bent over rows, chest presses and triceps extensions.
Here are some adjustable dumbbells to consider. They come with a suggested dumbbell routine. See below.
Consider these if you prefer lighter weights.
A workout bench is nice to have and will give us a source of more variety and comfort in our routines. See below
In general, dumbbells provide similar resistance to barbells, though they are more easily manageable. I use dumbbells at home routinely.
RESISTANCE BANDS
These give us a great range of motion and we can do any exercise movement with resistance bands that we can do with dumbbells.
I have used resistance bands for years and have concluded the following:
They work very effectively
There are quality differences
A 30-minute resistance band workout is shown here, by a female instructor.
Here is a brief routine by a male instructor. I have used all of the exercise movements he shows us.
Shown below is a complete set of resistance bands (from Amazon).
Kobra resistance bands add more to their sets and are very sophisticated.
Loop bands are shown here. They are also called "booty bands".
BULLWORKER
Bulworker Fitness gives us what I consider to be "state of the art" small home equipment fitness tools.
I have the Steel Bow and the Bow Classic. I use the Steel Bow for chest compressing primarily. It is shown below.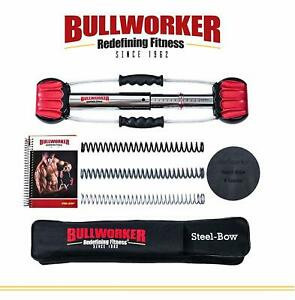 Bullworkers give us both isotonic and isometric workout tools in one piece of equipment. Check out my prior post on isotonic and isometric modes.
The resistance is provided by springs within the cylinders. These springs may be interchanged with others that give us more or less resistance. This is similar to changing dumbbell or barbell plates.
We may push the red handles together for a great pectoral pump with the Steel Bow, then hold on the final rep for an intense isometric burn. We may also pull apart the black handles for different results.
The Bow Classic is larger and more suited to back and leg exercises.
As you may see in the illustration, the Bullworkers are delivered with several springs, a carrying case and a workout manual. The manuals give us illustrations and explanations of all of the ways to use the products.
This video will show the differences in the Steel Bow vs. the Bow Classic.
Take a look at this video. An advanced bodybuilder is comparing his results with Bullworkers and free weights. He likes both.
One more bit of information on Bullworkers. All of us may participate in a Facebook group for free. We may ask or answer questions about Bullworkers or fitness in general. This community support keeps us inspired to work harder.
The Bullworker website is presented here.
FINAL THOUGHTS
I use dumbbells, resistance bands and Bullworkers. My workout plans usually include all three, plus my treadmill.
The exercises afforded by these 3 workout tools are unlimited. Each of these equipment types can individually provide hundreds of exercise choices, but using all 3 together raises our options exponentially.
Beginners may view the videos shown in this post for full information on the best workouts available. If we merge the different types of resistance together in one workout, we will never be bored.
I recommend complete changes in our routines every couple of months. We can also make small changes at any time – like dumbbell bench presses to Bullworker chest compressions. Or resistance band triceps kickbacks to dumbbell triceps extensions.
The best part about this is that we may customize our workouts according to our individual needs and preferences.
By the way, please check the Dick's Sporting Goods link on the side. They are currently offering substantial discounts throughout their inventory.
Leave me any questions or comments in the "Comments" section below. Or email me, richard@myworkoutathome.com.
Happy training!