WHY EVEN CONSIDER THIS?
I have found that some people do not like to use barbells or dumbbells.
Maybe there is an intimidation factor. I can remember a time when I was bench pressing by myself in my garage at age 18. I was not able to finish my final rep and had to extricate my head from beneath the barbell very carefully. It took a while.
But I always liked weights and still do. My feeling is that those who do not like weights may believe that they are dangerous. My situation above may grant credence to this, but anyone of any age should never bench press alone – when using barbells. Always use a spotter! A spotter provides safety and can allow us to do forced reps at the end.
Actually, bench pressing alone with dumbbells should be safe. We can always then drop the dumbbell if we are in trouble.
Other people may feel (correctly) that they do not know what they are doing with barbells or dumbbells.
They would be wise to look for other strength building methods.
A reasonable view by those who want to get stronger without weights is that they may want to protect their joints. This does indeed make sense to me.
Fortunately, there are several ways to become stronger without weights, whatever our reasons may be for doing so.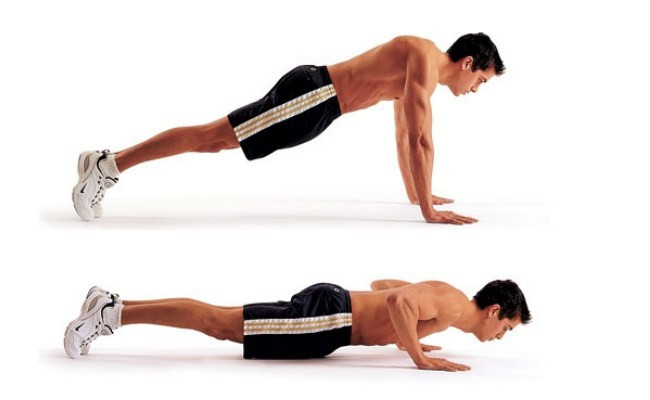 BODYWEIGHT
We can get stronger by using our bodyweight as resistance. The push-up is shown above and is an established, safe strength builder. This works the same muscles as bench presses do. Absolute beginners or those lacking strength may do push-ups from their knees. Remember – your strength level when beginning is not a restriction. It is easy to build strength.
Planks and side planks are great abdominal strength builders. Support yourself by your elbows or by your hands, This is an isometric form of exercise.
Bodyweight squats will work our quadriceps and glutes. So will lunges.
Heel raises for the calves are great for the lower legs. Try to use a stair step or something similar to stretch your calf muscles more efficiently.
Chin-ups or pull-ups are great for the upper back muscles.
Dips are a bit tougher than push-ups and can replace bench presses. A dip station, available at Amazon is shown below. As an Amazon affiliate, I can recommend equipment and earn from qualifying purchases. Here is information on a dip station and lots of alternatives.
In addition to planks, crunches and V-ups are also very good bodyweight abdominal strength builders.
Another Amazon item is the crunch device shown below. This can even double as a dip bar when turned upside down. I use this when doing crunches or V-ups. It protects my lower back.
These are only a few of the bodyweight strength builders available to us. I have done all of the above forms of exercise, with good results.
RESISTANCE BANDS
Bodyweight movements can be somewhat limited. Significant variety may be added by the use of resistance bands. We can generally pull or push the bands to do any exercise movement done by dumbbells or other weights. We can step on the midpoint of the bands to do curls, presses or squats.
We can also attach them to a door and do standing rows or chest exercises. They give us a great range of motion.
Resistance bands come with different levels of intensity – for different strengths or for different types of exercise.
The sets that I would recommend have a choice of band strengths, a door attachment, handles and other niceties.
Best of all, they are priced very reasonably.
Here are a couple of videos, which will illustrate how resistance bands are used.
First, here is a male fitness instructor showing us his 10 favorite exercises with bands.
Secondly, see this 30 minute video being presented by a female instructor.
Within the above videos will be a complete selection of just about any resistance band movement that I know.
Check this set of bands from Amazon.
Here is another set, with additional amenities.
Finally, here are loop resistance bands, also known as "booty bands".
BULLWORKER
Bullworker Fitness produces high quality workout tools that give us both isotonic and isometric modes of exercise.
My recent post on isotonic vs. isometric exercise breaks down the differences in these two types of exercise, while also presenting information on Bullworkers.
I like the Bullworkers for these reasons:
They are effective strength builders
They are relatively small and portable – easy to use and put away at home, also convenient to take along when traveling
Bullworkers have interchangeable springs, to be used as we get stronger or merely want to change from one exercise to another
They are easy on the joints
Bullworkers are delivered with workout manuals, a carrying case and several springs
The Bullworker Steel Bow is shown below. The red handles are for compressing together against the spring resistance – great for chest work. The black handles are for pulling apart (back, biceps).
I have the Steel Bow, considered the "dumbbell" and the Bow Classic, the "barbell".
Here is a brief demonstration of both tools mentioned above.
Check this video for a comparison of free weights vs. Bullworkers by an advanced bodybuilder.
There is also a Facebook group for Bullworker users. Free to join and a means to ask or answer questions on Bullworkers or on fitness in general.
The Bullworker website is presented here.
A 5% discount on any purchase is available by using the code hat5.
MY PERMANENT LINKS
I use 4 links on my website that are always visible with any post. These are:
"Become an affiliate marketer", shown in my upper menu. This is information on the Wealthy Affiliate training and hosting platform, which I use. This will prepare anyone for success in affiliate marketing. You can begin for free.
The first sidebar entity – Goli Nutrition, well known for their healthy gummies and other nutritious products.
The second – Dick's Sporting Goods, the largest sporting goods source in the United States.
The third – American Council on Exercise, a large and well respected fitness professional certifier
One of my reasons for the 3 permanent sidebar links is that all 3 are aggressive marketers. They are constantly presenting specials that are of interest to customers.
For example, Goli is now introducing gummies with 13 essential vitamins for youngsters. Dick's Sporting Goods has back-to-school specials. A.C.E. is offering up to $400 off specialist programs and other incentives.
The best way that I can keep up with these specials and present them quickly is to maintain the permanent links, which update automatically.
FINAL THOUGHTS
I like the adage "the only workout that doesn't work is the one you don't do".
In 2022, we are able to choose from a large variety of equipment choices and workout routines. This eliminates many of the excuses we may have used for not exercising sufficiently for our needs.
My main reason for caution in using weights is that I may drop a dumbbell on my foot. Quite true. I sometimes wear heavier shoes when I begin a dumbbell workout. And sometimes I don't. This is nothing more than simple attention to the obvious. Nothing scary!
It is important that we enjoy our workouts, that we relish in the notion that we are improving our fitness or sculpting our bodies.
Interestingly, this seems to promote the same consideration of our nutrition and general eating habits.
Please consider a lifestyle of fitness and exercise. You will never regret that decision!
Leave me any questions or comments in the "Comments" section below. Or email me, richard@myworkoutathome.com.
Be well!