WHY USE RESISTANCE BANDS?
I have used resistance bands for workouts for several decades – for several reasons:
In my younger years, I wanted home workout equipment as a "Plan B" when I was unable to get to a gym
When I traveled, I was unsure if my hotel would have a workout facility. If they did, I didn't know if the equipment was top-notch. If so, I sometimes found the facility was too busy. It was easy to take resistance bands with me.
In my 60s, 70s and now 80s, I wanted equipment at home that was easier on my joints, yet very effective.
I also wanted to shorten my workouts and to finish before breakfast
I have found that resistance bands are very easy to attach to a door, whether at a high, middle or low position. They are highly effective for torso work – chest and back. They work well for calf muscles and for the quadriceps (though I don't do any form of squats at this point).
This is my experience, based on what my body needs. Others may differ. I will show videos of complete workout routines.
Thus far, I am speaking of resistance bands with handles, the ones I use. Loop bands are also effective – more on them later.
Resistance bands are ideal tools for maintaining flexibility, mobility and muscular strength.
Best of all, they are very affordable on any budget. Since they provide a full body workout, there is no reason whatsoever to forestall beginning a workout routine (because of money) if you are new to the idea. Beginners love resistance bands!
See my prior post on this same subject.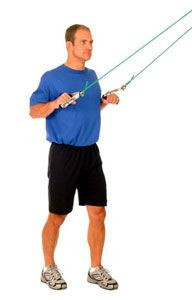 SOME ROUTINES
First of all, here is a man (at least a male figure) showing us a full body routine. A couple of points:
I would recommend wearing shoes while doing this routine
There is no reason not to do more than one set of these exercises as you progress. Try adding sets to the movements that address your weak spots. (Always strive for symmetry. A big upper body with thin legs is not a good goal).
Use slower negatives – the lowering of resistance – than shown here.
Next is a full body workout with a female instructor. Please note:
There is no reason for a female to follow a female instructor or a male to follow a male. The movements apply to either. Adding more than one routine gives us more exercises to view.
Again, add more than one set as you see fit.
Finally, here is a loop band video. This type band is sometimes called a "booty" band. Note the different exercises being done.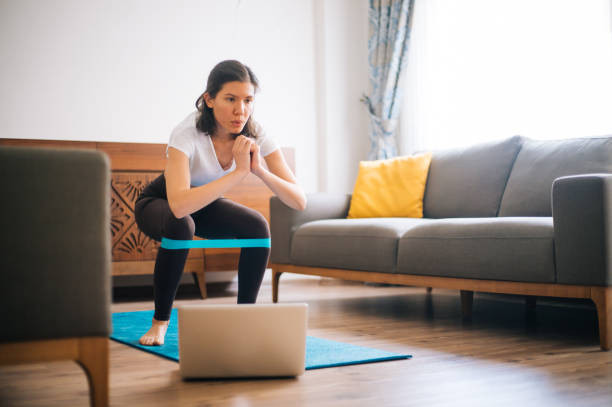 WHERE TO FIND THE BANDS
Amazon has become the most dependable source for items like this or for just about anything else.
I am an Amazon affiliate and therefore able to report items on sale and those products that most precisely fit the purpose of my blog articles.
I may benefit from sales made from clicks on my Amazon links. Aside from that, I am able to confidently recommend goods that will be quickly delivered and with top service. I have found that Amazon prices are very often better than those prices for the same items in local stores.
Here are some pertinent choices. Please see the information at the bottom of the descriptions for similar options. Note the very reasonable prices:
Complete set of bands – with 5 different poundages of tension, for less than $30
Loop bands – or "booty" bands – with 8 different levels of tension. I have used these for physical therapy. Less than $16.
Includes instruction manual.
Heavy resistance bands – up to 300 pounds resistance. Less than $64. Very high quality.
Booty bands – with 3 tension levels. Less than $5.
Workout mat – for home use. Less than $20.
FINAL THOUGHTS
Resistance bands can really not be surpassed if you are looking for effective workout tools at lower prices. Then consider that a set of these bands will provide a complete full body workout in a size that may be easily set aside within your home when the workout is over.
As I mentioned, the bands may be easily transported as you travel.
Before I forget – check my three links at the side. Goli Nutrition, Dick's Sporting Goods and ACE (American Council on Exercise) are all promoting special pricing right now. Check them out.
Most importantly, keep working out during our winter holiday season. Don't wait until 2023.
Please leave me any comments or questions in the "Comments" section below. Or email me, richard@myworkoutathome.com.
Happy holidays!