DO WE REALLY NEED GYMS TO EXERCISE?
They are great! I have worked out in garage gyms, college weight rooms, Nautilus cubs, YMCAs and military facilities for decades. I would never dismiss the value of that experience.
My most noticeable progress was when I worked out in my garage gym at age 18 – 19. Heavy barbells only!
At other times, I would get my exercise by playing basketball or tennis. Going for a 3-5 mile run was also fun and productive.
In my senior years, I like to take shorter walks, whether outside or on my treadmill.
I have a free YMCA membership now, but rarely use it. My personal preference is to start and finish my workouts before breakfast.
But gyms are excellent places to work out and we can be energized by other people doing the same. This post is for those who may prefer to work out at home or for those who prefer gyms but want a back up plan at home.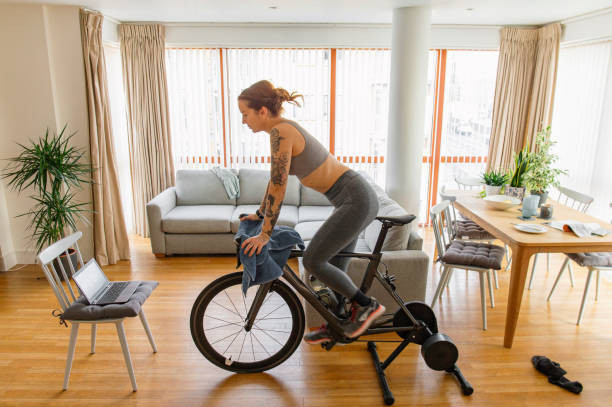 Maybe the above illustration shows us the problem with setting up a home gym when we lack space.
I have a treadmill, an inversion table, dumbbells, resistance bands, a push-up board and Bullworker tools – with limited space.
My main point today is that we have worthwhile alternatives to gym memberships or to large exercise space at home.
BODYWEIGHT EXERCISE
It is not difficult to use the resistance within our own bodies to exercise. We use gravity as we walk or run. Here are some other options:
Push-ups will develop our triceps and pectoral muscles
Planks work our core
Crunches work our abdominals – I use a device to protect my back. More about that later.
Free squats work our quadriceps
Calf raises (heel raises) exercise our calf muscles
Lunges work our legs and glutes
Since I am an Amazon associate, I am able to link to their products and earn when qualifying purchases are made. This has no effect on pricing. Amazon gives us great service and has just about anything we may want.
This is the crunch device I use to protect my back
RESISTANCE BANDS, DUMBBELLS AND NORDIC TRACK
I have always enjoyed resistance bands. They work the entire body in different ways and they are very reasonably priced. We can easily attach them by using the door anchor that comes with the set – or we may step on the midpoint of the bands.
Here is a complete set with handles, door anchor and several choices of tension.
I also use loop bands for physical therapy and surprisingly found that they are good for arm development.
Here is a set of adjustable dumbbells. Dumbbells are very basic, great for arms and shoulders.
And some lighter dumbbells, with stand
Here is the treadmill I use, by Nordic Track – not the most expensive, but it has lasted very well for me and with heavy duty. It gives me a great option for cardio in inclement weather.
BULLWORKER
Bullworker tools are unique in that they give us the capability of combining isotonic and isometric exercise movements within one set of reps.(Our joints move with isotonic exercise, but not with isometrics).
Bullworkers are relatively small and easily portable if we like to travel with workout equipment. I have the Steel Bow and Bow Classic.
The Steel Bow is shown below. The Bow Classic is larger.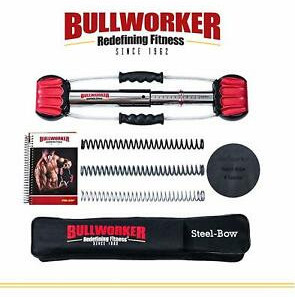 The Steel Bow is an excellent chest developer for me as I squeeze the red handles together in front of my body. I use the Bow Classic for back development.
Here is a Bullworker Steel Bow video, featuring Ed Echt, a young but accomplished bodybuilder.
It is also noteworthy that martial artist and actor Bruce Lee used Bullworkers when he was developing striking muscles as a young man.
Here is the link to the Bullworker website. (Not to Amazon in this case)
FINAL THOUGHTS
The pieces of equipment shown above have worked well within my home exercise environment.
It is quite easy to start a productive home workout program with a little planning. Consider the space you have and whether a treadmill would fit in a room with a window. Resistance bands and Bullworker equipment can be easily stored when the workout is over. So can dumbbells.
I would recommend keeping it simple, but by all means get started and stay consistent.
You will never regret the decision to begin an exercise program!
Don't forget that Valentine's Day is upcoming! See my prior post on Valentine's Day.
Be well and stay healthy!