LET'S KEEP IT SIMPLE
Workout equipment need not be complicated or large. Both newcomers to workout routines and those who regularly go to gyms will benefit from equipment at home. There are several relevant pieces of equipment that are in the category of "all-in-one".
I have been a gym person for most of my life, but I always liked having equipment at home. I liked having a back-up plan. Spacious and complicated workout tools were of no interest to me. At this point, I do the great majority of my fitness training at home before breakfast.
This post will present options for home workouts that are simple and in one piece.
Home gyms and public gyms are great, but many of us simply want to do quick routines at home. I have experimented with all of the workout tools that will be shown and I know they are effective.
AMAZON – RESISTANCE BANDS
I am an Amazon associate, which means I may use their links within my posts. I may even earn from activity on my links, though this has no effect on pricing. Amazon is very able to provide just about anything we may need – and with good service.
Resistance bands with handles – one set will give us all we need for a full workout
Check out this brief video for the best bodybuilding movements with resistance bands with handles
Loop resistance bands – I use these for physical therapy and light arm workouts
Here is a loop resistance band workout video
MORE FROM AMAZON
Nordic Track treadmill – this is the model I use. Not the most expensive, but it has held up very well over the years.
Adjustable dumbbell – change the weight on the dumbbell as you see fit
Push-up board – I have this at home. It allows me to stress back, triceps, shoulders or chest, depending on hand positions. It also provides a deeper and more effective push-up because of the handles.
BULLWORKER FITNESS
Bullworkers are unique one-piece workout tools. It is possible to use both the isotonic and isometric modes within one set of reps. Bullworkers are spring-loaded instruments and the springs are easily changed as needed, similar to changing weights on barbells or dumbbells.
Bullworkers are relatively small and easily portable, useful to take along when traveling.
The Bullworker Bow Classic is shown below. I use the Bow Classic and the Steel Bow (a smaller version of the Bow Classic)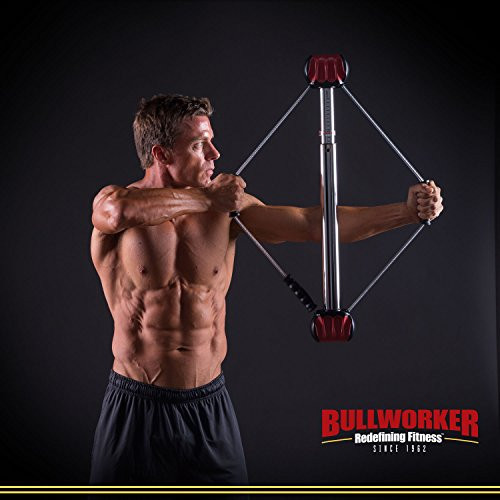 With every Bullworker shipment, you receive a carrying case and set of illustrated training instructions. Also, a Facebook group is available at no charge for questions, answers and motivation.
Martial arts expert Bruce Lee used Bullworkers to strengthen his striking muscles.
Here is a Bullworker video by an experienced bodybuilder. He is using an older version of the Bow Classic. The newer model is shown in the above picture
Check out the Bullworker website here.
Also, feel free at any time to click on my permanent Bullworker link at the side of my website. Both links are up to date.
FINAL THOUGHTS
Another all-in-one workout tool is the Total Gym, often advertised by Chuck Norris. Check out the latest information, including discounts. This is not a small piece of equipment, but it certainly falls within the category of one piece workout equipment.
To conclude, there are many workout tools that need not be difficult to understand. The ones I have listed are of proven value and most of them are small and easy to move when the workout is finished.
The important thing is to begin or continue a routine of fitness, whether to be more proficient in a sport, to improve our physical appearance or to preserve our strength as we age. All are healthy and worthwhile goals!
Please leave me any comments or questions in the "Comments" section below. Or email me, richard@myworkoutathome.com.
Are we ready for Spring weather?