THE BENEFITS
I have used resistance bands in my workouts, primarily as I have aged. It helps me to use them occasionally in lieu of dumbbells. When I was younger, my preference was barbells at home or weight machines at gyms. One problem with weight machines was a lack of variety in the movements. The path of movement was always set and unalterable.
I like resistance bands because of their application to any body part that may need work. Also, they are very portable and easy to take when traveling. Currently, I find them to be most useful in protecting my joints as I work out. Most important to many people may be their low price.
Because they are simple to use and relatively inexpensive, they are of special interest to beginners.
ProsourceFit tells me that these are the most important benefits, in addition to the ones I named above:
Greater muscle stimulus – greater resistance through the full range of motion of an exercise, unlike the lack of gravity at the top of a barbell curl, for example
Stabilization of our bodies is required – "cheating" is eliminated because of the pull of the bands
They are ideal for rehabilitation – they can be targeted to improve the muscles that surround our joints
They can extend our reach when stretching – this is important before or after working out. Loop bands or flat bands are the best for this.
The remainder of this post will show workout videos, sources for the bands and the like.
WORKOUT VIDEOS
I use resistance bands with handles for chest and back strengthening or defining. It is easy to use the door attachment to provide a solid base for these movements. Also, loop bands are good for the physical therapy I do and even for high rep arm exercise.
Here is a complete workout with resistance bands with no attachment, male demonstrator, 33 minutes.
This is a 10-minute workout, with bands attached in different ways. The door attachment works well for any of these movements. Male (animated) demonstrator.
Here is a 23-minute workout with no handles or attachments. Male demonstrator.
Here is a 20-minute workout, bands with handles, no attachment, female instructor.
This is another 20-minute workout, with loop bands only, female demonstrator.
This video is 22 minutes long and a full body workout. It shows the use of a door anchor and ankle straps. Female demonstrator.
AMAZON
I use Amazon links as an associate and may benefit from activity on the links. The resistance band sets shown will cover all the uses described in the above videos, so be careful to read the descriptions. They are not all the same.
With Amazon, there are always pictures, unbiased information, reviews and different options with each link. Expect good service, fast delivery and a huge inventory with Amazon. This gets better with a Prime membership.
Resistance bands with handles – also door attachment, ankle straps
Heaviest bands that I could find – with all accessories
Top quality bands – with bar and handles
Pull-up assistance bands – no handles
Loop bands – also called booty bands
Very inexpensive loop bands – I have used these for physical therapy
Resistance band workout poster
OTHER SOURCES
Bullworker Fitness has an interesting workout tool, very similar to resistance bands, shown below. This is the Iso-Flow. See the Bullworker link at the side of my website and click on the red link for full information on Bullworker.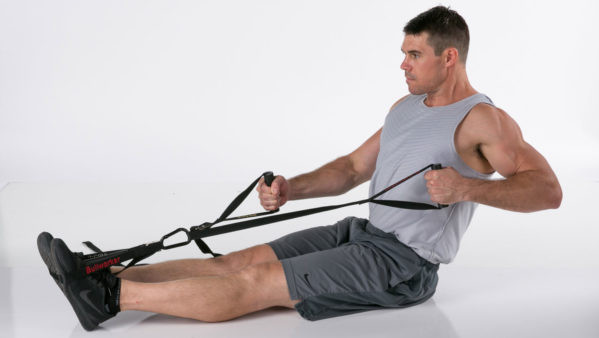 Dick's Sporting Goods, the largest sporting goods merchant in the United States is showing significant price decreases as they present their back-to-school deals. This is separate from the resistance band theme, but well worth checking out, in this manner:
See the Dick's Sporting Goods link at the side
Click on the red link
You will see the question "What are you looking for?"
Proceed from there
FINAL THOUGHTS
TRX suspension training is another workout medium that I like, somewhat similar to resistance bands, with lots of exercise options. Check out my prior post here.
For the most effective workouts, we need variety – in sets, reps, rest time and weighted resistance. Pulling or pushing resistance bands can be a very useful way to go. I currently go from dumbbells to resistance bands and back. The effects are different. This helps me to avoid boredom or plateaus in my training.
Let's at least do 30 minutes per day of some kind of physical exercise. This is only roughly 2% of our day. It's a very small amount of time to expend for better physical health.
Please leave me any comments or questions in the "Comments" section below. Or email me, richard@myworkoutathome.com.
Be well and don't get overheated!