WHY NOT?
In a recent article, I mentioned that supermodel and fitness advocate Heidi Klum was a big fan of trampoline exercising. She even has a trampoline in her back yard, for use by her children and herself.
Here is my article on Heidi Klum.
At one point, during my high school years, I went to an outdoor trampoline facility and did a lot of jumping and rebounding. It was fun and I became addicted for a brief period of time. I didn't think of this as a means of exercising at the time. I also didn't think of basketball and tennis as having any connection with fitness. Maybe I thought fitness exercise was separate from fun and was only connected to drudgery – the things we do reluctantly to improve our bodies. I had much to learn.
I have found in researching this topic that trampoline exercise seems to be primarily advocated by women. I don't know why this should be the case, but the images I have found are mostly of women on trampolines and the relevant research articles are generally written by women. Maybe women are more invested in improving themselves physically? Or at least in the category of jumping and rebounding?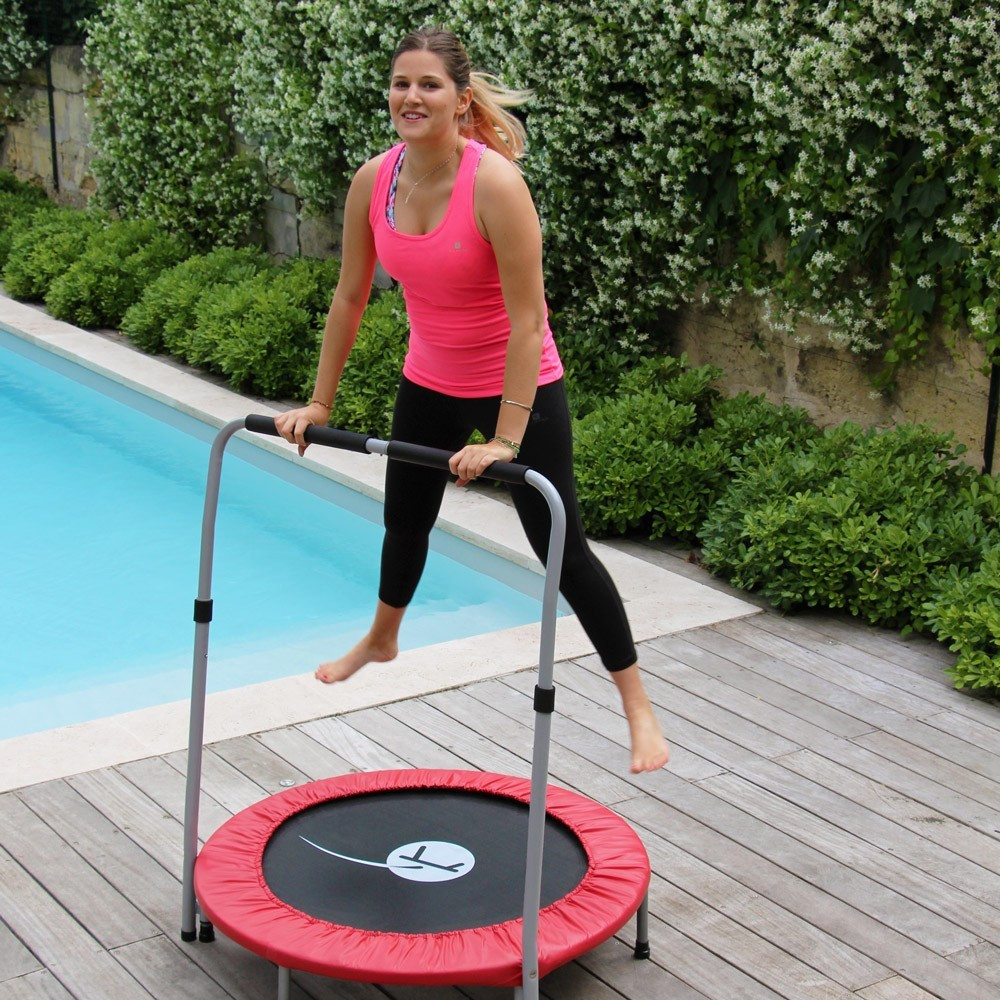 THE HEALTH BENEFITS
Paraphrasing Women Fitness Magazine, trampoline exercise is not a chore, but a fun activity – not just for children, but for parents as well. A 12′ trampoline with an enclosure or a 14′ model are recommended for safety
Here are the benefits:
Your bones are strengthened. Working against gravity helps to prevent osteoporosis and to give strength to our bones.
Toxins and waste are removed. Our lymphatic system is improved. This detoxification improves our skin and metabolism.
Cells are strengthened. Our 37 trillion cells are moving around as we jump. They become stronger and thus we can prevent chronic diseases.
Digestion is improved. Muscles around the digestive tract are relaxed and stimulated. Constipation is prevented.
Better balance and coordination. Jumping on a trampoline stimulates our inner ear canal and ocular nerves. Neck and joint pain are lessened. Balance is improved.
Weight loss. Our metabolic rate is increased, which means that fat will be released as energy more quickly.
Stress relief. Jumping on a trampoline increases endorphin release in our bodies and sends fresh oxygen to our brains. This enhances our focus and improves our mood.
It has been shown that trampoline workouts exercise our hearts more fully than an equivalent amount of running.
Eva Longoria says that bouncing on a trampoline gives her a "low impact" but "sweaty" workout without "all the pounding on your knees". She does a 30-45 minute trampoline workout 5 days a week. She even takes her mini trampoline with her as she travels. She is shown below: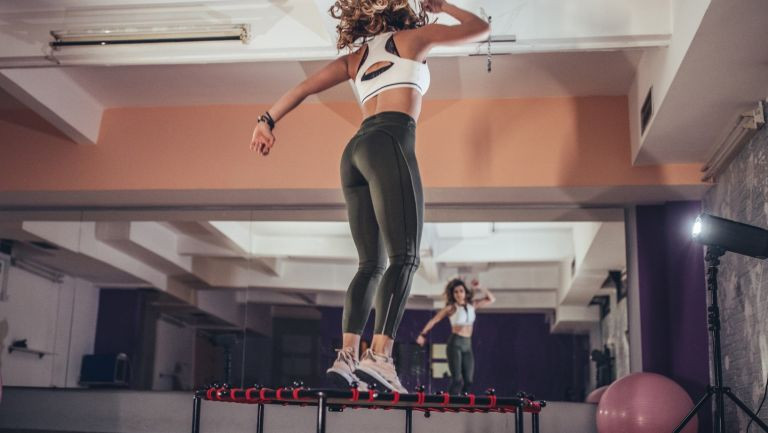 FROM AMAZON
Amazon has a broad selection of trampolines for fitness. As an Amazon affiliate, I may earn from qualifying purchases. The list below shows several different types of trampolines, with different price points. Click on the links and then scroll around for other choices:
OTHER RESOURCES
Check with Trampoline Parts and Supply for any trampoline needs – a wide variety of trampolines, as well as parts and supplies
Dick's Sporting Goods is the largest sporting goods merchant in the United States. Click on the link and then proceed to "Exercise and Wellness". then to "Fitness Accessories" and finally to "Mini Trampolines" for a nice inventory of reasonably priced home trampolines. Also, take a look at any other sports or fitness category of interest.
Other standard affiliate products include Bullworker Fitness and Goli Nutrition. Off today's topic, but great health products.
CONCLUDING
My somewhat limited experience with trampolines, along with what I have learned by research, tell me that the best thing about trampolines is that they are fun to jump on. Their health benefits cannot be denied, but this is not drudgery – it is fun to exercise against gravity!
We will always readily do what we enjoy doing! Better health is a corollary benefit!
Since my niche is home workouts, a home trampoline fits in quite well, whether it be a large one for the back yard or a mini one for indoors. The prices seem reasonable to me and the set – up seems easy enough.
Maybe Eva Longoria and Heidi Klum have led us to a very special form of exercise!
Please leave me any comments or questions in the "Comments" section below. Or email me, richard@myworkoutahome.com.
Let's do some jumping!