LET'S DO MORE MOVING AND LESS SITTING
The Center for Disease Control and Prevention has specific guidelines for those over 65 to follow:
At least 150 minutes each week of moderate intensity activity – such as brisk walking
Or 75 minutes per week of vigorous intensity exercise – such as hiking, jogging or running
Plus at least 2 days per week of strength building exercise
We are advised to do as much as we possibly can if we have chronic conditions that limit our routines.
For example, I am an octogenarian with nerve pain in my back and upper right leg. This affects my fitness workouts, but I currently do physical therapy at home one day and bodybuilding the next. I hope to do outdoor walks or get back on my treadmill as soon as I can.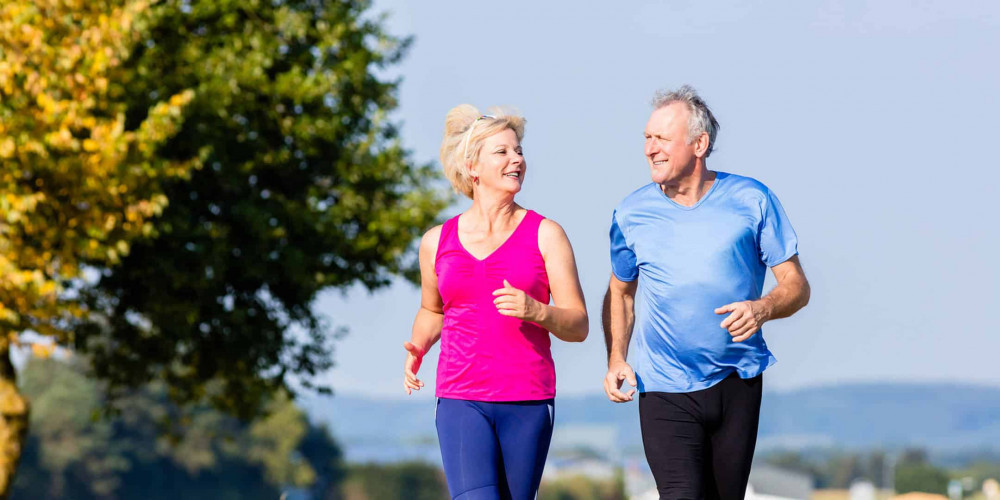 This post will provide information on senior fitness options and relevant equipment choices. I will base this on my personal experience as well as research on the subject.
CARDIO
Walking, jogging or running generally only require correct shoes for those purposes, though rough weather conditions may encourage us to have a treadmill at home.
Swimming, water aerobics, cycling or dancing may have special appeal.
I enjoyed tennis for several decades, though this would not be considered a cardio exercise, since there were brief stops between odd games as we switched courts. Singles tennis was my preference and some tournament matches would go for up to 3 hours.
I measured the cardiovascular benefits I received by the amount of perspiration I generated, though the heat of the sun could skew those results.
The great thing about cardio exercise is that we can choose an activity that we enjoy. Also, we can usually find a partner for social Interaction
Below is the Nordic Track treadmill that I use. It is not the most expensive model, but it has lasted well for me. I have found that playing music is important as I use my treadmill.
The treadmill is available from Amazon. As an Amazon associate, I may earn from qualifying purchases. Also, I can recommend or review products and point out discounts.
STRENGTH BUILDING
First of all, let me point out an article that I found quite interesting. This was done at Wake Forest University and was entitled "Effect of exercise type during intentional weight loss on body composition in older adults with obesity".
This was an 18-month study on 249 adults over age 60 who were overweight. Weight loss, fat loss and muscle loss / gain were examined. Participants were divided into these groups:
(1) Those who cut calories and walked for exercise
(2) Those who cut calories and lifted weights
(3) Those who only cut calories
The result favored weight training over walking and was illuminating to seniors who had always preferred walking.
When I was in my late teens, I was heavily involved with barbell training. I used weights as heavy as I could manage and experienced my most obvious growth at that time.
At this point, I only use dumbbells at home. Dick's Sporting Goods has always been my favorite source for barbells, dumbbells, tennis equipment, golf equipment and sportswear. Learn more from the above link or from the permanent link at the side of my website.
I have found resistance bands to be quite productive and also available (from Amazon) at a very reasonable price.
Here is a 12-minute workout video – resistance bands with handles.
Resistance bands with handles may be attached to a door and then pulled to our side or to our chest (as we face away from the door). This is one of my favorite workout tools, while working back or chest. See below.
Complete set of resistance bands with handles
I recently purchased a set of loop resistance bands for use with my physical therapy. I was surprised to find that they were also suitable for strength building, especially for the arms.
A loop band full workout video is shown here. Take a look!
The loop band set I bought is shown below. The price is less than $13.00.
Fit Simplify loop resistance bands
I use Bullworker workout tools for chest and back workouts. See my recent Bullworker article, with full details.
FINAL THOUGHTS
We are in charge of choosing sets and reps for our fitness workouts, no matter our age. Heavy weights and fewer reps were of interest to me when I was much younger. At this point, I prefer high reps with lesser resistances. I don't want to risk injury to my joints or other (senior) body parts.
My current bodybuilding or physical therapy workouts take roughly 20 minutes to finish. I like to finish before breakfast.
I do 13 physical therapy movements one day, followed by 10 bodybuilding exercises the next day.
Here are a couple of other fitness programs that I find very helpful:
Intermittent fasting – I begin eating at around noon and finish for the day at no later than 5:00 pm. This gives me a fast of roughly 19 hours every day. See my prior article on intermittent fasting.
Hydration – I follow the goal of drinking the number of ounces of water per day to equal one half of my number of pounds of bodyweight. At 184 pounds, my goal is at least 92 ounces of water per day.
Please leave me any comments or questions in the "Comments" section below. Or email me, richard@myworkoutathome.com.
Stay healthy and fit!