DEFINITIONS
Resistance bands are exercise tools usually made of rubber, but sometimes of plastic. They give us a force to be stretched for muscular development. They are colored differently to indicate thickness differences, which provide a variety of levels of resistance.
I am aware of 3 types of "bands":
Flat bands – these are the simplest forms. They can be stretched without handles. I have seen them and used them with physical therapy. See below:
Loop bands – I have never used these, but I can see their importance and simplicity of use. They can be placed on our legs or arms to provide a challenging exercise mode. Here is an illustration:
Resistance tubes with handles – these are the types that I have often used. They can be anchored to a door for resistance or you may step on the midpoint for curls, shoulder presses or the like. See below: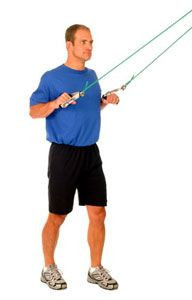 All of these are collectively called "bands", though it makes more sense to me to refer to them as bands, loops and tubes.
Here are some of the advantages of using resistance bands:
They are great for injury rehab
They are relatively very inexpensive
The bands are easy on the joints
Beginners or those with little muscular strength may use them, since light resistance is available
They can also be challenging when thicker bands are used
Resistance bands are very portable
They are easy to adjust to the different thicknesses
WORKOUT ROUTINES
Here is a 10- minute loop band workout for beginners
This routine is 20 minutes and calls for tubes with handles. It is done while sitting.
Here is a 10-minute routine, using tubes / handles and demonstrated in less than 2 minutes
This program is a total body workout with tubes/handles. Also, warm-ups and stretches are featured.
Generally, resistance bands afford the same opportunities for our workouts as dumbbells or other free weights. They can give us more tension throughout the range of motion of an exercise than free weights. Their convenience and portability are unique to this mode of exercise.
WHERE TO FIND RESISTANCE BANDS
Amazon has everything, including a wide variety of resistance bands at attractive pricing. (As an Amazon affiliate, I may earn from qualifying purchases). My affiliation has no effect on pricing. Think of me as a clerk who is recommending items and then checking you out as you make a purchase. Here are a few options to consider. Scroll around from the links to see other possibilities:
A FEW OTHER CHOICES FOR THE HEALTH-MINDED
CONCLUDING
This is a relatively short post, since I thought it would be better to use a few resistance band workout videos to show how they are used (rather than going into lengthy explanations).
I have used them often, usually when I am recovering from an injury. Also, I use them now as a warm-up vehicle before going to dumbbells. They are safe. It is highly unlikely that they will cause injuries.
If you are considering workouts for muscle definition or strength, but have not begun or have little knowledge of how to work out for muscle growth – try resistance bands. They will get you started and protect your joints. Start with light tension and then move up from there. This is a simple, uncomplicated exercise mode that can also become challenging as you progress. You can't beat resistance bands for low cost, portability and simplicity of use.
Women, if you are seeking muscle definition and do not care for heavy weights, resistance bands are for you! There is an almost unlimited amount of exercise movements available to get the blood flowing.
Please leave me any comments or question in the "Comments" section below. Or email me, richard@myworkoutathome.com.
Be well and stay safe!