THE DUCHESS OF CAMBRDGE
Though I have never been a big fan of British royals, I was certainly enamored of Princess Diana. Recently, however, I began to notice Kate Middleton as she elegantly presided over ceremonies at Wimbledon.
Kate is 40 years of age, 5'9″ tall and weighs 121. She is also quite beautiful and personable. Kate leads a life of fitness. She eats carefully, works out and loves sports.
She has the advantages of wealth, but this is no guarantee, no certain path to good health and fitness.
Jeff Bezos and Jennifer Lopez have similar financial advantages also. But Kate, Jeff and Jennifer are not able to "buy" a fit body. Like anyone else, they have to carefully plan their meals and workout programs. Then, they must do the necessary work to get in shape and maintain their high standards. No one can do it for them!
As a mother of three, the Duchess of Cambridge may have had greater challenges than most to maintain her slim figure. She also cooks most of the meals for Prince William and the three kids.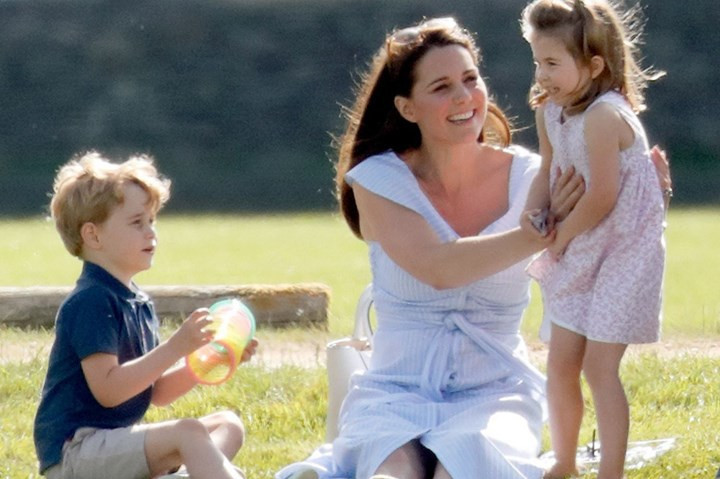 This post will explore what Kate Middleton does to stay in shape – her food choices, sports involvement and workouts. There is more information on her diet plan, but at least some general information on her workouts also.
I will also include some links to relevant items and Labor Day specials.
KATE'S DIET PLAN
Here are a few dietary "rules" that Kate follows, that:
Fruits and vegetables are the main features of most of her meals
Protein sources are included, such as lean meats, fish and eggs
Wholegrain carbs are emphasized – oats, brown rice and pasta
Healthy fats are used, such as olive oil, nuts and seeds
During all of her pregnancies, Kate struggled with morning sickness. It helped her to eat a plant – based diet of avocados, berries and oatmeal.
She also likes ceviche, which is a blend of raw fish, marinated in fresh citrus and spices.
For breakfast, Kate prefers slow burning carbs, especially a bowl of porridge (oatmeal, to Americans). This is loaded with nutrients for energy, vitamin B and iron. This gives her fiber to aid digestion and forestall hunger through the morning.
She may at times choose a green smoothie for breakfast or a pre-lunch snack. The smoothies are made with kale, spinach and romaine lettuce. Citrus is added for taste.
For lunch, Kate likes vegetarian or other plant-based dishes. No surprise there! She often enjoys a watermelon salad with onions, avocado and feta cheese. When eating Indian food, she prefers lentil curries over meats. If she has less time, she may go for vegetable kebabs.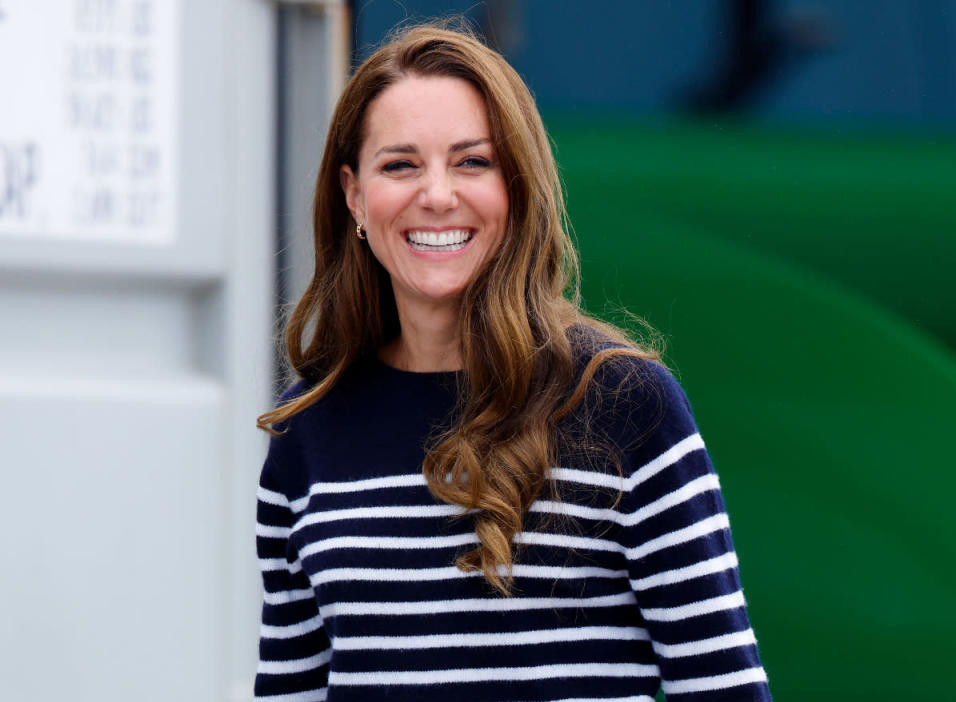 Dinner is usually her heaviest meal. Typically, she eats lean meats or fish, flavored with spice. Or she might go for roasted chicken with potatoes and vegetables.
If Kate is eating seafood, her first choice is sushi. Usually, this is on the occasions when she and Prince William eat out.
The Duchess of Cambridge comes from a normal background, where she did much of the cooking. Even now, she and Prince William prefer to dine with her family, since they can sit down and eat together like normal people.
Kate loves to make birthday cakes and often takes a bite or two herself.
KATE'S MODES OF EXERCISE
Here are a few of Kate's favorite home exercises:
Skipping – to get her heart rate up
Strength training – bodyweight movements, such as squats, lunges, push-ups and sit-ups
Yoga or Pilates – for flexibility and strength
Dancing – for cardio
Walking – for fresh air and cardio
She loves to do planks and also likes to work out with light dumbbells. Kate uses a Swiss gym ball for some of her abdominal work.
Kate participates in these sports:
Tennis
Cricket
Archery
Skiing
Table tennis
Volleyball
She and Prince William like to hike. They also enjoy spending time at the ocean. See below.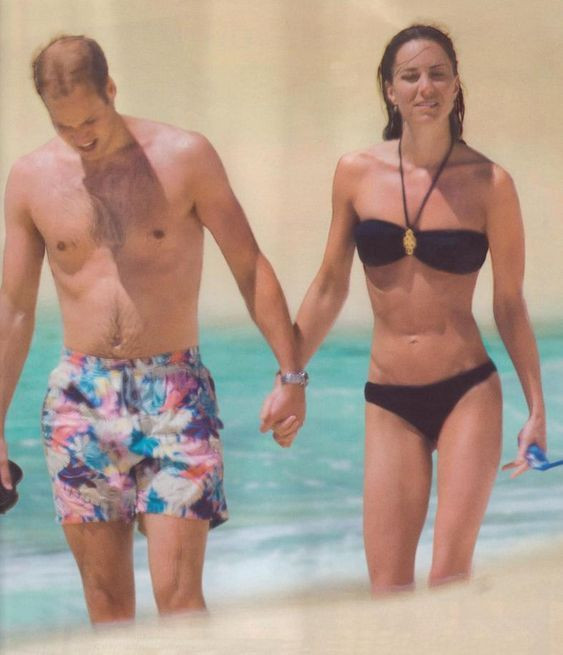 Kate's waist line, after three pregnancies, did not emerge without constant and diligent exercise, as well as careful eating.
A FEW AMAZON LINKS
As an Amazon affiliate, I may be rewarded if my links result in qualifying purchases. I like to place links within my site that relate in some manner to the topic of my posts. Amazon provides excellent service and has about everything anyone may need.
Here are a few links:
Yoga for beginners – 8 videos
LABOR DAY SPECIALS
I keep three permanent links on the sidebar of my website at all times. One reason for this is that they are for companies that often offer specials, sometimes on a weekly basis or more often.
The links are automatically updated, so the information is always current.
Still, I like to point out the specifics within my posts during special occasions. For example:
GOLI NUTRITION – is offering 40% off on all their bottles and 55% off on new subscriptions
DICK'S SPORTING GOODS – has discounts of up to 50% throughout their inventory
ACE – is promoting Certification Study Programs (50 % off) and Health Coach Advance Training Programs (30% off)
Click on the links at the side of this article for full information.
FINAL THOUGHTS
Kate Middleton, to me, personifies beauty, charm and grace. She also seems to be highly energetic. Kate is an ideal subject for my topic on diet planning and fitness.
I have often seen her on television during the Wimbledon fortnights. She is always smiling. Okay, maybe she is not smiling in the bikini picture above. I suspect that the sun must have been in her eyes.
Her waist line is incredible!
Perhaps the one thing about her that is most impressive to me is her preference for normality. Just like Diana!
Please leave me any comments or questions in the "Comments" section below. Or email me, richard@myworkoutathome.com.
Let's take advantage of the upcoming fall weather!