GENETICS?
Stephen Curry grew up in Charlotte, NC, since his father, Dell Curry, played for the Charlotte Hornets for most of his career. Dell retired as the leading 3 point shot maker and scorer in the history of the Hornets. Steph and his brother Seth were able to occasionally practice with the Hornets as young teenagers.
After a significant high school career in Charlotte, Steph wanted to follow his father's footsteps and play for the Virginia Tech Hokies. But he was not able to get a scholarship since he was a slender 160 pounds. He then decided to play for the Davidson Wildcats, a nearby Southern Conference school.
I can only imagine the chagrin of Virginia Tech, as Steph became a two time All American and led Davidson to the "Elite Eight" in his sophomore year. Still, I remember seeing him play as a collegian and wondered if he had an NBA future. He was sensational, but could he physically withstand the rigors of the NBA? Was he tough enough?
Fast forwarding about 10 years, Steph is now considered the face of the NBA, along with LeBron James. At 6'3″ and 190 pounds, he is anything but fragile. He is considered the greatest shooter in the history of basketball. Not only that, he is also credited with revolutionizing the game by inspiring teams from prep schools to the pros to regularly implement the 3 point shot as a matter of strategy.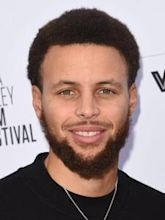 Steph's body of work thus far includes:
3 times NBA championship (the Golden State Warriors)
2 times Most Valuable Player
7 times NBA all star
7 times All-NBA selection
2 times NBA scoring leader
All rookie first team in 2010
There are many other honors and accomplishments, even including NBA steals leader in 2016 (yes, he can play defense).
He connects on 3 point shots as if they were easy layups. Steph's set of skills did not come from genetics, though he certainly learned how to shoot from his father Dell. But Steph became the great player he is in the same manner that Jennifer Lopez became the great dancer / singer / actress / entrepreneur she is. He simply works harder than anyone else.
STEPH'S WORKOUTS
Yes, he works hard to perfect his craft. In practice, he is able to hit 105 3 point shots in a row without a miss in 5 minutes. He practices dribbling with two basketballs, not one. Then, in games, he is a threat to score at any point over half court, because he practices this daily.
Steph is now muscular and "tough". This is also due to hard work. His bodybuilding routines are strenuous, but balanced. Take a look:
Monday, chest: 24 sets of Nautilus, barbell and dumbbell exercises
Tuesday, back: 12 sets of different rows, pulldowns and pull-ups
Wednesdays, shoulders: 25 sets of various dumbbell raises and presses
Thursdays, arms: 12 sets of curls and triceps press downs
Friday, cardio: 45 minutes of treadmill running
Saturday, rest
Sunday, rest
Steph is shown below. He has changed his physique in the same manner as he has perfected his basketball skills, by hard work.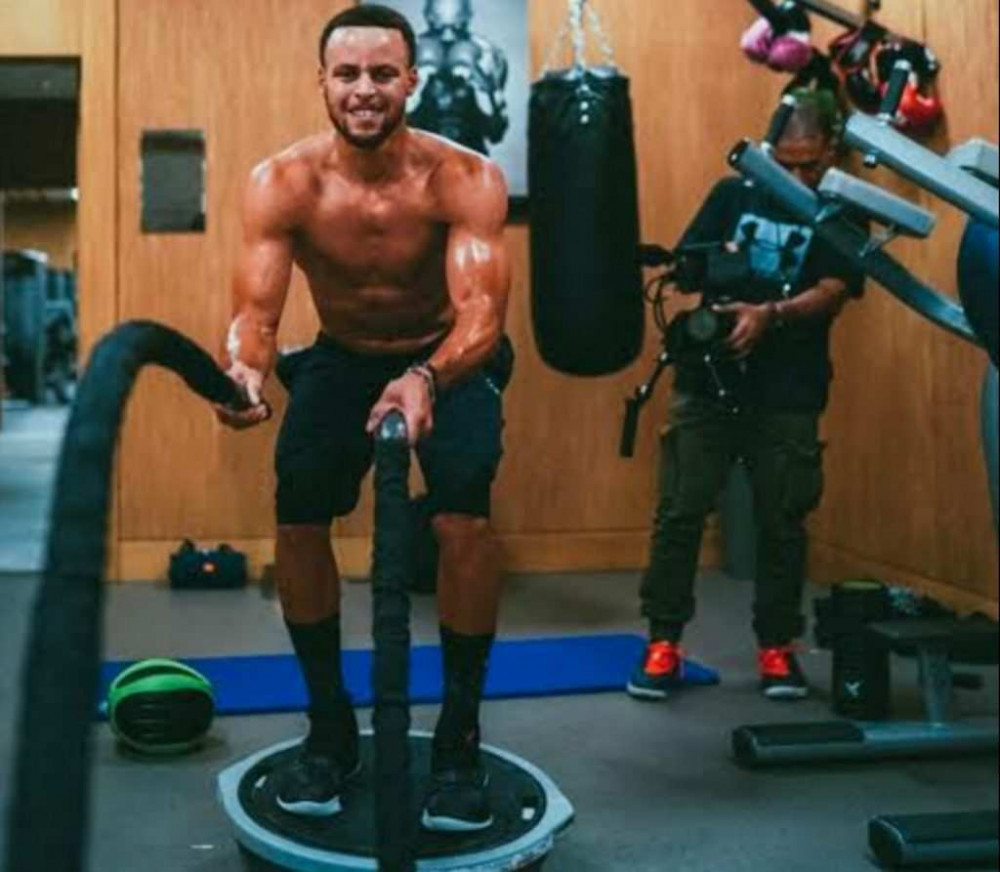 STEPH'S MEAL PLAN
Borrowing from Dr. Workout Staff, I uncovered the following about the Steph Curry eating routines:
Breakfast, 8:30 AM – he chooses from fresh fruit smoothies, avocado toast, fresh fruit, cereals, milk and eggs
Lunch, 2:00 PM – for fiber – vegetables and fresh fruit choices. For protein – lean meat, chicken or seafood sandwiches or quinoa. For carbohydrates or fat – sweet potatoes, flax seeds or shrimp.
Dinner, 6:30 PM – pasta, chicken, flax seeds, quinoa
Snacks – before a game, he may eat popcorn or a peanut butter and jelly sandwich
Steph's wife Ayesha is a noted cook. She helps him get the calories and nutrition he needs. They both avoid the following:
Processed foods
White rice
Excessive sugar
Unhealthy and complex carbs
Sweet beverages
Deep fried foods
Bread
Junk food
Steph and Ayesha are shown below –
Steph drinks at least 7-8 glasses of water per day. He also takes supplements to help maintain his muscle mass. These include:
Whey.protein
Creatine
Omega 3S
Glucosamine
Collagen
Tart cherry extract
He likes to soak in magnesium and Epsom salts to detoxify and prevent muscle cramps.
RESOURCES
Steph Curry wears and promotes the Under Armour brand of shoes, sportswear and other athletic equipment. For information and discounts on the Under Armour brand, check this link.
Amazon is a great source for the kinds of supplements used by Steph. As an Amazon affiliate, I may earn from qualifying purchases. Here are a few supplement choices. Scroll around from the links as you wish:
Below are Steph Curry items for his young fans:
CONCLUDING
As I write this article, I am keeping an eye on the 2021 Ryder Cup matches. It is no surprise that Steph Curry has become a 5 handicap golfer in his spare time. He and Michael Jordan share the belief that golf helps to sharpen the athletic and competitive instincts that they both possess.
Steph has generously supported the Howard University golf team by helping them raise $3 million for the golf program.
The best source, in my opinion, for basketball and golf equipment – or any other sporting goods items – is Dick's Sporting Goods, the largest sporting goods dealer in the U.S. The link below will take you to their entire inventory of sports equipment and will include pertinent discounts for fall and winter sports items. I especially like their Fan Shop, which allows us to celebrate our favorite college or professional teams by wearing or otherwise using their logos.
Here is the Dick's Sporting Goods link.
As I report on Steph Curry, I see a repetitive pattern that explains his incredible success. He outworks the competition! When he hits a 3 point shot in a close game, we know that he has practiced this shot from an identical distance tens of thousands of times, if not more. He puts in the time and effort to practice. There are no surprises involved whatsoever.
Please leave me any comments or questions in the "Comments" section below. Or email me, richard@myworkoutathome.com.
Happy fall to everyone!