WE NEED MORE PERSONAL TRAINERS!
Personal trainers are required to:
Have an understanding of human anatomy and the basics of exercise and nutrition
Proficiently evaluate what a client needs
Design an exercise program to meet clients' needs
Motivate clients to achieve their goals
They may be called to improve a client's muscular endurance, cardiovascular capabilities or physical flexibility.
Harvard Health says that only 18% of Americans meet the weekly standards for cardiovascular and muscle strengthening activity. The standard is 150 minutes per week of moderate activity (walking or raking leaves) or 75 minutes of vigorous activity (swimming or jogging).
Reaching these goals only takes 2-3% of our entire day.
In my experience, there are many of us who want to achieve better fitness, but who need guidance. Sometimes, questions are asked of unqualified people.
For example, as one who has always worked out, I have often heard nearby questions with really poor, irrelevant answers. It was even worse on tennis courts. Answers I heard would have set the students behind for years!
Another example – I occasionally get questions from the articles I write. Someone with a medical issue may want my advice on how to work around that issue. My advice is always "Check with your doctor on that".
It seems that many people want answers to their questions and may be too willing to quickly accept any "answers".
Let's not settle for less than competent advice.
HOW TO GET CERTIFIED
VeryWell Fit.com presents an opinion on what they consider the 8 best fitness professional certification bodies:
American Council on Exercise, or ACE – offering programs for personal training, group fitness instructors, medical exercise specialists and senior fitness specialists
National Academy of Sports Medicine, or NASM – an extensive food database and mentor access availability
American College of Sports Medicine, or ACSM – strong connection to scientific research and standards
National Strength and Conditioning Association, or NSCA – performance – based training. Personal Training and Strength and Conditioning Specialist certifications
International Sports Sciences Association, or ISSA – lot of professional support to kick start your career
National Federation of Personal Trainers, or NFPT – free continuing education for certified personal trainers
National Council on Strength and Fitness, or NCSF – partnerships with 24 Hour Fitness, Gold's Gym and Equinox
National Exercise & Sports Trainers Association, or NESTA – all study materials, educational content and testing are Online
The National Commission for Certifying Agencies gives accreditation to the best programs. Their "seal of approval" is crucial.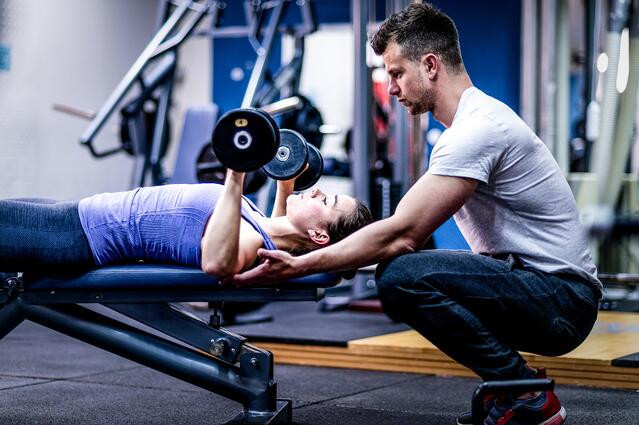 Personal Trainers and Health Trainers have separate duties and responsibilities
Personal trainers:
Work in a fitness setting with one or more clients
Create and monitor fitness programs
Advise on correct form, sets and reps, how to choose equipment
Assist with setting goals and tracking progress
Health coaches:
Also work with individuals or groups
Provide support with wellness, overall health, fitness, nutrition and emotional stability
Personal trainers need to choose a program, especially one accredited by the National Commission for Certifying Agencies.
Then, they need to study the material and pass the exam. They are then ready to apply for a job at health clubs, resorts, spas or wellness centers. Or they may choose to only work with individual clients.
VeryWellFit.com says that personal trainers generally charge from $40 – $75 per hour.
AMERICAN COUNCIL on EXERCISE
I have recently become associated with ACE, the American Council on Exercise. ACE has a great reputation and is the largest non-profit certification body in the world.
The ACE link is now permanently on my website and is visible at the side of all my articles. Their offerings are subject to change and that permanent presence is automatically updated to reflect new information.
See my recent article on ACE certification.
Check here for information on becoming a personal trainer, health coach, group fitness instructor or medical exercise specialist through ACE.
Note the program discounts currently available. These will be also be shown within my sidebar links at all times
FINAL THOUGHTS
I am convinced that we in the United States need more emphasis on fitness. Fitness seems a simple concept, yet many of us are lacking the basic knowledge we need to exercise efficiently.
One of my favorite quotations is "the only ineffective exercise routine is the one that isn't done". True, but there are more efficient and less efficient ways and means from whch to choose.
Personal trainers and other fitness professionals are providing a much needed service, especially to those who are new to fitness routines. They can bridge the gap between a reluctance to get involved and a total commitment.
Many of us simply do better with a mentor. We need feedback and encouragement.
Need I say more? Personal trainers are worth their weight in gold!
Please leave me any comments or questions in the "Comments" section below. Or email me, richard@myworkoutathome.com.
Let's raise our fitness levels!