WHY THE CHEST?
In my earlier workout days, it seemed to me that developing a strong chest was fundamental to the desired male physique. This had to be accompanied by a chiseled abdominal area, of course. Who wants a stomach the same size as one's chest? Preferably, we – my workout companions and I – wanted a "six pack" of abs. It was important to strive for a 10″ to 15″ differential, chest to waist. This was not easy!
Fortunately, developing the pectoral muscles of the chest was not too difficult. Bench presses, parallel bar dips and lying lateral raises did the job. Also, incline and decline bench presses were available, as were "pec decks" and pulleys.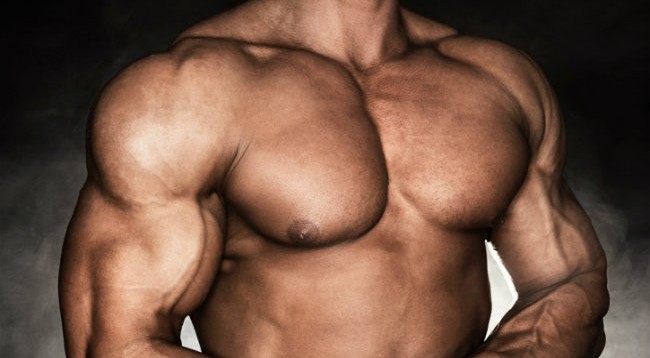 Women were just as interested in pectoral exercise as men, or so it seemed. They wanted better posture and a firmer, more lifted bust.
Playing sports became a factor in my workout programs. Big biceps did not seem important to basketball or tennis – or to me. Also, serious bodybuilding was not a priority, only strength and symmetry. My legs seemed to grow naturally, or as a consequence of running up and down basketball courts. My upper torso needed work.
At this point, I work out at home with simple but effective equipment. Chest exercises are still at the top of my list and I use a variety of exercise movements.
Bottom line – your chest is likely the hallmark of your physique. For both men and women.
PUSH – UPS
Anybody can do push – ups and there is no equipment to buy and no real time or space strictures. If there is difficulty in doing full push – ups, begin on your knees to make the movement easier. Then progress from there, slowly and consistently. Don't worry about winning push – up contests or doing them quickly. Do them slowly, waiting at least a full second at the bottom before pushing up. Try different spacing of your hands for different effects for your pectorals and triceps.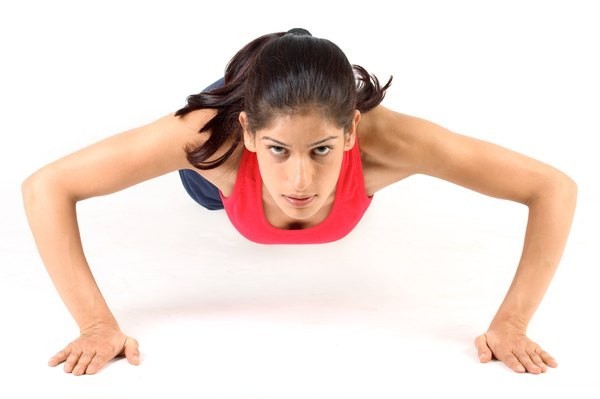 As you progress with push – ups, you may want to make them tougher and more like parallel bar dipping. Maybe you are doing 20 – 25 push – ups and want something quicker and more intense. The Power Press is shown below, lying on my living room floor. It is simple but very effective.
This device has color coded hand positions for different and deeper push – ups. You can emphasize your chest in several positions and also triceps, back and shoulders in other positions. Around $50 at Amazon. Check it out!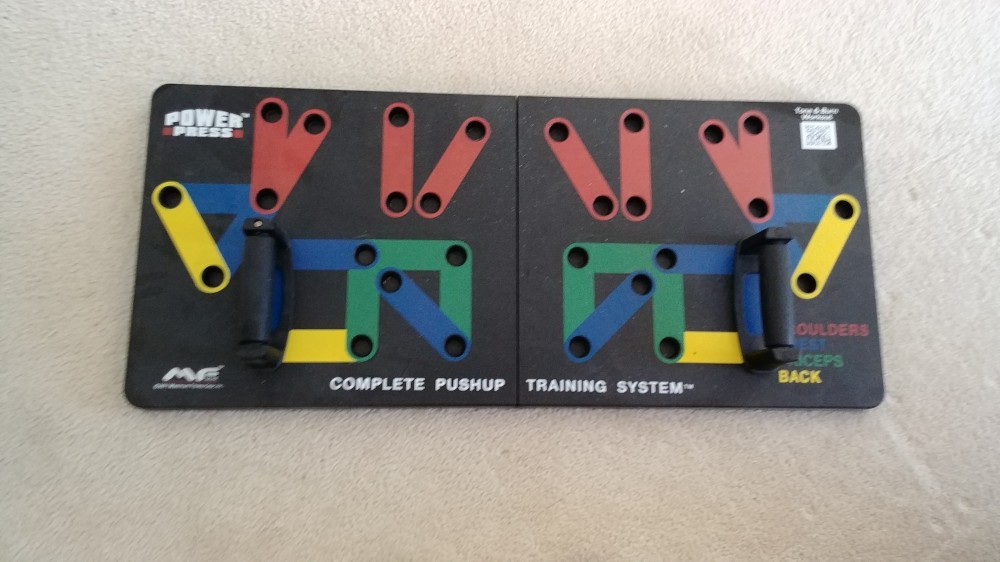 BULLWORKER
The Bullworker Steel Bow may be the best specific pectoral builder that I have ever tried. You are compressing the handles of a cylindrical device in front of your chest, squeezing your chest muscles together as you push. The Steel Bow is small but powerful. There are 3 levels of resistance, as determined by springs placed within the cylinder. Like the Power Press, the Bullworker Steel Bow is portable, easy to use and highly effective. It is shown below. See the Steel Bow and other Bullworker products here. With any Bullworker purchase, take a 5% discount with coupon code Hat5.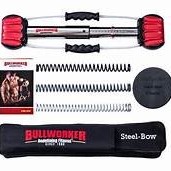 DUMBBELLS
Your chest may be thoroughly worked with a couple of dumbbells and a small bench or ottoman. Actually, I use an exercise ball as a "bench".
From the "bench", you may push both dumbbells upward in classic dumbbell bench press form. Or you may raise them with bent arms, have them meet in the middle of your chest and then lower them. The woman below is pressing substantial dumbbells with correct form,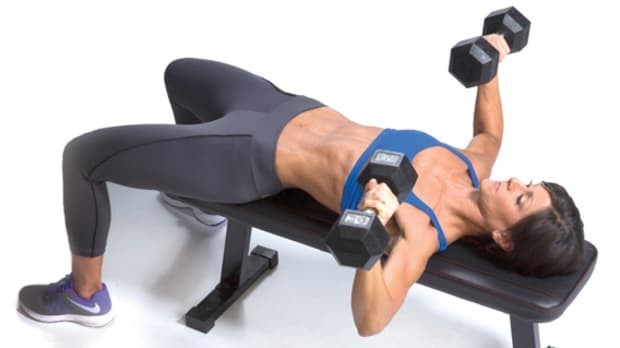 The man below is obviously very advanced, based on the huge dumbbells he is using. Don't be intimidated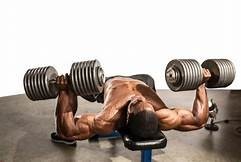 Here are some dumbbell choices to consider:
RESISTANCE CORDS
I have always enjoyed using resistance cords or "bands". They give me a good chest workout with lower impact than other options. With a rotator cuff injury, I am using resistance cords now and still getting a great "pump".
The resistance cords may be easily anchored by a door attachment. Then you must turn around and pull each handle to the front of your chest. This stretches and thoroughly engages the pectoral muscles. You might also simply press the handles forward in the manner of a bench press.
Here is a brief video of a resistance cord chest workout, demonstrated in a club by a female instructor. Her movements could be done with a door attachment at home.
The image below also shows how this is done.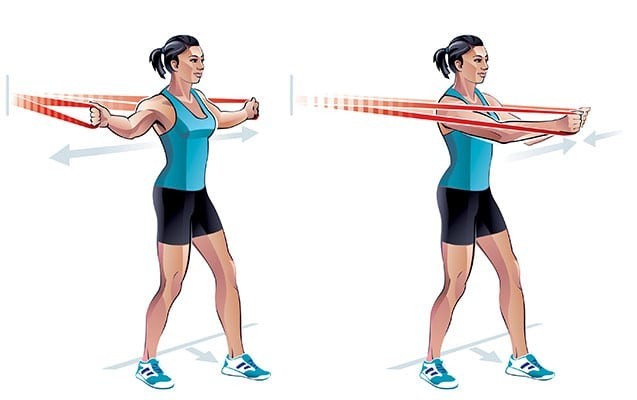 Resistance cords are generally sold in sets of several levels of tensions, door attachments and other accessories. See below:
CONCLUDING
As you can see, chest exercises may be efficiently done at home in a variety of ways. My practice is to use all forms interchangeably – the Power Press, Bullworker Steel Bow, dumbbells and resistance cords. They all work well to flush one's chest with blood and to keep the chest muscles firm.
Please note that the equipment shown is reasonably priced and not spacious. Also, the basic and time – honored push – up on the floor can be done by working against your own bodyweight, with no equipment at all.
Go for it! Fill out your t – shirts!
Please leave any comments or questions in the "Comments" box below. Or e-mail me, richard@myworkoutathome.com.
Be well!