WHAT IS BULLWORKER?
Bullworker is a product and fitness company that specializes in home workout / fitness products. The first Bullworker models were designed by German inventor Gert F. Kolbel in the early 1960s. The initial and ongoing concept is isometric exercise, though I personally find more benefit in isotonic movements (which move the source of resistance), with an isometric hold at the end of each set. Bullworker devices are home workout tools that consist of double sleeved and spring – loaded cylinders. Hand grips are placed at the end of each model and cables are attached to the hand grips. You may push the cylinders together or pull the cables apart for maximum exercise benefit. The amount of resistance is determined by the poundage of the springs that are inserted within the cylinders. Multiple springs provide a variety of challenges. Bullworker devices generally weigh about 4 pounds.
THE BULLWORKER STEEL BOW, 
THE FIRST BULLWORKER ITEM THAT I PURCHASED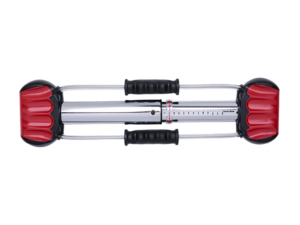 In my opinion the most attractive features of the "Bullworkers" are these:
The stainless steel construction. They are built to last
The portability. Bullworkers can be easily stored in an overnight bag when traveling
Home workout use. Bullworkers are challenging. They provide serious resistance in a small space.
Their versatility. Hundreds of exercises may be possible with Bullworkers.
Personal use: I currently use the Bullworker Steel Bow and the Bullworker Bow Classic. The Steel Bow is most useful for targeting specific muscles or muscle groups. The Bow Classic allows for a greater range of motion. The Steel Bow is likened to a dumbbell and the Bow Classic to a barbell. As of now, I use the Steel Bow for chest compressions, triceps push – downs and abdominal crunches. I use the Bow Classic for 3 different back movements and one for the calves. To clear this up – I am not selling Bullworkers and have no financial gain from "promoting" them. I simply bought them from Amazon and have been pleased with my purchase.
I have posted this before, but here is the link to the Bullworker website Bullworker.com
ED FROM MACHISMO FITNESS
Ed is an advanced and very serious bodybuilder. He uses Bullworker, though not exclusively. Ed is also not trying to sell Bullworker. He can be very funny at times. I think you will like him. https://www.youtube.com/watch?v=FAFBhdqpc6I
Here is another video of Ed. Note carefully that he strongly believes in a multifaceted workout. Bullworker plus free weights, not in lieu of free weights. Pay attention to him; he has worked out for years, if not decades. He gives advice on avoiding injuries, especially as pertains to older people. https://www.youtube.com/watch?v=eO7QtvJe-6k
BULLWORKER HOME ROUTINES
I have a handbook that came with my purchase of the Bullworker Bow Classic. Quite organized and informative, this includes a table of contents, good advice on proper and safe use of the Bow Classic, pertinent definitions, clear pictures and explanations for roughly 45 different movements… plus a specific 90-day routine. There is also a similar manual for the Steel Bow, plus wall charts and technical advice Online for correct procedures for all their items. A newcomer to resistance training will never be without a source for instruction.
I choose to compose my own routines and to combine Bullworkers with dumbbells and a 6 minute "killer" abdominal workout. More specifically, my workout yesterday included the aforementioned 6 minute ab workout, 100 seated twists for the external obliques, 4 sets of Bullworker Steel Bow chest compressions, 3 sets of Steel Bow triceps push-downs, 2 sets of Bow Classic toe presses for the calves……then my 30 minute treadmill cardio venture. Today, I began with the same 6 minute ab workout and 100 twists, then proceeded to 4 sets of Bow Classic back movements and 4 sets of strict dumbbell curls before getting on my treadmill for 30 minutes.
The above workout is a push / pull program: pushing movements one day, pulling the next. Abdominal training every day. It can be strenuous, so I have decided to do no exercise at all on Sundays.
I have in the past done many other Bullworker exercises, maybe 25-30 others. My practice is to go back to some of these, to rotate them in and out and to keep striving for variety.
Please note that these routines are not lengthy. The important part to me is to specialize in weaknesses by doing them earlier. I listen to television news as I do the resistance part and play music when I am on my treadmill.
THE BULLWORKER COMMUNITY
I take part in a Facebook Bullworker group. This provides answers to questions, general inspiration and a real spirit of community. The emphasis is on reasonable and healthy training. There is no excessive testosterone, no showing off nor boasting. Whenever I post something, I usually get quite a few comments and "likes". This is a world – wide "club" and it is fun to communicate with those in different nations who aspire to similar goals. Kudos to Chrisman Hughes, Bullworker sales and marketing director. He manages the Bullworker Facebook group and is always available for inspiration and advice.
FINAL REMARKS
Bullworker fits my needs, for the many reasons shown above. The products can't be beaten for use in a home workout environment. Amazon has been great to work with from a customer standpoint. They send me requests for critiques for Bullworker and other items continually. They seem to sincerely appreciate my input. Likewise, Chrisman Hughes and the Bullworker community have been excellent. The products are well worth the price, in my opinion. The cost is a bit more than resistance tubes or small dumbbells, but there are guarantees. I have not checked the guarantees since the quality is quite obvious, but they do exist. I have understood that Bullworkers have "lives" of 30 or more years. Aside from quality and guarantees, Bullworker offers a complete tool for anyone's home (or hotel) workout.
Questions or comments? Please see the "Comments" box or email me – richard@myworkoutathome.com. I have experience with Bullworker and can either provide answers or search to find them.