WHAT IS PROTEIN?
Protein is an essential macronutrient, found throughout the body – in muscle, bone, skin, hair and in all other body parts. Per The Nutrition Source, "protein makes you what you are and keeps you that way".
At least 10,000 proteins are within the enzymes that produce chemical reactions and the hemoglobin that carries oxygen in our blood.
Protein is made from amino acids and many of these come from food.
The National Academy of Medicine tells us this about healthy protein consumption:
We need at least 7 grams of protein daily per 20 pounds of bodyweight
Or 50 grams for someone weighing 140 pounds
And 70 grams for someone weighing 200 pounds
Some examples are:
A 4 oz. broiled sirloin steak would contain about 33 grams of protein, but 5 grams of saturated fat
A 4 oz. ham steak contains 22 grams of protein, but 1500 milligrams of sodium
One cup of cooked lentils gives us 18 grams of protein, 15 grams of fiber and negligible sodium or saturated fat
The Nutrition Source further tells us that eating healthy protein sources such as beans, nuts, fish or poultry in place of red or processed meat can "lower the risk of several diseases and premature death".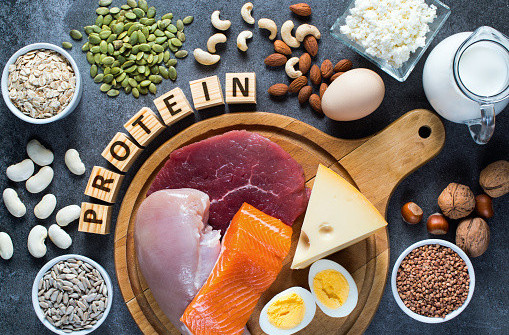 GOING NUTS
I eat lots of nuts and may get most of my protein from this source. Of course, these aren't "supplements" in the strictest sense.
Good protein sources include:
Almonds
Pistachios
Cashews
Walnuts
Hazelnuts
Pecans
Sunflower seeds
Pumpkin seeds
As an Amazon associate, I am able to provide links to relevant products within my posts. I may earn from qualifying purchases. This has no effect on pricing. I have found Amazon to provide excellent service and seemingly unlimited choices of products.
Please note that the links to Amazon items will present detailed descriptions, reviews and similar options at different price points. Take your time and look around.
PROTEIN POWDER
Per Healthline, protein powders are concentrated sources of protein from dairy, eggs, rice or peas. Some of the powders are fortified with vitamins or minerals, especially calcium.
For a diet rich in protein, there may be no reason to add protein powder to enhance your life. But athletes, weight lifters and bodybuilders find that protein powder helps to maximize their strength and fat loss.
Whey protein comes from milk and is digested quickly.
Here is a 4 lb. pack of whey protein
Casein protein powder also comes from milk, but is digested much more slowly.
Here is 4 lbs. of casein protein powder
Egg protein powder helps in digestion and also decreases our appetites and helps us stay fuller longer.
Pea protein powder is of special interest to vegetarians, vegans and those with sensitivity to dairy or eggs.
Hemp protein powder is related to cannabis, but has only traces of THC (the psychoactive component).
PROTEIN PILLS
Protein pills are supplements that are often used by those who want to build muscle mass and strength. They may be more convenient for those who don't want to revamp their entire diet.
Multi collagen pills, for men and women
FINAL THOUGHTS
To review, protein fuels our energy and carries oxygen throughout our bodies in our blood. Protein makes antibodies that combat infections and illnesses.
Without sufficient protein, our tissues may break down and muscle loss may result.
Reviewing my sources, I see that most health professionals suggest that proteins from plant-based foods are the healthiest – nuts, seeds, legumes and grains (such as wheat, rice or corn).
After age 40, we may start to lose muscle mass, which means we may need more protein.
If we are overweight, we will need to cut back on calories and also require more protein. Our individual needs are best addressed by a dietitian.
Don't forget February 14 !! Check out my prior post on Valentine's Day!
Please leave me any comments or questions in the "Comments" section below. Or email me, richard@myworkoutathome.com.
Stay healthy!