FIRST, A FEW GUIDELINES
We become stronger by breaking down muscle tissue as we work out
But growth only occurs as we later rest
Too little recovery time or lack of sleep will inhibit strength gains
Resting between hard sets must be 60 – 90 seconds
Or until we can breathe more easily
Otherwise, we will have little energy for the next set
But, if we seek weight loss only, we may consider cardio exercise
Or resistance exercise with light weights, done quickly, with very little rest
Or high intensity interval training
But we still need to rest and recover the next day
When I was 18 – 19, I did heavy barbell training, initially 4 sets of 5 – 6 different movements. Later, I changed this to 3 sets of 4 different exercises, with much better results.
Even a month ago, I was doing 20 bodybuilding / remedial exercises, followed by 30 minutes on my treadmill – every morning. This was too much and I experienced burnout. This was mostly a state of mind. I was losing my enthusiasm and was not enjoying my routine. I made 2 changes:
I switched to resistance one day, treadmill the next
And I began to take Sunday as a day for total rest
I hope this does not seem counter-intuitive, but rest is a crucial aspect of fitness training. Less is often more, when it comes to length of workouts.
Hopefully, newcomers to workout routines will understand that consistency is a more important aspect than duration of exercise. Impressive gains may be made by newcomers with 3 challenging workouts per week of 30 minutes each, assuming healthy eating and sufficient sleep.
There is no reason to adopt an attitude of "all or nothing at all" when considering fitness routines. Begin slowly and build to a consistent program that you can manage. It's not all about grueling, sweaty, exhausting periods of time. On the other hand, the importance of rest hopefully does not suggest 10 minutes a day and back to the couch.
Here is a useful mantra: "It's the start that stops most people".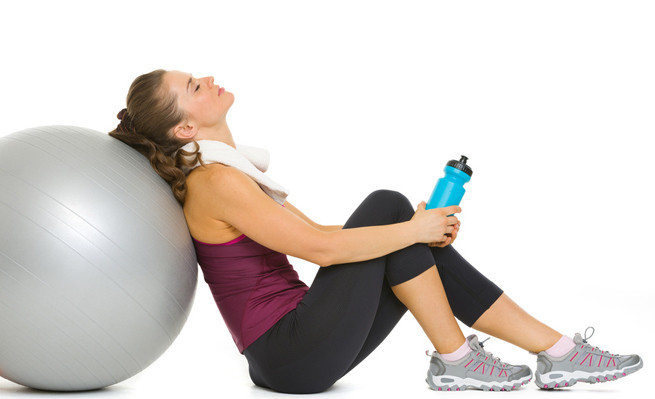 SPECIFIC BENEFITS OF REST BETWEEN WORKOUTS
Paraphrasing Healthline, here are the primary advantages of rest time between exercise routines:
Allowing time for recovery – glycogen, a form of carbohydrates, is broken down during workouts. Rest allows us to replenish this energy source.
Reduction of injury risk – overwork not only causes stress and strain. We are more likely to damage our bodies by lack of attention or faulty form.
Performance improvement – we are mentally sharper and physically more energetic with proper rest. Our endurance is improved, as is our agility
Better sleep – cortisol and adrenaline are boosted by exercise. This is great to provide energy, but overdoing a workout with little rest will adversely affect our sleep patterns.
Here are a couple of rest time applications for differing forms of exercise:
Cardio – walking, slow dancing and the like do not really require rest days. Vigorous aerobic activity (running, swimming, bicycling) certainly does – at least a day off every 3-5 days. A useful goal is for adults to get 150-300 minutes of moderate activity per week – or 75-150 minutes of vigorous activity per week – or some combination of both. This is quite flexible, as a goal and rest can be planned as part of the routine.
Bodybuilding – a muscle group should be given one or two days of rest to recover after a workout. One area of concern may be that many exercises work more than one muscle group at once. Upper body one day, legs the next day may be a good solution. Personally, I work upper body (including remedial stretches) one day, treadmill and calves the next. Over a period of time, such workouts become specific to one's needs for symmetry.
So……..rest time should never suggest a reason for laziness. To avoid any misinterpretations, the image below is not what appropriate rest time is all about. Don't be a couch potato!
FITNESS TRACKERS
I have recently become aware that it is not necessary to spend hundreds of dollars for very good fitness trackers. This is not to disparage the more expensive models, only to show a few that are very reasonable in price. They are shown below. All of these are under $36:
DICK'S SPORTING GOODS
Continuing with the theme of saving money on sports and fitness equipment – Dick's Sporting Goods often offers special promotions throughout their inventory.
DSG is the largest sporting goods merchant in the United States and a highly reputable and trustworthy dealer. I have been a customer for several decades and have found their quality of product and service to be excellent.
My purchases have been for tennis, golf, workout equipment, athletic shoes and sportswear. They have it all and I have hardly made a dent in all their product lines, but I certainly have enjoyed their discounts when I have found them.
This link will take you to a full menu of categories and special promotions.
Save Up To 50% On This Week's Deals at Dick's Sporting Goods
CONCLUDING
This article has been largely a reflection of my most recent thoughts, to wit:
I have determined that I need to reduce my workout time to have a fresher approach
Fitness trackers have become fascinating to me during this period of social distancing
Dick's Sporting Goods has always been my sporting goods resource of choice
Also, it seems important to me to point out to beginners that workouts need not be exhausting ordeals. During a period of self – quarantine, a home workout program may have a lot of appeal to many people. Start simply and build your enthusiasm. You will not regret it!
These two recent articles will present more specifics on home workouts:
Please leave any questions or comments in the "Comments" box below or email me, richard@myworkoutathome.com.
Be well and stay safe!