THE MARKET IS GROWING
In a recent Google alert, ResearchAndMarkets.com tells us that the global market for home gym workout equipment was $13.81 billion in 2021 and is expected to reach $15.13 billion in 2022. Further expectations are that the market will reach $21.84 billion by 2026.
This does not suggest that gym facilities are inclined downward. It seems to tell me that the value of an active lifestyle with regular exercise is growing in awareness. More people want to maintain a healthy weight and to decrease the risk of chronic illnesses.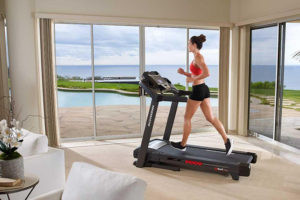 I have personally had lots of experience with both public gyms and home gyms. When I was 18, I had a workout facility in my garage – a homemade bench, lots of barbells and a squat rack that I also used as part of my bench press set-up.
This was very basic. I did 4 upper body exercises – bench press, bent over row, military press and barbell curls. I did 3 sets per exercise with the heaviest weight I could handle, for about 6-8 reps. I later added squats and calf raises. In one summer, I made huge strength and muscular gains. I needed new coats, shirts and other clothing.
It was then that I knew for sure that we can change our bodies easily with appropriate effort on a consistent basis. Later, I worked out at my college weight room, at bodybuilding clubs, YMCAs and Nautilus facilities.
TWO CATEGORIES OF HOME GYM EQUIPMENT
We may have differences in home space for equipment. If we are gym members, we may need only a few items at home. If we have garage space, we can build a gym to compete with the public gyms. If we are seniors, we may only want a few small pieces of equipment. The two categories are simply large space gyms and small space gyms.
I still have a gym membership, but I prefer to do my workouts at home in the morning before breakfast. This preference is partially based on my participation in intermittent fasting. So, my gym space at home is now relatively small, though I have a treadmill and an inversion table, both of which are not small.
LARGER HOME EQUIPMENT
I am an affiliate of Amazon, which means I may recommend relevant items and may earn from qualifying purchases. I find Amazon very service oriented and resourceful. I will list what I consider very appropriate choices. As always, Amazon will include other similar options with each item shown.
Here are a few larger home gym equipment options:
Nordic Track treadmill. This is the one I have at home. Not the most expensive, but it has lasted well for me.
SMALLER HOME EQUIPMENT
Continuing with Amazon for the first 3 options…..
Bullworker Steel Bow and Bow Classic. I use both of these tools at home and when I travel. They are small, but challenging isotonic and isometric choices. The Steel Bow is shown below. The link takes you to the Bullworker website.
DICK'S SPORTING GOODS
Dick's Sporting Goods has been my favorite supplier of athletic equipment for many years – golf clubs, tennis equipment and accessories, fitness items and sportswear. DSG is the largest sporting goods merchant in the United States and, in my opinion, the best for quality, inventory and service,
I am also an affiliate of Dick's Sporting Goods and may benefit when my links are clicked.
Please take a look at their current inventory.
The reason I point this out now is that DSG is having a huge summer clearance event, with discounts up to 70% for some items and general discounts throughout. This goes on until July 23.
FINAL THOUGHTS
I fully understand why the home gym equipment market is on an upward trend. It simply represents a growing global interest in fitness.
My earliest memories are of people mocking those who were out for a run in their neighborhood. No more! I was even told by some that weight lifting would limit my flexibility. It didn't!
I am not aware of any athletic team at any level that doesn't take advantage of strength building and/or cardio workouts. Overweight athletes still exist, but they are fewer in number. I am searching my mind for an overweight tennis player, but can't come up with any.
We can change our bodies. Dramatically!
We simply need to set reasonable goals and pursue them consistently. It isn't difficult. It has been said that getting our minds in shape is far more difficult than getting our bodies in shape.
Please leave me any comments or questions in the "Comments" section below. Or email me, richard@myworkoutathome.com.
Be well and stay healthy!