MY BACKGROUND
Please check "About Richard" in my upper menu for general introductory information. For the last 6 months, I have been writing and posting articles about home workouts and related topics. This will be post number 56, 46 of which will have been submitted for SEO indexing and social media posting. The other 10 were to feature discount pricing for Amazon and Dick's Sporting Goods and applied only to social media.
My platform has been Wealthy Affiliate, which provides the necessary instruction to create a website and draw traffic by blogging. See "Become An Affiliate Marketer" for information, also in my upper menu.
My background with Bullworker goes back about 2 years. My practice on publishing reviews has thus far been to only present information on products that I have personally used.This is not universally done. I have seen reviews on products that were based on public information that anyone could have seen.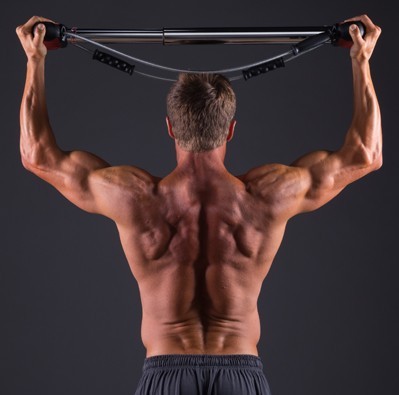 So….I was involved with Bullworker well before I created a website and began writing blog articles. You will be getting an unvarnished account of my experience with Bullworker. One possible difficulty is this: reviews should give the pros and cons of the product in question. I have very little, if anything, to use as a negative. Maybe I can speak of something to avoid while using Bullworker products. But I really like the Steel Bow and Bow Classic, for many reasons. Why else would I constantly use them in my workouts?
More about my blogging: about 80 % of what I write about is also from personal experience. I have plenty of it, being mature. Maybe aged is a better word. Okay, let's use old. The other 20% is from necessary research, done to tie down specifics.
THE STEEL BOW
This was the first Bullworker product that I purchased. It is shown below. Note that there are 3 springs shown. This provides 3 interchangeable levels of resistance within the cylinders. Don't worry about outgrowing the resistance. I have bench pressed 300 lbs., but can barely budge the black spring.
The red handles are used for compressing. The Steel Bow chest compression is an iconic pectoral builder. The steel cables on the sides of the tube are for spreading. The black grips add comfort. Spreading the cables works the back and shoulder muscles, as well as the biceps and legs.
One important point about the chest compression. Each elbow must be held at chest level in a horizontal plane for best results. This prevents elbow pain and irritation.
The black pad is used to stabilize the Steel Bow when in an inverted position, for pushing down for the triceps, as one example.
The workout manual is included to give illustrations and descriptions of the many possible movements. Workout programs are included.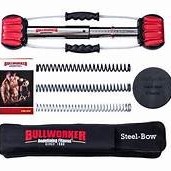 Here are my first impressions of the Steel Bow and Bullworker in general.
The quality of the construction was obvious. It was built to last.
The portability was appealing to me. It is only 20″ long and 4 lbs. in weight. Note the attractive carrying case.
There were a multitude of bodybuilding applications.
The sliding gauge along the cylinder enabled me to measure my progress.
I was soon invited to join a global Facebook group of Bullworker users. I was not aware of this until I joined. This enables us to ask questions and get answers; also to provide motivation and good will back and forth.
I didn't know much about isometrics at the time, but quickly realized that this was an integral part of the Bullworker construction and philosophy.
THE BOW CLASSIC
I was quite happy with my Steel Bow, but began to see the need for greater range of motion on some of the movements.
Enter the 36″ Bow Classic, my second purchase. I was able to get a much better stretch on arm, shoulder and back sets. I could add calf development by doing toe presses against resistance. But I learned quickly to stabilize my foot, since at one point the lower cable slid off and the cylinder pounded against my shin. Ouch!
The Bow Classic provides a workout manual similar to that for the Steel Bow, but based on the longer cylinders. Also, a carrying case and pad. One of my favorite exercises is to sit on the floor with the Bow Classic inverted and in front of me. I then push down from the top handle to the end point. Great for the lats (latissimus dorsi).
I enjoy creating workout programs to fit my needs, which often vary. The Steel Bow is ideal for chest development and triceps work, while the Bow Classic is better for back, shoulder and biceps. This is only my opinion. It is not difficult to get a productive workout with either alone.
The manuals provide all the illustrations and instructions that anyone could need to correctly perform the movements.
I only use isometric holds at the end of a set of isotonic reps. Some do the holds before beginning the reps. Others do the isometric holds only. Isometrics protect the joints, since the joints are not moved. Many people use the Bullworkers for this purpose alone.
In the simplest of terms, the red handles allow for pushing (or compressing the cylinders) and the steel cables allow for pulling. The handles and grips provide comfort. The inner springs provide resistance. Isometric holds apply to any of the movements.
CONCLUDING
Bullworkers have stood the test of time
They have been around since 1962.
They are of quality steel construction
The inner springs allow us to "go heavy" or to lighten up as our needs change
They are purchased with a 90-day money back guarantee and a 5 year warranty.
I can attest to their effectiveness and recommend them enthusiastically
Check out all pertinent information here.
A DEAL SWEETENER – use the coupon code hat5 for a 5% discount on any purchase.
Please leave any comments or questions in the "Comments" section below. Or e-mail me, richard@myworkoutathome.com.
Be well!