A BRIEF INTRODUCTION
Salma Hayek is a Mexican and American actress, film producer and social advocate. She is also noted for her beauty and sex appeal, which may be an understatement. She is now 58 years of age, married to French billionaire Francois-Henri Pinault.
Salma may be primarily noted for her portrayal of Mexican surrealist artist Frida Kahlo in the movie "Frida".
Salma's charity work centers around increasing awareness of violence against women and discrimination against immigrants. She also works to reduce the stigma of breast feeding, as associated with infant nutrition, especially in Africa.
In 2021, she was honored with a star on the Hollywood Walk of Fame.
This post will speak of Salma's views on fitness and nutrition and will also present a list of pertinent items she uses to maintain her fitness, as well as beauty products that she endorses.
The relevant products will be available from Amazon. As an Amazon affiliate, I may be rewarded by clicks on the links or purchases made. Amazon is noted for quick delivery, fair prices and especially good discounts right now during the holiday season.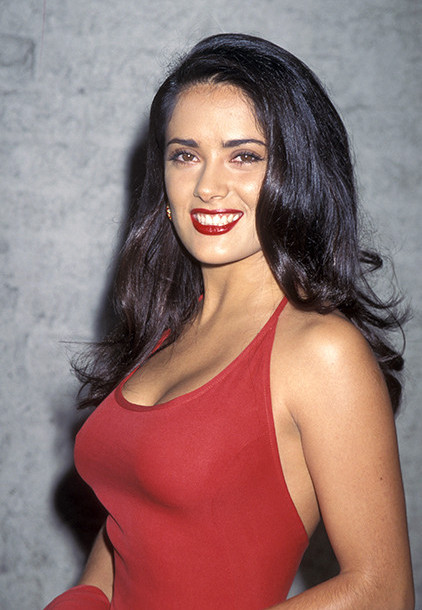 A DIFFERENT ATTITUDE ABOUT FITNESS
Most of my fitness articles have included some mention of the importance of motivation and consistency in workouts. Salma has an approach which might be considered quite different.
But her results justify her approach and those results are quite apparent.
I previously did an article on body types, "What Body Type Are You?".
This dealt with endomorphs, ectomorphs and mesomorphs. But women have another set of types which is shown below. Salma Hayek is a classical hourglass type and she graces this type well.
With the help of Women's Health, here is a list of 8 things that Salma does to stay healthy.
(1) She is always aware of her posture. She doesn't have the discipline to exercise, but she has learned to actively tone her body without tension. She calls it restorative yoga. Salma simply holds her body erect while relaxing, yet focusing on the parts that need help.
(2) Salma dances quite a bit, even on her treadmill.
(3) She walks her dogs every day.
(4) When she feels like resting, she does. "Will I work out with dumbbells or swim in the ocean? No, I will sit here and have a beer".
(5) Salma does things she likes. Sometimes this may be cardio or interval training. She uses light dumbbells also.
(6) She loves the outdoors and especially to swim in the ocean.
(7) She eats food that she enjoys. She says that she does not know how to diet and is "not good at it". She eats whatever she wants and then does a juice cleanse. Then she is motivated to eat healthier and not emotionally.
(8) Salma is a big advocate of massage therapy. In her words "Massage oxygenates, activates the circulation and keeps the muscles healthy and firm".
Salma's skin is glowing, her hair is shiny and she still rocks a bikini. See below.
Salma is not a vegan, but she has a firm rule not to eat animal food every day. Her meals are filled with fruits and veggies. She has a breakfast special of chopped up papaya, blueberries, mango, strawberries, pomegranate seeds, celery, red pepper and cucumber. She places this on top of almond and coconut butter and yogurt.
She says that anything greasy is really good for your hair – avocado, coconut oil, egg yolks and even mayonnaise.
Salma is a strong believer in apple cider vinegar and has it every day. Please take a look at my side link on Goli, for seasonal discounts on apple cider vinegar and other gummy choices for health.
RELEVANT PRODUCTS
Here are a few items from Amazon that relate directly or indirectly to Salma's fitness:
Juice cleanse – 3 days. Check also for other options shown in the descriptions.
Light dumbbells – Salma uses similar dumbbells
Massage gun – Salma uses massage therapists, but this tool is great also
SALMA'S BEAUTY PRODUCTS
These are Salma's name brand beauty items.
Nuance Salma Hayek gel cleanser
Nuance Salma Hayek tinted moisturizer
Nuance Salma Hayek rose hip body lotion
Nuance Salma Hayek Prickly Pear Hydrating Body Cleansing Gel
Nuance Salma Hayek Facial Cream Cleanser
Nuance Salma Hayek daily resurfacing pads
Nuance Salma Hayek anti-aging super cream
Nuance Salma Hayek dual phase jojoba body oil
FINAL THOUGHTS
I am thinking of the right word to describe Salma Hayek – other than the obvious, beautiful.
Iconoclastic comes to mind. In her fitness routines, she breaks from established norms. She does what she chooses to do.
It seems that Frank Sinatra singing "My Way" may also apply.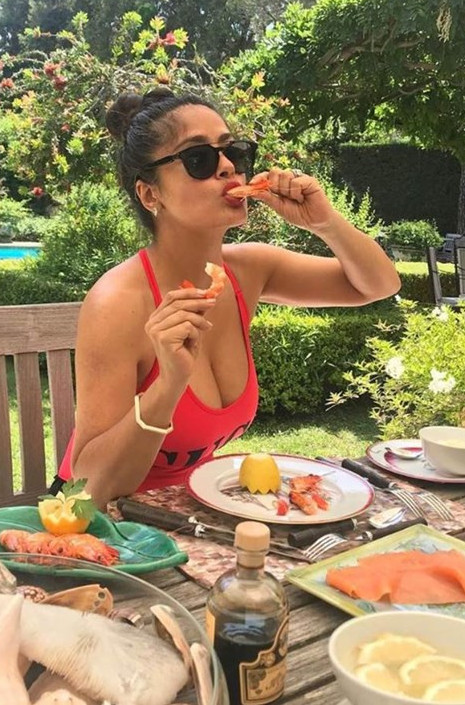 Does it look like she is dieting or eating carefully? Also, does it look like she is overweight?
Upon further consideration, maybe Salma is onto something.
Don't all of us ultimately do what we want to do? Maybe Salma is quicker to acknowledge this. Maybe she is more truthful than most people.
She loves to swim in the ocean, to walk her dogs (daily), to dance. These are not traditional workout routines, but they work for Salma Hayek.
She does something that all fitness people could benefit from doing – she does those things that she enjoys.
If our fitness routines give us pleasure, aren't we more likely to continue them? Aren't we more likely to avoid burnout?
One thing is clear and without any dispute – Salma's results justify her process. Or maybe she is so genetically gifted that no exercise matters. But I doubt that.
Please leave me any comments or questions in the "Comments" section below. Or email me, richard@myworkoutathome.com.
Be well and enjoy this beautiful season!