WHAT IS THIS? A PSYCHOLOGICAL CONDITION?
No, a Teeter Hang – Up is an inversion table that may be used for a variety of back issues. TEETER is the name of the inventor, Roger Teeter.
I purchased a Teeter inversion table about 15 years ago. It is shown below.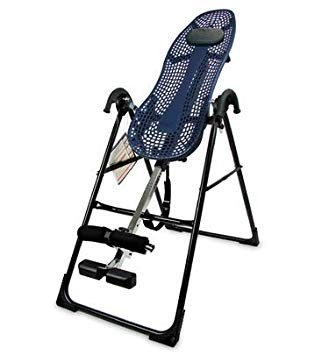 By way of explanation, I was experiencing sciatic nerve pain. It was affecting my tennis game and even my walking. It was often painful to drive a car, since I felt pain when depressing the accelerator. The pain would shoot from my back down my body through my right leg.
The pain was almost debilitating at times. In my opinion, there is no pain worse than nerve pain. Think of dental work without sedation. My pain was fortunately not constant. It would come and go, but its appearance was never predictable.
The Mayo Clinic says: "Sciatica refers to pain that radiates along the path of the sciatic nerve, which branches from your lower back though your hips and buttocks and down each leg. Typically, sciatica affects only one side of your body".
"Sciatica most commonly occurs when a herniated disc, bone spur on the spine or narrowing of the spine (spinal stenosis) compresses part of the nerve. This causes inflammation, pain and often some numbness in the affected leg".
SEEKING REMEDIES
I began to see the need for decompression of my spine. It helped to drape my body over a small ottoman or exercise ball. But this only worked if my upper body and lower body were pulling apart at the midpoint. The feeling of gradual decompression was delightful and I began to crave that pleasantry. Or was I defining "pleasant" as cessation of pain?
It felt even better when I visited a chiropractor for an adjustment. I was on the right path, but I began to seek a remedy that did not require the chiropractor's hands and the expense thereof.
My chiropractor was quick to suggest an inversion table. He made it very clear that Teeter was his brand of choice, that others might be cheaper, but that Teeter was "state of the art". I was convinced.
MY EXPERIENCE WITH TEETER HANG – UPS
I was immediately impressed by the following:
It was easy to assemble. Even for me. (I am not a great assembler).
The product quality was quite obvious – the engineering, the ankle locks, the settings
Instructions were complete and emphasized safety
Operation was easy
It was important to always wear shoes with laces, to execute movements smoothly, to begin with moderate angles of inversion and to proceed slowly.
I began slowly and found that even an angle of 20-30 degrees was enjoyable. The table had a tether to keep the inversion angle at the desired setting.
After about a month, I removed the tether and was able to suspend myself upside down. Zero gravity! The experience was exhilarating.
I remembered having read that only bats, lemurs and opossums slept upside down. I wasn't ready to sleep upside down, but the experience of zero gravity was very relaxing.
CONCLUDING
The Teeter inversion tables are certified to Underwriters Laboratories standards. I don't know that other brands are. I believe that I paid around $300 for my model 15 (or so) years ago. Current prices seem to have not gone up much for similar models, though there are options with more "bells and whistles".
I can report that the Teeter Hang – up inversion table completely eliminated my sciatic pain.
Here is a link to the model that seems closest to the one I have. But look around for others that may spark your interest as well.
I highly recommend the Teeter brand for someone who is experiencing any form of back pain. Read what they have to say. Also, check with me for any questions or comments. See the "Comments" box below. Or email me, richard@myworkoutathome.com.
Here's to your back health!