NO FAVORITISM HERE
My URL is www.myworkoutathome.com. This is because I have done my workouts mostly at home for the last 15 years. I also saw a growth in home workout activity and home equipment sales.
But my workouts over the years were usually in gyms before then – YMCAs, Nautilus clubs, college training rooms, health clubs and well-equipped garages. I still have a YMCA membership, but rarely use it. My preference is to complete my workouts in the morning before breakfast.
The image below shows a room dedicated to home workouts, plus a guitar.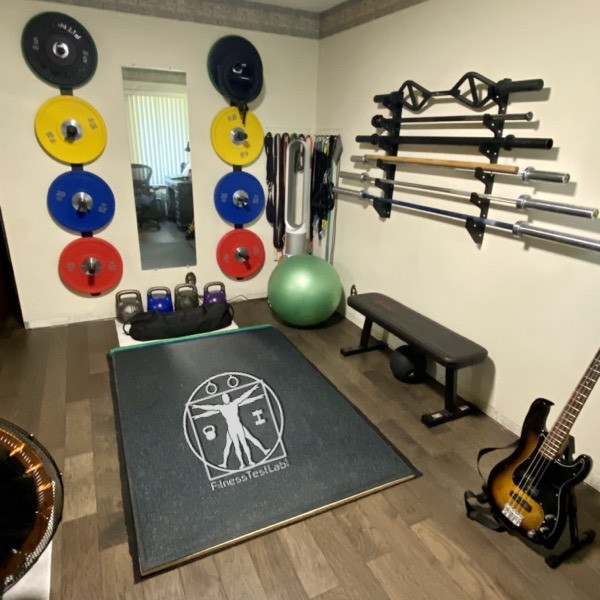 This post will consider the advantages of each, with the common thread that the only bad workout is the one that we don't do.
I will also list some home equipment sources, along with an update on current specials being offered by a few associated companies.
GYM WORKOUTS
One significant advantage of joining a gym is the easy access to many exercise options. We can do free weights, machines and cable devices. For cardio, there are treadmills, stationary bicycles, elliptical machines, rowing machines, stair steppers and the like.
There are usually fitness classes to join, as well as amenities such as pools, hot tubs and saunas. My YMCA has pickleball and racquetball courts.
Most likely, the most significant advantage is the community factor. We can share the energy and motivation of other people. We can push each other, to our mutual advantage.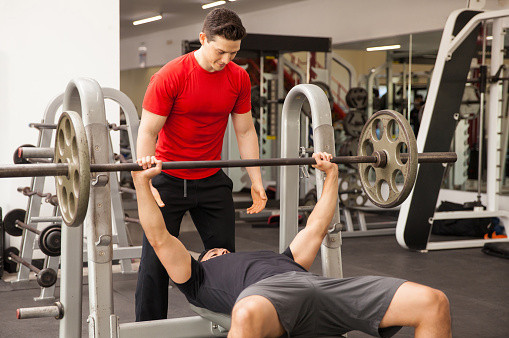 For many people, a gym workout can be a haven away from work issues, home chores and problems to solve. We can often focus on our workouts better.
The disadvantages of gym workouts may be:
Membership costs
Travel time back and forth
Waiting for a machine station to open up
Loud people
HOME WORKOUTS
I enjoy my home workouts because I can dress as I wish, play music or watch television as I exercise – and avoid the need for commuting.
After more than six decades of different forms of exercise, I know what I am doing. This may not be the case for many people, who may need a personal trainer or at least someone to critique their form and choices for their workouts.
For me, my home workout is the quickest way to efficiently complete a routine. I am able to do resistance work with several forms of exercise, cardio by my treadmill and physical therapy as needed. I can hang upside down on my inversion table for back therapy.
My home workouts go well with my intermittent fasting. I don't eat breakfast before 12 noon, so I am burning fat long before I burn muscle. Check out my prior post on intermittent fasting.
My inversion table is shown below.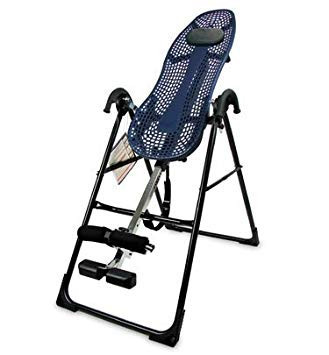 Home workout rooms may be very complete if there is sufficient space to accommodate this. I have a treadmill in my computer room and an inversion table in a spare bedroom. Other than that, I have dumbbells, resistance bands and Bullworker equipment, plus a few other items. I do not have a large amount of available space. To state the obvious, I can always go outside for fresh air and a walk.
AMAZON
Amazon can supply us with exercise equipment and just about anything else we may need. They are quick and efficient. As an Amazon associate, I may use their links in my posts to show items relevant to my content. I may benefit from activity on those links, though this has no effect on the pricing. Below are links to equipment I use or have used. With each link, you may see pictures, details, reviews and similar items at other price points.
My Teeter inversion table is shown above. It now has a nice price reduction. Chiropractors I have known recommend the Teeter brand.
My Nordic Track treadmill is shown below. It is not an expensive model, but has held up well for me for at least a decade.
Adjustable dumbbells that I have used. While at this link, check out lighter or heavier dumbbells also
Resistance bands – I use them every week at least once. This set will provide everything one may need for a complete workout at a very reasonable price.
Loop bands – I use these for physical therapy and occasionally for light arm workouts
Push-up board – I use this to focus on specific muscles and for a deeper push-up
BULLWORKER
I have used Bullworker equipment for about five years. These are unique workout tools that allow us to use both isotonic and isometric modes within the same set of reps. The Bullworker Steel Bow is shown below. I have this one, plus the Bow Classic, which is larger.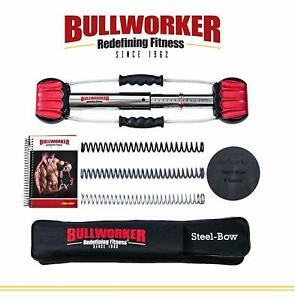 Bullworkers are ideal for home workouts and can be easily transported when we travel and wish to have a fitness tool with us.
Check out the Bullworker site here or see the permanent Bullworker link at the side of my website.
DICK'S SPORTING GOODS has been my source for athletic and workout equipment for many years. Take a look at the specials they are currently running – at the link to DSG at the side of my site. They have the best inventory and best prices I have found for sporting goods.
FINAL THOUGHTS
I have found that those who go to gyms for their workouts generally have equipment at home as well, a back-up plan. I use the YMCA as my back-up when I feel like taking a sauna or socializing as I work out.
The important thing is to practice fitness wherever you find it most convenient. It is a worthy lifestyle and one that you will never regret choosing!
Please leave me any comments or questions in the "Comments" section below. Or email me, richard@myworkoutathome.com.
Be well and stay fit!