AN IDEAL HOME WORKOUT TOOL
I have used a couple of Bullworker products for several years, the Steel Bow and Bow Classic. The Bullworkers appeal to me for these reasons:
Their high quality
The simplicity of their use
My capability of using both the isotonic and isometric modes of strength building
Their portability. When traveling I can take the Steel Bow to ensure that I have a workout option anywhere
The handbooks that are included with every shipment
A free Facebook group for information and inspiration
Bullworkers have been around since 1962 and have undergone steady product improvement since then. It is noteworthy that martial arts expert Bruce Lee used Bullworkers to develop his striking force. Their appeal is to those of us who want quicker and more effective workouts for functional training. I have also found that they are very useful for bodybuilding.
My Bullworkers are spring-loaded and adaptable to the strength levels of anyone. The springs can be changed as easily as changing barbell plates (or easier). The Bullworker Steel Bow is shown below. I primarily used the Steel Bow for chest work. Note that the red handles are to be pushed together against resistance, while the black handles are pulled apart for a different form of resistance.
The Steel Bow is 20″ in length and is often considered the equivalent of a dumbbell in the Bullworker line.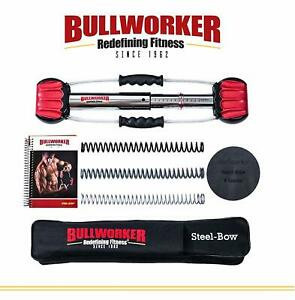 I use dumbbells, resistance bands and other workout tools, along with the Bullworkers. This gives me a full workout for bodybuilding, which I do on alternate days with cardio (which I generally do on my treadmill). When I did gym workouts, I was always glad to have Bullworkers at home as a back-up option.
The remainder of this post will include information on the Bow Classic, several videos on the use of Bullworkers and information on how to acquire these workout tools.
THE BOW CLASSIC
This is a larger Bullworker tool, at 36″. I use it for back work. There are several great back exercises to be done. The "archer" is shown below.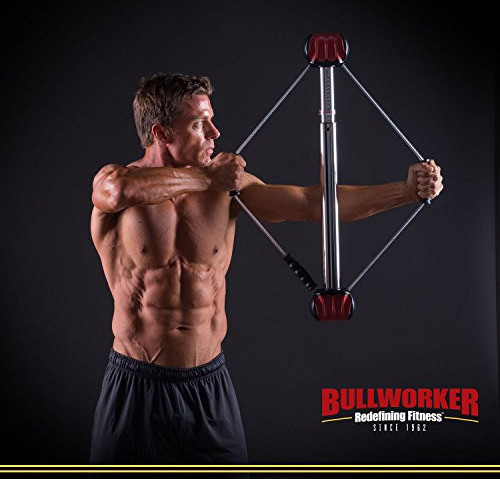 This exercise will activate and stretch the latissimus dorsi muscles of the back to give us the V shape of a bodybuilder. It is somewhat similar to dumbbell one arm rowing, since both sides are worked separately.
VIDEOS
Here is a video by a young, very casual bodybuilder, "Machismo". He uses free weights and Bullworkers and will give his views on the effectiveness of both. This is especially informative for those who may not be familiar with Bullworkers.
This video for the upper body shows strictly isometric holds with no repetitions. It is designed for those who have about 5 minutes for a workout and want to max out training in that very short period of time.
Here is a core workout showing the use of the Bow Classic, with both isometric holds and repetitions.
Back to Machismo, with his positives and negatives regarding the Steel Bow.
This final video emphasizes the uniqueness of Bullworkers vs. free weights
FINAL THOUGHTS
Use this link for product descriptions, price information and brief demonstrations of the entire Bullworker line. There are new products that I have not used, as well as updated versions of the standard Steel Bow and Bow Classic.
I have found that the Bullworkers are fun and challenging, especially since I enjoy experimenting with new ways to use them. My preference is to do the repetitions first, then the holds at the end. I like to use the lightest springs and to do 30-50 repetitions before doing a lengthy hold of about 15 seconds. This becomes a cardio form of exercise and leaves me breathing hard at the end. Going from one set to the next without rest makes this even more challenging and effective as cardio.
At one point, I set my inversion table to about 45 degrees of elevation and then did chest compression reps with my Steel Bow to get a unique angle of stress.
As well as using the above link for Bullworker information, you may also see my permanent link at the side of my website and get the same information there.
Whether you prefer the isotonic effect, the isometric effect or a combination of both, the Bullworkers will work for you. I have not found any other method to get both effects within the same set of reps.
Please leave me any comments or questions in the "Comments" section below, or email me – richard@myworkoutathome.com.
Be well!